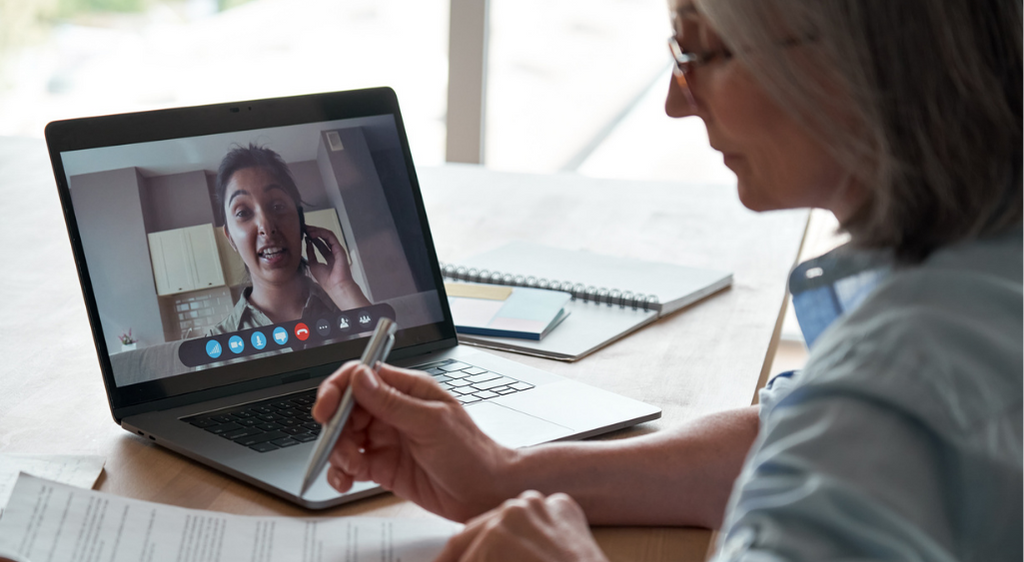 Seniors now have access to technology that allows them to reap the benefits of telehealth. Telehealth is a type of healthcare that encompasses a variety of healthcare services that are accessed virtually – meaning not face-to-face.  You may encounter many terms that all refer to telehealth, like virtual visits, telemedicine, tele-doc, video conferencing, remote patient monitoring, and others. These services give patients the unique ability to schedule a doctor's visit via computer, tablet, or smartphone, and receive care from the comfort of their home. The provider is live on the internet or cellular connection, and the patient can ask questions, describe physical issues, and even show the doctor injuries or symptoms.  
There are several ways that these services specifically benefit seniors:
Reduce the number of unnecessary hospital visits (such as the emergency room) by allowing you to be seen by a provider in your own home.
Reduce the burden and cost of travel expenses. Specialists and harder-to-find services are often available via telehealth.
Reduce the stress put on at-home caregivers. Adults caring for senior parents often have competing responsibilities. Telehealth can help provide balance by eliminating travel time as well as time spent at the practice.
Improve overall patient satisfaction. Patients have had a great response to telemedicine services – feeling more connected, more heard, and with greater access to all sorts of care options.
Advantages of Telehealth Services
Remote Patient Monitoring of Chronic Conditions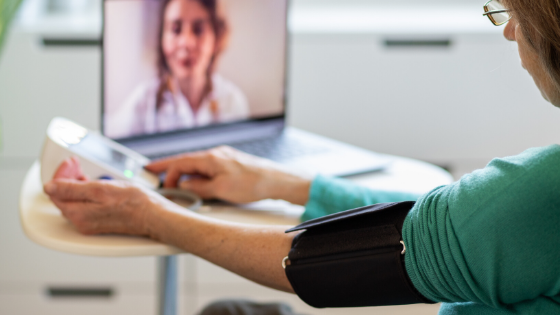 As seniors live longer, they are more prone to having chronic illnesses – such as diabetes, COPD, heart failure, and auto-immune conditions. Chronic diseases are complex and often require monitoring and ongoing management of symptoms. This is one of the important advantages of telehealth services. A patient and caregiver can work remotely with the doctor to discuss new or changing symptoms. Some symptoms and conditions that may be able to be evaluated virtually include: 
Diabetes and blood sugar that is not controlled
High blood pressure
Heart failure and swelling
Arthritis pain
Depression and anxiety or changes in mood
Checking for medication side effects
Another advantage of telehealth is the ability to use televisits as a way to easily do remote patient monitoring for medication management. Medication management by a nurse or physician is an important part of maintaining health. Adjusting medications to the optimum levels to control things like blood pressure and glucose levels provide the best long-term outcomes. Regular remote medication monitoring visits via telehealth can be a game-changer for seniors trying to manage a complex illness.
Reduction in Emergency Room Visits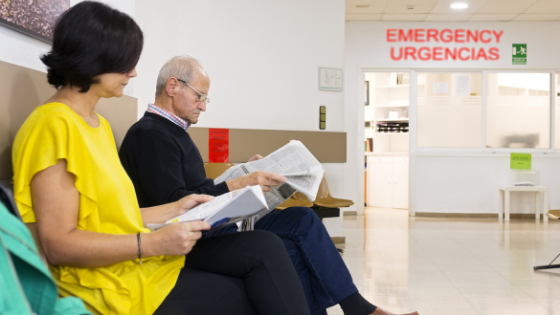 A good relationship with your provider, including regular telehealth visits, medication management, preventative care, and chronic disease management can lead to fewer sick days, fewer emergency room visits (or none!) and an overall better health outlook.  
Telehealth visits help avoid costly and life-disrupting trips to the ER by enhancing and improving communication between the patient and provider. Early intervention can alert the healthcare team to small changes before the condition becomes an emergency. Your provider can often see early signs that your condition is becoming less controlled, putting you  at risk for getting sick or nearing an emergency. For example, if your blood pressure medication needs adjusting, or some dietary changes are needed,  your provider can recommend adjustments, which can keep you at home and feeling your best. Early signs of illness are much easier to treat, creating a win-win for both you and your medical provider.  
Reducing Caregiver Burnout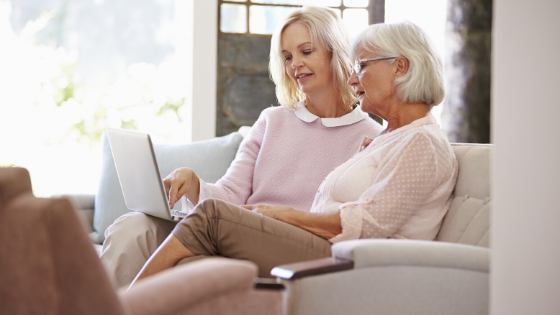 At some point, many seniors will have a caregiver – whether that be a loved one like a spouse, an adult child or grandchild, or an in-home aide. Situations that might lead to needing a caregiver include inability to drive, a decrease in vision, a decrease in mobility and a need for help with activities of daily living like toileting, bathing, and cooking. 
While caregivers are often beloved family members with the best intentions, it is common for them to experience increased stress and caregiver burnout. This happens because caregiving is sometimes a full-time job, and there are other competing responsibilities and stressors that the caregiver is dealing with. Some caregivers may have children still at home, or full-time jobs to juggle. Attending appointments and taking care of other needs like picking up prescriptions add another layer of responsibility that can sometimes be difficult to manage. 
Telehealth can provide some welcome relief for caregivers and seniors by providing easier access to a medical support system. In conjunction with telehealth medical provider visits, other services can be offered as well, like case management, mental health services, and social services. The provider, along with the patient's care team and outside specialists can work with caregivers and the senior patient to form a cohesive team that communicates and forms a care strategy. This care plan creates continuity, support, and a better quality of life for both the senior and caregiver.  
What to Expect During your Telehealth Visit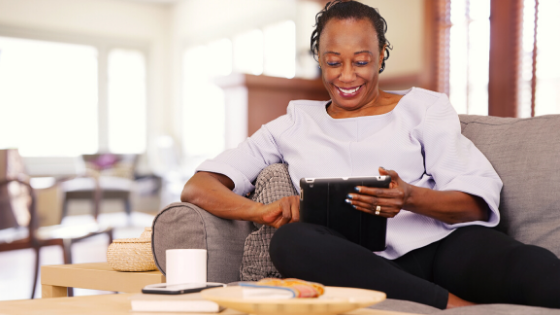 The technology involved in a telehealth visit is easier than ever before – no need to be intimidated! 
You will need a computer, tablet, or smartphone with the following requirements:
Microphone (so your doctor can hear you)
Video Camera (so your doctor can see you)
Speaker (so you can hear your doctor)
Internet speed or a cellular connection fast enough to support video
It is also helpful to practice using the camera and microphone. A headset may be helpful if you have difficulty or wear hearing aids. 
Some tips to prepare for your virtual visit:
Choose a private area of your home where you can focus and not be interrupted.
Choose good lighting so your provider can clearly see you.
A table or desk is good to sit at – you will need a writing surface and space for your computer/phone/tablet.
Learn how to use the app or software before the appointment or have someone there to assist. A "test run" prior to the appointment is helpful!
Have your medical history and your medications ready to show on screen. If you can't gather the prescription bottles themself, have a list of medications written down.
Prepare to give your insurance information or payment information.  Sometimes this is needed on a first visit.
Write down your list of questions for the provider.
Keep the paper and pen handy to write notes of what your doctor is saying or have your caregiver do so.
Don't forget to ask when your next doctor's visit should be!
Telehealth visits can provide your physician with more information than you know! Your home environment is where you are most comfortable, and your provider can visualize your health hurdles and help you address them. If your provider is not able to make a diagnosis via telehealth, he or she will form a plan for you to either undergo testing or come to an in-person visit that will provide enough information to form a diagnosis and treatment plan.
Are Telehealth Services Covered by Medicare?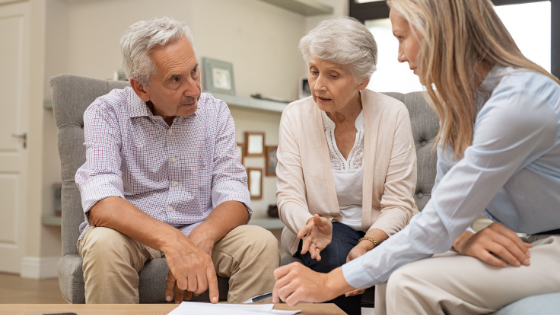 Partially due to the pandemic, Medicare part B now covers more telehealth services than ever before. As a general rule, most telehealth services copays are the same or even less than their in-person counterparts. Both Original Medicare and Medicare Advantage Plans cover telehealth visits. Some plans offer incentives for using telehealth rather than all in-person care because of the cost benefits and better outcomes that patients experience. 
Many services you may have not considered can be done by telehealth. New services were added in 2020, and again in 2021. As of 2021, it is a longer list than ever, but can be summarized as the following services:
Primary care visits
Chronic care visits
Specialty care visits
Mental and behavioral health visits
Some emergency department visits
Physician and occupational therapy visits, in some situations
Nursing home visits
Group psychotherapy
Nutritionist visits
Chronic renal care (kidney) visits
How do you know how much telehealth visits will cost?
It depends on your particular Medicare or insurance coverage, and the type of visit needed.
The specific amount varies by:
Other insurance you may have
How much your doctor charges
Whether your doctor accepts your plan
The type of facility
Where you get your test, item, or service
The type of healthcare provider
Telehealth services are here to stay, and provide many benefits for seniors and caregivers.  The ability to balance health with mobility and other challenges is a tool that generations before did not have available. Providers can stay more involved with their patients and enjoy a relationship that provides more personalized care than ever before. Patients can feel supported in their need to manage their overall health and live life to the fullest.
The benefits of telehealth for seniors has never been greater. For those on Medicare, finding the right primary care provider is crucial to productive doctors' appointments, both virtual and in-person.
The One Medical blog is published by One Medical, a national, modern primary care practice pairing 24/7 virtual care services with inviting and convenient in-person care at over 100 locations across the U.S. One Medical is on a mission to transform health care for all through a human-centered, technology-powered approach to caring for people at every stage of life.
Any general advice posted on our blog, website, or app is for informational purposes only and is not intended to replace or substitute for any medical or other advice. 1Life Healthcare, Inc. and the One Medical entities make no representations or warranties and expressly disclaim any and all liability concerning any treatment, action by, or effect on any person following the general information offered or provided within or through the blog, website, or app. If you have specific concerns or a situation arises in which you require medical advice, you should consult with an appropriately trained and qualified medical services provider.