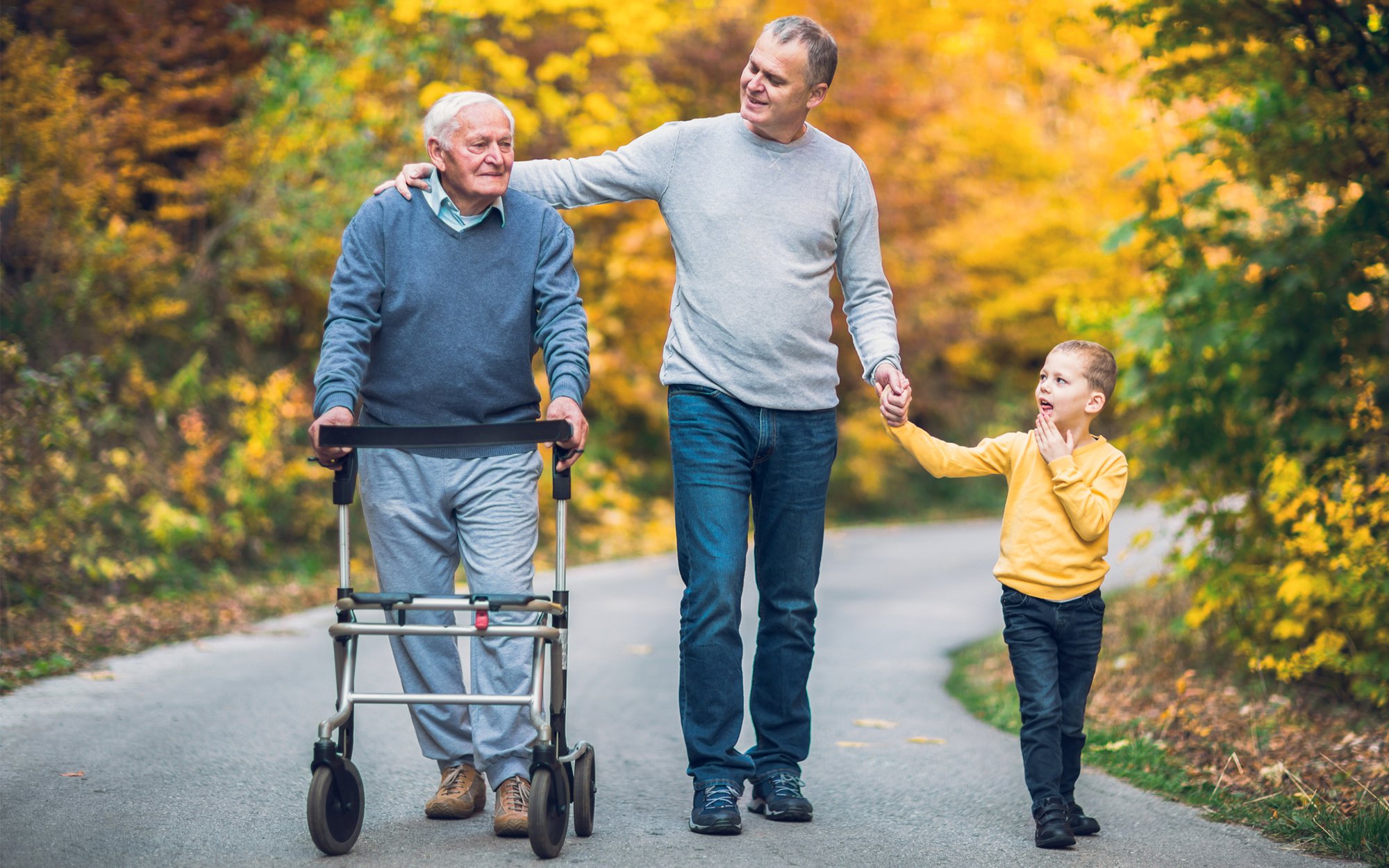 Caregivers have an incredibly important role in the health of their family and are often tasked with keeping everyone healthy and happy. These are the people who, when a loved one is in need, step in and manage everything from meal preparation to administering medication to helping out around the house. With so many things to keep track of (including their own young children), it's no wonder caregivers often feel overwhelmed.
The number of people caring for a parent at the same time as their kids has rapidly increased now that more and more couples are choosing to wait until later in life to have children. In 2016, Harvard Health estimated that around 15 million family members were taking care of 8 million adults aged 65 or older. Almost half of these caregivers were putting about 28 hours per week toward caring for a loved one.
When your attention is divided between taking care of your children and taking care of a parent, self-care and mental health are often the first areas of your life to drop on your list of priorities. When that happens, it can lead to overwhelming stress known as "caregiver burnout."
Wondering if you have caregiver burnout? Here are a few ways to identify the signs and some steps you can take to work towards a more balanced life.
What is caregiver burnout?
Caring for another person can impact your life in ways you didn't expect, like limiting the amount of time you have to spend with friends, causing financial strain, and even draining your ability to perform everyday tasks. "Stressors associated with caregiving situations are often persistent, uncontrollable, and unpredictable, with one-third of all caregivers describing a high burden of care" says the American Family Physician Organization. Caregiver burnout occurs when the pressures of looking after the health of another person interfere with your own mental and physical well-being.
What is the impact of burnout on caregiver's health?
The strain on caregivers is significant. Studies show that caregivers have an increased risk for:
Alcohol and substance abuse
Anxiety disorders, stress and depression
Cancer
Diabetes
Heart disease
Obesity
How do you know if you're experiencing caregiver burnout?
According the American Family Physician Organization, "One in five caregivers describes his or her health as fair or poor, and 17 percent believe that their health has deteriorated as a result of providing care". If you're caring for a loved one (child, adult, or both) and relate to any of the following symptoms, you may be approaching or currently experiencing caregiver burnout:
Fatigue
Anxiety
Insomnia
Weakened immune system
Depression
Increased irritability
Weight fluctuations
Lack of motivation
How to stay healthy while caring for someone else
If you're responsible for taking care of a loved one, making sure your own needs are met is of the utmost importance. After all, it's hard to care for someone else when you're not feeling your best. If you think you might be experiencing caregiver burnout, take a look at these tips that may be able to help you manage your stress more effectively.
Make time for yourself
Caregivers are faced with an almost endless list of things to do. Communicating with doctors, providing transportation, and taking care of your own household — all while learning about new caregiving practices — can seem to absorb all the time in your day.
This is why it's critical to set aside time for yourself when you're a primary caregiver for someone else. Whether it's meditating,practicing yoga, or just going for a walkin in the woods, it's important to take time for self care before caring for your loved one.
Accept help
Accepting help can be one of the most difficult things to do when you feel weighed down by responsibility. Because of the sheer number of tasks to accomplish on any given day, it can often feel hard to let others help. But if someone offers to take over some of your responsibilities, let them. Try having a list ready of items that can be managed by someone other than yourself.
It's also worth keeping in mind that, if you need to talk to a medical professional quickly, the One Medical app is available to let you chat with providers 24/7. Here are other resources to use to arrange assistance in caring for your loved one:
Talk to someone if you feel depressed
Caregiving is a strenuous job, and feeling overwhelmed all the time can take a major toll on your mental health. One of the most common issues caregivers face is depression, which can cause feelings of hopelessness and suicidal thoughts.
If you think you might be struggling with depression as a result of your caregiving responsibilities, don't be afraid to seek help. Finding a qualified therapist and taking active steps toward improving your mental health will make a big difference in your ability to continue this important and necessary role.
Being a caregiver is one of the most difficult roles you can take on. If you're having trouble keeping up with your list of responsibilities, know that you're not alone. By setting boundaries and becoming aware of the tools that can make your job easier, you can effectively manage the stress you may be feeling.
Book an appointment today if you would like help from one of our One Medical Providers in creating a care plan for you and your loved one.
The One Medical blog is published by One Medical, a national, modern primary care practice pairing 24/7 virtual care services with inviting and convenient in-person care at over 100 locations across the U.S. One Medical is on a mission to transform health care for all through a human-centered, technology-powered approach to caring for people at every stage of life.
Any general advice posted on our blog, website, or app is for informational purposes only and is not intended to replace or substitute for any medical or other advice. 1Life Healthcare, Inc. and the One Medical entities make no representations or warranties and expressly disclaim any and all liability concerning any treatment, action by, or effect on any person following the general information offered or provided within or through the blog, website, or app. If you have specific concerns or a situation arises in which you require medical advice, you should consult with an appropriately trained and qualified medical services provider.