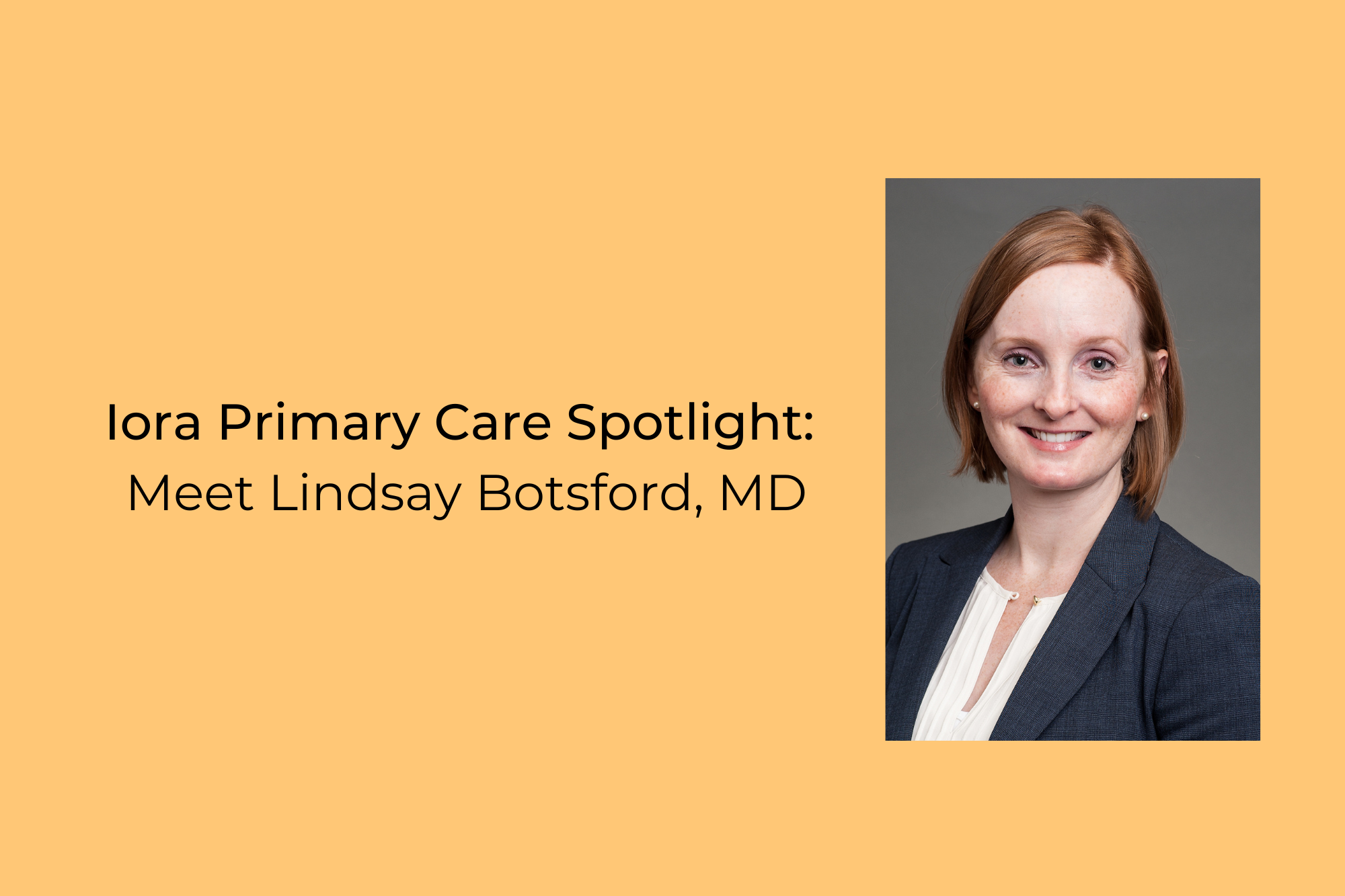 At One Medical Seniors, we strive to provide our patients with a whole new kind of care built on genuine relationships that aims to treat the whole health of a person. Team members at One Medical Seniors work to empower our patients, providing them with the care, advice and insight they need on their journey to better health, happiness and life.
Of course, our care would not be complete if it wasn't for our dedicated, passionate and brilliant care teams of physicians, nurse practitioners, health coaches and more. Together, our teams work to provide care built on genuine relationships, treating the whole health of our patients day in and day out. 
This week, we will highlight the work of one of One Medical Senior's most passionate, driven members of the team, Lindsay Botsford, MD, MBA, FAAFP.
Dr. Botsford received her Doctor of Medicine from Baylor College of Medicine and earned a Bachelor of Arts in History and Health Policy from Rice University. After college, she received her Board Certification in Family Medicine and her Certification in Medical Quality from the American Board of Medical Quality. Before One Medical Seniors, she worked as medical director and faculty at the Memorial Family Medicine Residency.
Dr. Botsford's extensive experience and track record in Family Medicine and Medical Quality makes her an ideal Medical Director at One Medical Seniors. She is impassioned by her work, and she seeks to make that known to all of her patients through patient advocacy.
Her commitment shines through in Dr. Botsford's work. At her previous job, Dr. Botsford tells us she had a patient that drove more than 30 miles to receive care specifically from Dr. Botsford.
"I think it's just a testament to how important it is to take time to listen to patients," says Dr. Botsford.
For Dr. Botsford, this kind of culture around relationship-building is something she values about One Medical Senior's mission, values and team members. There's a real culture built around treating the whole patient, and that means listening and connecting with them to understand their goals, concerns and barriers. This is a point Dr. Botsford echoes in her decision to join One Medical Seniors.
"One Medical Seniors philosophy based around patients is a refreshing and revolutionary change that the healthcare system needs," she says. "I decided to join One Medical Seniors because we put patients first, and that is something I'm incredibly passionate about."
Dr. Botsford's passion for patient-focused care is also a rewarding component of her role. Getting to know the patient first-hand to address their needs and concerns is a level of connection Dr. Botsford strives for in healthcare.
"The most rewarding part of my role is the experience with patients," says Dr. Botsford. "It's great to have the chance and time to connect with patients down to a personal level."
These values find themselves embedded in One Medical Seniors care, spreading to other team members to drive a culture around, as Dr. Botsford puts it, "continuous improvement."
Dr. Botsford says that One Medical Seniors team members, "never settle," expressing resilience when it comes to transforming the landscape of healthcare. The idea of continuous improvement applies to Dr. Botsford's philosophy on health, focusing on bringing the patient's goals to the forefront.
"For me, health comes down to overall well-being," she says. "Health means different things to different people, and that means helping patients to do as much as they want of the things they love to do."
With this in mind, Dr. Botsford shared some of her most important health tips for seniors. Like One Medical Seniors wraparound care, she lays out her tips to address every aspect of the patients' health, ranging from mental health to lifestyle.
"First, I would tell older adults to keep looking for ways to maintain social connections with others," she said. "Stay involved and stay active in looking for ways to connect with other people and the community." 
"Older adults should be wary of pills," she added. "There can be a lot of side effects and symptoms, but older adults should know that they may not need a pill for everything since lifestyle choices can greatly impact health."
We're proud to have Dr. Botsford as part of our patient-centric, motivated, passionate team to help in our mission to restore humanity to healthcare.
For more stories on our talented care team members, check out our Blog to discover what great healthcare is like through the eyes of our team members.
The One Medical blog is published by One Medical, a national, modern primary care practice pairing 24/7 virtual care services with inviting and convenient in-person care at over 100 locations across the U.S. One Medical is on a mission to transform health care for all through a human-centered, technology-powered approach to caring for people at every stage of life.
Any general advice posted on our blog, website, or app is for informational purposes only and is not intended to replace or substitute for any medical or other advice. 1Life Healthcare, Inc. and the One Medical entities make no representations or warranties and expressly disclaim any and all liability concerning any treatment, action by, or effect on any person following the general information offered or provided within or through the blog, website, or app. If you have specific concerns or a situation arises in which you require medical advice, you should consult with an appropriately trained and qualified medical services provider.