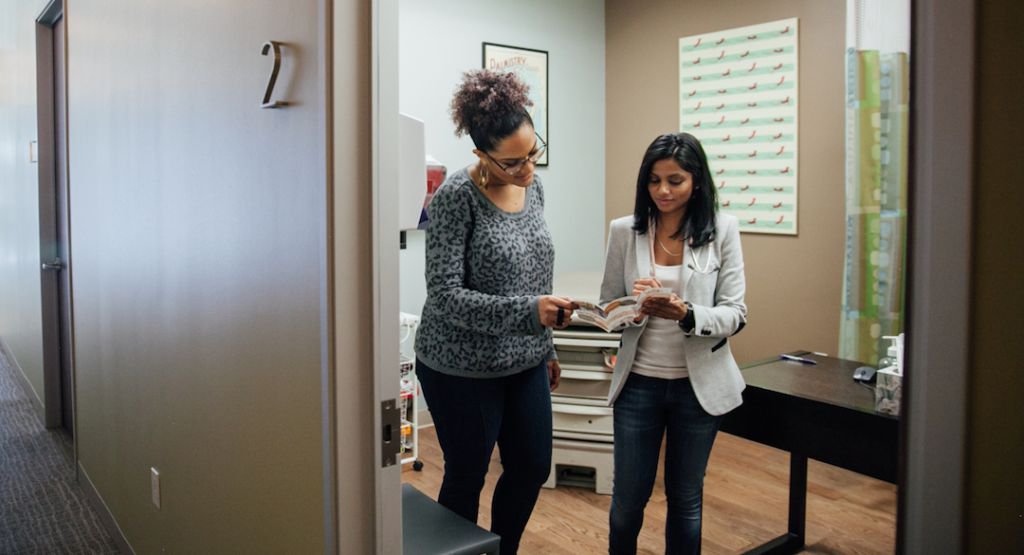 Ever walked out of your doctor's office with something still on your mind? Maybe you feel like you didn't describe your symptoms clearly enough, or you forgot to mention one concern altogether. It happens more often than you think, and it's frustrating to patients and providers alike (we want to make sure all your concerns are being addressed!). However, you can avoid walking out feeling like you missed something with a little bit of preparation and education.
Here are a few ways to make sure your provider gets the information they need.
1. Find a provider you can be honest with
One of the best ways to get the most out of office visits is to make sure you're seeing the right provider. Within your first few visits, you should feel like you're building a rapport, sharing honest conversation, and putting everything on the table for your provider to absorb. Don't feel like you have to be the "perfect patient" — the best patient is an honest one. And our providers won't judge. Even if you think something sounds a little off the wall, trust me — we've heard it before.
Still holding back? Just admit it. Tell your provider you're feeling anxious but want to make sure you're communicating clearly. It's important for providers to hear! And if you just can't open up, it may be time to find a new provider. After all, you're there to be taken care of — not to put on a performance.
2. Set the agenda
It may sound more appropriate for a business meeting, but coming into your appointment with an agenda can ensure you cover everything you want to discuss. When most patients come to see me, they have one or two big items on their mind but often think of other issues as the visit progresses. Since all of those concerns and symptoms add up to the proper diagnosis, having that information written down before the visit can help us make the most of our time together.
Before you come in, try to make a list of one to three top concerns you want to cover. If you have more, that's fine, too — but be prepared to work with your provider to prioritize what's most important and what can wait for a follow-up visit.
3. Understand the structure of an office visit
An office visit isn't just sitting down to chat –there's a structure behind it. Setting the agenda is the first step, followed by a medical history. Expect to get asked about how long your symptoms have been going on, what makes them better or worse, or what other factors have had an impact on them. From there, I'll conduct a physical exam and discuss possible diagnoses and treatment plans. While this all may seem straightforward, it's important to know what's going on so you and your provider are on the same page and able to work together.
4. Don't go overboard on the research
It's hard to resist the urge to Google your symptoms. But if you're spending hours digging through the dark corners of the internet, you're doing yourself a disservice. Often, the nonspecific information available online can lead patients to believe a small problem is something far more dire.
That said, there are studies that recommend patients research ahead of time in order to help point their provider in the right direction. It doesn't need to be excessive — if you spend 15 minutes educating yourself on treatment options or clarifying specific symptoms ahead of the visit, that's completely adequate. Not sure where to look? Just ask. I'm always happy to share some of my favorite resources.
5. Arrive early
I love having longer appointments with my patients at One Medical, but sometimes, it doesn't matter how long the visit is — it just doesn't feel like enough time. So, I encourage my patients to maximize their time by arriving early. Although we ask patients to arrive five minutes before their appointment, arriving 10 to 15 minutes early allows our admin team to get you checked in, process your insurance information, and answer questions. Some patients also find it helpful to to take a few quiet moments before their visit to relax and mentally prepare. Our comfortable and homey waiting areas are designed to be perfect for just that.
6. Partner with your provider
As a patient, it's important to remember that you're part of your own care team. Several studies have suggested that shared decision making improves clinical outcomes. So, you should expect to have your provider ask for your input on their proposed treatment plan — and they really do want to hear your thoughts on it. Provider-patient relationships aren't authoritative like they were 40 years ago. If your provider suggests physical therapy for an injury but you know you won't have time to go regularly, tell them so you can develop an alternate treatment plan together.
Partnering with your provider means you should expect to put some work in, as well. Take notes, and ask questions if you don't understand something. Participation is key to making sure you get the right care. At One Medical, the partnership between providers and patients is at the center of everything we do — we believe that the best care comes from working together towards your health goals.
The One Medical blog is published by One Medical, a national, modern primary care practice pairing 24/7 virtual care services with inviting and convenient in-person care at over 100 locations across the U.S. One Medical is on a mission to transform health care for all through a human-centered, technology-powered approach to caring for people at every stage of life.
Any general advice posted on our blog, website, or app is for informational purposes only and is not intended to replace or substitute for any medical or other advice. 1Life Healthcare, Inc. and the One Medical entities make no representations or warranties and expressly disclaim any and all liability concerning any treatment, action by, or effect on any person following the general information offered or provided within or through the blog, website, or app. If you have specific concerns or a situation arises in which you require medical advice, you should consult with an appropriately trained and qualified medical services provider.