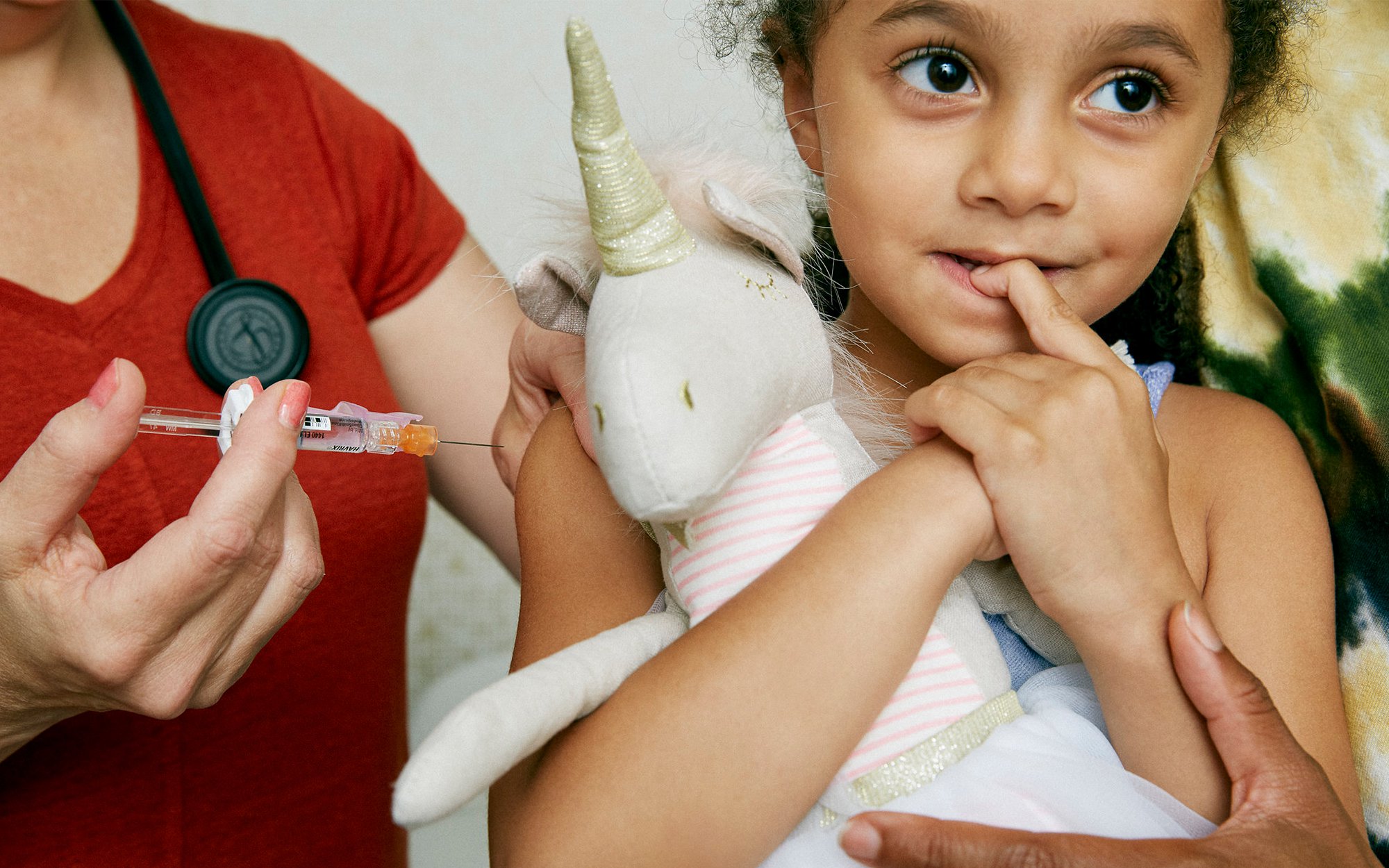 Which would you choose — your child having fun or having the flu? If you chose fun not flu, we've got some tips to help your family have a happy, healthy flu season.
Did you know that influenza (aka the flu) afflicts roughly 60 million Americans annually and that children under age 5 are at higher risk of serious flu related complications? Or that there are multiple varieties of flu viruses? Here is what you need to know to prepare for the flu season.
What is the Flu?
The Flu is a highly contagious respiratory virus that comes on suddenly. Symptoms, such as body aches, fever, and a cough, come on suddenly and typically develop one to seven days after exposure, lasting from a few days to two weeks. Having the flu may include any or all of the following symptoms:
Fever (usually 100.4°F or higher, lasting for several days), often with chills
Body aches or muscle aches
Headaches
Fatigue
Sore throat
Runny or stuffy nose
Cough
Eye pain, such as burning, pain on eye movement or sensitivity to light
Gastrointestinal symptoms, such as diarrhea or nausea and vomiting, are fairly uncommon in adults, but can be found more frequently in children suffering from the flu. And because the flu is caused by a virus, antibiotics that are effective against bacteria aren't useful when you have the flu.
How do you get the flu?
The flu is spread person-to-person primarily from airborne particles generated by coughing and sneezing, as well as by physical contact with contaminated surfaces like door handles, shared toys, or anything else an infected person touched recently. So teach your children cough and sneeze techniques and practice good hand hygiene to keep your family and those around you healthy during flu season.
Should my child get a flu shot?
Yes! At One Medical, we encourage all our patients who are eligible, including infants, children and teens, to get vaccinated against the flu. It's the single best way to protect yourself and your loved ones from getting the flu. In fact, the flu shot not only reduces your child's risk of getting the flu and lessens symptoms if he or she does get sick, it also helps prevent the flu from spreading. Getting vaccinated can also reduce the chances of your child developing complications like pneumonia. Moreover, the flu shot is especially important for infants and children, anyone pregnant (or planning to become pregnant), those over the age of 50, those with a chronic medical condition, and those caring for someone who is at risk for complications of the flu. These special groups are at high risk of serious complications of flu, like hospitalization, pneumonia and even death. The best way to protect your child is for the entire family to get vaccinated against the flu.
Does my child need a flu shot every year?
Yes, it's recommended. Each year, the flu vaccine is updated to better match the strain of flu expected to cause the majority of flu cases during the upcoming flu season. Because flu viruses can mutate from season to season, it's important to get a flu shot every year to ensure you and your loved ones are protected. While it's possible immunity from a prior year's shot can be protective, One Medical stands with other bodies such as the Centers for Disease Control and World Health Organization in recommending annual flu vaccination for everyone 6 months and older.
Are there special recommendations based on my child's age ?
Yes, some infants are too young to be vaccinated for the flu, while older infants and young children may need 2 flu shots to be completely vaccinated. Here's the breakdown by age:
Babies under 6 months are too young to receive the flu vaccine. The best way to protect newborns and young infants is to make sure the people who care for them and spend time with them are vaccinated.
Between 6 months and 8 years, some children will need 2 doses of the flu vaccine to be protected. If it is the first time your child is receiving the flu vaccine, or if your child has only received one flu vaccine in the past, he or she will need 2 doses of the vaccine this season. It is best to begin with the first dose as early as possible. The second dose should be given at least 28 days after the first dose. Children who need 2 doses, but only receive 1 dose of the vaccine may have reduced or no protection from the flu.
Children between 6 months to 8 years who have received 2 doses of the flu vaccine in the past, will only need one flu shot this season.
Children over 8 years old will need one flu shot this season.
When is the best time for my child to get a flu shot?
For children 6 months and up, it's best to get the flu shot before flu season starts, so we recommend getting vaccinated in September or October when the current season's vaccine is available. It is especially important for children who need 2 doses of the vaccine to start the process early, as the second dose is given at least 28 days after the first. Because flu season in the US can last as late as May, it's still worth getting vaccinated even after October. Babies who turn 6 months in the midst of flu season should start the 2 dose vaccine series as close to 6 months as possible. Also, it can take up to two weeks after vaccination for antibodies to develop and protect your child against the flu, so keep that in mind when planning to get vaccinated
Are flu vaccines safe?
Yes, absolutely. Flu vaccines have been studied carefully and are very safe. Even though some people get sick despite getting a flu shot, the flu shot itself cannot give you the flu. Some people report symptoms such as body aches and low-grade fevers after getting a flu shot. This is due to your body's developing a healthy immune response to the vaccine. These symptoms usually resolve within 24-48 hours. There has been an association between the flu shot and a serious complication called Guillain-Barre Syndrome (GBS), but this is extremely rare - fewer than 1 or 2 people per million who receive the vaccine will develop this syndrome, and the vaccine has been shown over and over to be safe and effective. If you have concerns about the vaccine's safety, you can read more from the CDC here.
Talk to your provider if you've had a bad reaction to a vaccine in the past before receiving your next flu shot.
How much does the flu shot cost?
The vaccine is completely covered by most insurance plans. Alternatively, if don't have insurance, you can pay out of pocket: $45 for the regular, pediatric and egg-free vaccines, and $75 for the high-dose. Please check with your insurance carrier if you have questions concerning your coverage.
What do I need to know about walk-in flu shots at One Medical?
Members age 14 years and up can walk into any One Medical location during regular lab hours to receive a flu shot, with a parent or legal guardian present. You can find your One Medical location's lab hours on our flu homepage. Worried about wait times? Give us a call in advance and we can let you know what to expect.
If you or your child are a One Medical member under 14 years old, you can walk into any of our One Medical family offices. Only those offices can provide flu shots, so please be sure to visit one of our family offices that cares for pediatric patients, and make sure that a parent or legal guardian is present.
Should my child get tested for the flu?
If your child has the symptoms described above during a flu outbreak, it's likely he or she has the flu and there's usually no need to be tested. In most cases, it's best to stay at home and rest. If your child is aOne Medical member, you can use a virtual visit on our app to speak with a member of our medical team. They'll make sure your family gets the care they need, including an office visit if necessary.
What should I do if my child gets the flu?
There's really no substitute for the tried-and-true treatments. Encourage your child to rest, drink plenty of fluids, and take acetaminophen (Tylenol) and/or ibuprofen (Motrin, Advil) for fever and body aches (as directed on the bottle). If you need help calculating the medication dose, contact our virtual team and we will be happy to assist. Of note, children under 19 years old should not use aspirin unless directed to do so by their medical provider. And remember, antibiotics won't help your child recover from the flu.
Your family can prevent the spread of illness by washing hands frequently, coughing and sneezing into their arms (not their hands), and throwing out tissues immediately after use. Kids are contagious from the day before they develop symptoms until 24 hours after the fever breaks.
Children should stay home from school and activities until they have had a normal body temperature (under 100.4°F without taking a fever-lowering medication such as Advil or Tylenol) for at least 24 hours.
If you're worried about complications of influenza (e.g., if your child is short of breath or fever is persisting), or if the symptoms worsen, please use our virtual visit features on our mobile app. We're available 24/7 to care for you.
Should my child take an antiviral medication like Tamiflu?
Antiviral medications, such as oseltamivir (Tamiflu) or the inhaled drug zanamivir (Relenza), offer little benefit for most healthy adults and children so we don't routinely recommend antiviral medication except under certain circumstances. Kids who are very sick with the flu (like children whose illness is so severe they need to be hospitalized) and those who are at risk of developing serious flu complications (children under 5 years or because of a chronic health condition) and children living with infants under 6 months of age are recommended to take antiviral medication. Antiviral medications can lessen the severity and shorten the duration of symptoms if given within 48 hours of the illness. If given later, the medication will have little effect.
Sometimes these medicines are also used as prophylaxis to lower the risk of infection if an infant or child has been in close contact with an infected person. Oseltamivir can be used to treat cases of the flu in all ages, and may be used as prophylaxis in age 3 months and up. Zanamivir can be used to treat the flu for age 7 years and up, and as prophylaxis in age 5 years and older. Some side effects of these medications include nausea, diarrhea, and headache.
If you're unsure if it is recommended for your child to take antiviral medication, or you have additional questions, please contact a member of your care team.
It's easy to get the entire family vaccinated through your One Medical membership. If you and your children are already members, just drop by any of our pediatric office locations (outside of NY) during lab hours — no appointment needed. Located in New York? You can get your flu shot at one of One Medical's flu shot clinics or during an appointment. If you have any other questions about the flu, reach out to our virtual medical team on our app (iOS or Android) who can help you to start feeling better.
The One Medical blog is published by One Medical, an innovative primary care practice with offices in Boston, Chicago, Los Angeles, New York, Phoenix, Portland, the San Francisco Bay Area, Seattle, and Washington, DC.
Any general advice posted on our blog, website, or app is for informational purposes only and is not intended to replace or substitute for any medical or other advice. The One Medical Group entities and 1Life Healthcare, Inc. make no representations or warranties and expressly disclaim any and all liability concerning any treatment, action by, or effect on any person following the general information offered or provided within or through the blog, website, or app. If you have specific concerns or a situation arises in which you require medical advice, you should consult with an appropriately trained and qualified medical services provider.