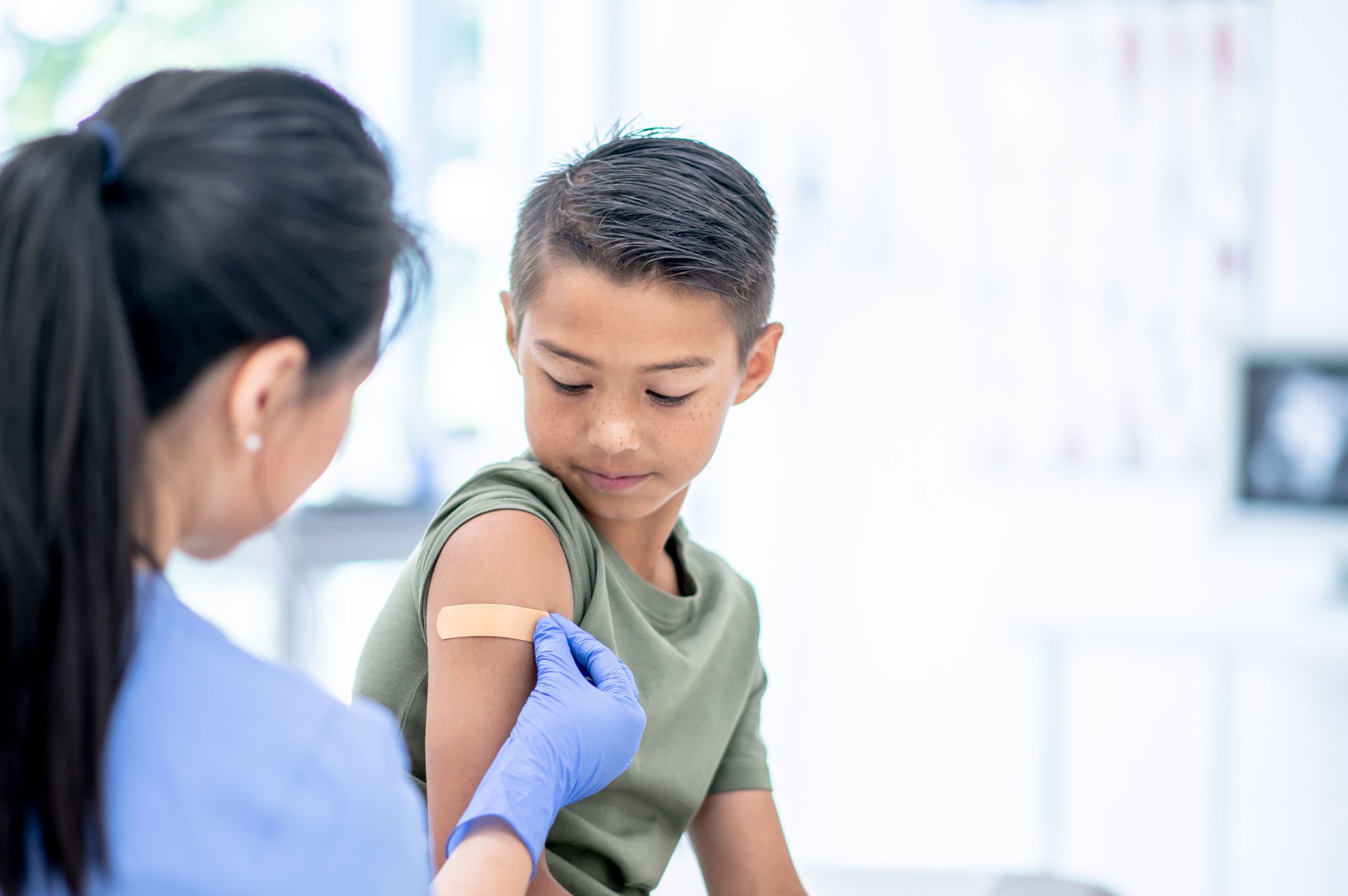 Updated June 21, 2022.

The FDA and CDC are now recommending Pfizer/BioNTech or Moderna COVID-19 vaccination for children ages 6 months and above, in an effort to prevent severe illness and death from the COVID-19 virus. Here's what you need to know about the vaccines:
How is the vaccine administered?
The vaccine is administered the same way as the flu shot, injected into the muscle of the upper arm or thigh. Depending on the vaccine given and age of the child, the vaccine requires a total of 2 or 3 doses for a full immune response. Each of these shots, however, is a fraction of the dose given to teens and adults.
What are the side effects?
Children in the vaccine's clinical trial experienced mostly minor side effects, similar to those seen in teens and young adults. The most common side effects included pain around the injection site, fatigue, headache, and muscle aches, while fever and chills were seen less frequently than in older teens and adults. No severe side effects and allergic reactions were seen in the clinical trials for children and so far, they have been reported to be very rare with the adult vaccines. However, if your child has ever had a severe allergic reaction or anaphylaxis to any ingredient in the Pfizer COVID-19 vaccine, it is not considered safe to get the vaccine.
Why should my child get the COVID-19 vaccine if the virus is less severe in children?
While children are less likely to develop severe illness from COVID-19, there is still a risk of complication, hospitalization, and even death. Even with a mild infection, children who contract COVID-19 can develop a rare but dangerous condition known as multisystem inflammatory syndrome, which can cause inflammation of the heart, lungs, brain and other organs. COVID-19 vaccination reduced the likelihood of MIS-C in children ages 12–18 years by 91%. In addition, unvaccinated teens are 10 times more likely than vaccinated teens to be hospitalized. Vaccinating children can help reduce their risk of hospitalization and other adverse health outcomes. According to a modeled scenario by the FDA, fully vaccinating 1 million kids ages 5 to 11 would prevent 58,000 COVID infections, 241 hospitalizations, 77 ICU stays and one death over a 6 month time span. Vaccinating children also helps reduce overall transmission of COVID-19 in the community, limiting its ability to mutate. As transmission decreases and vaccination rates increase, we can move towards a sense of normalcy.
How safe are the vaccines?
The FDA and CDC have reviewed the data and determined that the benefits of vaccinating children outweigh the risks. In clinical trials and in real world data from 5-11 year olds, side effects have been generally mild. In fact, no severe side effects or allergic reactions were reported. In weighing the dangers of hospitalization, death, and other serious consequences from COVID-19 against the risk of myocarditis (a rare condition linked to mRNA vaccines in teens and young adults), the FDA also concluded that the number of significant COVID-19 related complications prevented by vaccination would outweigh the risk of any severe side effects. The public health agency will continue to monitor side effects as more pediatric patients receive the vaccine, just as they have for older teens and adults.
Is the COVID-19 vaccine linked to cardiac issues?
Myocarditis and pericarditis are very rare heart conditions that have been linked to the COVID-19 mRNA vaccines. Cases of myocarditis post-vaccination have occurred primarily in men, teens, and young adults, within 4 days of the second dose of the vaccine, though most patients recovered with rest and pain medication, and very few were hospitalized.
It's important to note, however, that the risk of serious illness or complication from COVID-19 infection is significantly greater than the risk of vaccine-linked myocarditis. In fact, there is a higher likelihood of developing myocarditis from COVID-19 infection itself, than from COVID-19 vaccination. As there were no reports of myocarditis or pericarditis in children ages 6 months - 11 years in the Pfizer or Moderna clinical trials, the FDA concluded that the benefit of protection against COVID-19-related illness, hospitalization, and death outweighed the risk of the rare heart conditions. However, more data will be needed as the vaccine is used more widely.
My child already had COVID-19. Do they need to be vaccinated?
Yes, they should still get the vaccine. The antibodies produced after COVID-19 infection are variable in terms of how much and how long they last. Vaccination provides a more consistent immune response. Evidence is emerging that people get better protection by being fully vaccinated compared with having had COVID-19. One study showed that unvaccinated people who already had COVID-19 are more than 2 times as likely than fully vaccinated people to get COVID-19 again.
If your child currently has COVID-19, they should delay the vaccine until they have recovered and are out of the isolation period.
If your child has a history of multisystem inflammatory syndrome in children (MIS-C), consider delaying vaccination until they have recovered and 90 days have passed since the date of diagnosis. Learn more about the clinical considerations for people with a history of multisystem MIS-C.
What if my child is 11 years and 11 months? Should they get the dose recommended for those 12 and up or wait until they turn 12 to receive the vaccine?
It is recommended that children receive the vaccine as soon as they are eligible. Children should receive the dose that is appropriate for their age at the time they are receiving a vaccine. In this case, an 11 year 11 month old should receive the 5-11 year old product (10 micrograms).
What is One Medical's approach to vaccinating kids 11 and under?
We are working with local health departments to prepare to offer COVID-19 vaccines to children as soon as possible. Anyone whose child is eligible for vaccination may book an appointment at One Medical; your child doesn't need to be a paying member. Appointments will be available for booking in the app as soon as we receive vaccines. Learn how to sign up your child for a temporary membership and book an appointment. If you have any clinical questions or concerns, please contact your child's provider by making an appointment, messaging in-app, or booking a Remote Visit.
The One Medical blog is published by One Medical, a national, modern primary care practice pairing 24/7 virtual care services with inviting and convenient in-person care at over 100 locations across the U.S. One Medical is on a mission to transform health care for all through a human-centered, technology-powered approach to caring for people at every stage of life.
Any general advice posted on our blog, website, or app is for informational purposes only and is not intended to replace or substitute for any medical or other advice. 1Life Healthcare, Inc. and the One Medical entities make no representations or warranties and expressly disclaim any and all liability concerning any treatment, action by, or effect on any person following the general information offered or provided within or through the blog, website, or app. If you have specific concerns or a situation arises in which you require medical advice, you should consult with an appropriately trained and qualified medical services provider.