Home
Blog
Get Well
What To Do If You Are Experiencing Cold Or Flu-like Symptoms Amidst Covid-19 Outbreaks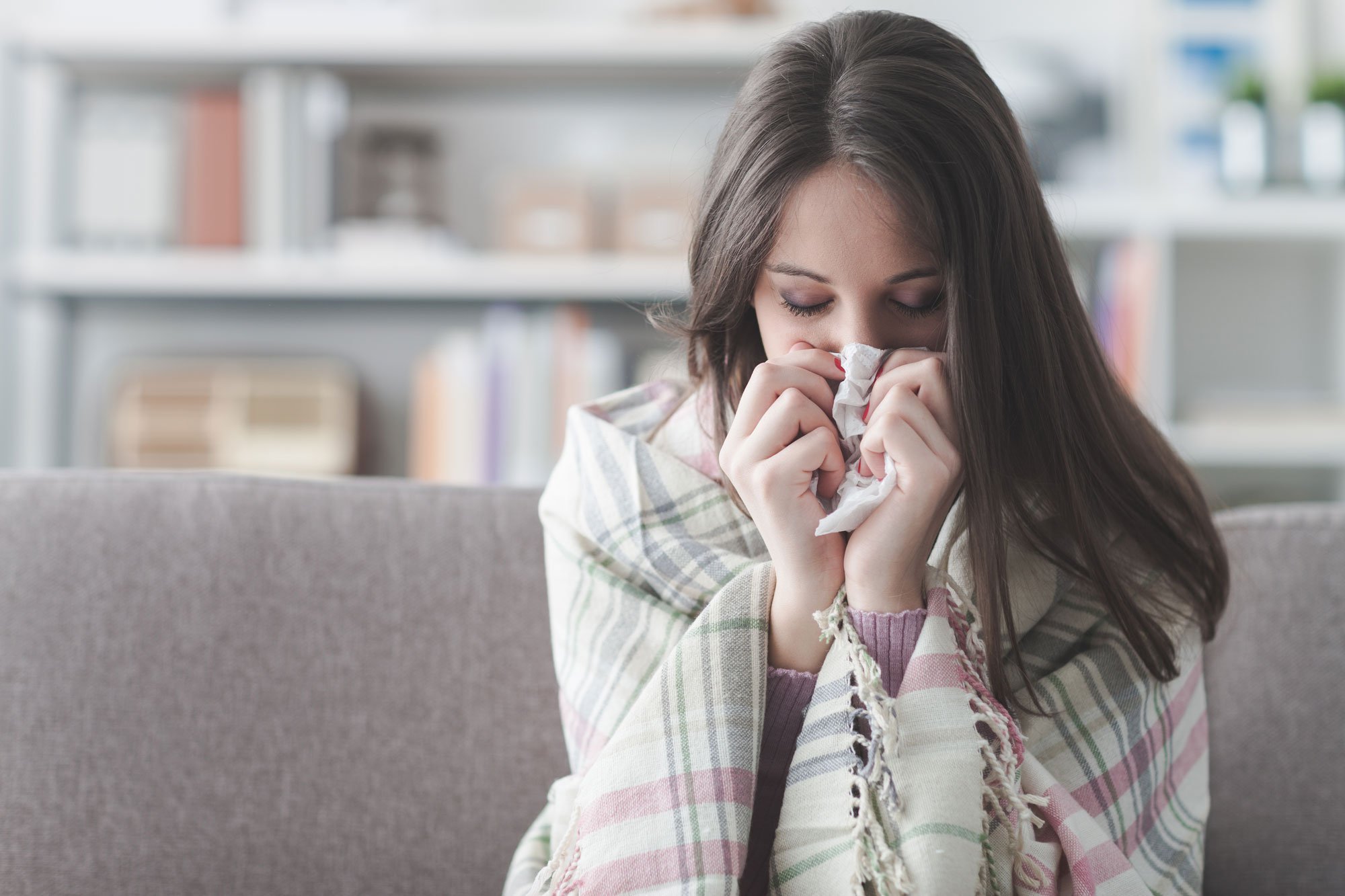 Updated March 31, 2020.

Feeling ill with a cold or flu is never pleasant, but given growing concerns over coronavirus, we know these symptoms can seem particularly troubling now. We're here to provide guidance on how to assess your symptoms and what to do in order to take care of yourself and those around you.
Above all else, if you are experiencing cold or flu-like symptoms during this time, we want you to know:
Your concern is understandable, but assessing your symptoms and closely self-monitoring your condition is key to easing your anxiety and getting well again.
There are options to treat many of the symptoms you may be experiencing.
The best thing you can do for yourself, and your community, is to stay home in nearly all instances.
First, do not let the fear take over.
While it is completely normal to feel concerned when you are experiencing symptoms reportedly linked to coronavirus, there's no need to panic. Remember there may be other possible sources of your symptoms, and that no matter what you have, treatment recommendations are similar across the board, and Covid-19 causes mild symptoms in the large majority of cases. We are in the thick of a typical cold and flu season. In many parts of the country, seasonal allergies are also starting to take effect. This means, you could be experiencing a number of things completely unrelated to coronavirus. And, the vast majority of otherwise healthy people who contract COVID-19 fully recover in days or weeks.
Take an audit of your symptoms.
It can sometimes be hard to decipher how your symptoms themselves may illuminate their root cause. Here is a simple breakdown of how to assess your symptoms: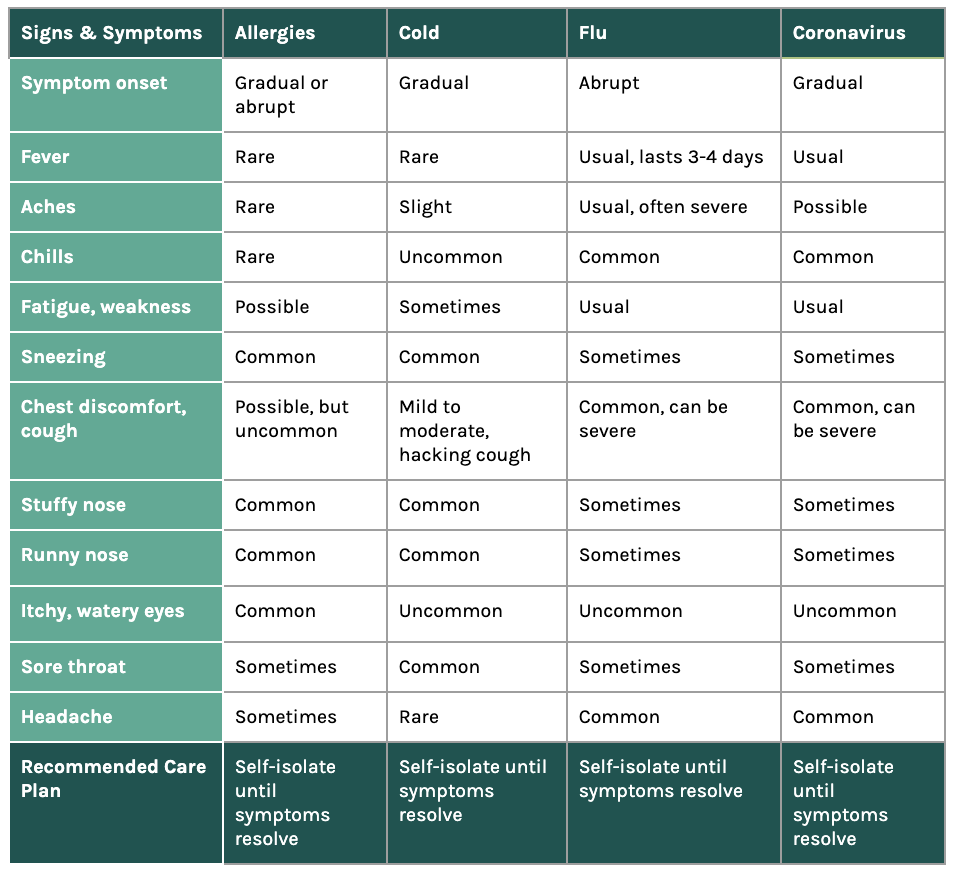 Look for warning signs of something more serious.
The symptoms listed below should be considered warning signs, indicating medical attention should be sought right away:
Extreme difficulty breathing or shortness of breath
Persistent pain or pressure in the chest or abdomen
Persistent dizziness, weakness, confusion, inability to awaken
Seizures
Not urinating
Fever or cough that improve but then return or worsen
Unable to eat or drink enough
Worsening of chronic medical conditions
And while current research and data indicate children are least likely to experience severe symptoms or complications associated with coronavirus, the following symptoms should be addressed immediately if present in children 14 age or under:
Fast breathing or trouble breathing
Bluish lips or face
Ribs pulling in with each breath
Chest pain
Severe muscle pain (child refuses to walk)
Dehydration (no urine for 8 hours, dry mouth, no tears when crying)
Not alert or interacting when awake
Seizures
Fever above 104°F
In children less than 12 weeks, any fever
Fever or cough that improve but then return or worsen
Worsening of chronic medical conditions
If there is concern that you, or a loved one, are medically unstable as a result of the symptoms listed above, please contact 9-1-1 immediately.
Self-isolation is key for stopping the spread of cold, flu, and coronavirus.
No matter if you actually have a cold, flu, allergies or coronavirus, the most important thing you can do when you are experiencing any respiratory symptoms is to self-isolate. This will help stop the spread of whatever you have, which is key to controlling the spread of viruses. This is especially critical now, as widespread testing is not yet available, it is incumbent on us to practice what contagion and public health experts agree is the best way to keep people healthy: minimize the opportunities for germs to be spread by distancing sick people from the healthy population. Read our guide on how to self-isolate.
Stay in self-isolation until your symptoms have fully resolved, or until advised by your provider.
Several departments of public health across the country have updated guidelines to advise people with COVID-19-like symptoms but no firm diagnosis should stay home away from others until at least 72 hours after the fever is gone and symptoms get better. Additionally, One Medical recommends that if you've received a positive COVID-19 test result, you should stay in self-isolation until you have been fever-free for 72 hours without the use of medication, other respiratory symptoms have improved, and at least 10 days have passed since symptoms first appeared.
Understand your options for managing upper respiratory infection symptoms with over the counter or prescription antiviral medications.
We recommend staying hydrated and taking a fever-reducing medicine like ibuprofen or acetaminophen (Tylenol), if you feel like you need to. We are aware some medical professionals are advising against using ibuprofen in cases of Covid-19, but there is currently no evidence that ibuprofen or other NSAIDs worsen coronavirus infections. An antihistamine like Zyrtec or Claritin may help reduce your congestion regardless of whether it's caused by a virus or allergies. For the seasonal flu, Tamiflu may be helpful if it's started soon after your symptoms start, but also causes fairly frequent side effects, so isn't the best choice for everyone. Rest and hydration are the most important things to remember as you work on getting well.
For more information and resources, please visit One Medical's coronavirus resource center.
The One Medical blog is published by One Medical, an innovative primary care practice with offices in Boston, Chicago, Los Angeles, New York, Phoenix, Portland, the San Francisco Bay Area, Seattle, and Washington, DC.
Any general advice posted on our blog, website, or app is for informational purposes only and is not intended to replace or substitute for any medical or other advice. The One Medical Group entities and 1Life Healthcare, Inc. make no representations or warranties and expressly disclaim any and all liability concerning any treatment, action by, or effect on any person following the general information offered or provided within or through the blog, website, or app. If you have specific concerns or a situation arises in which you require medical advice, you should consult with an appropriately trained and qualified medical services provider.