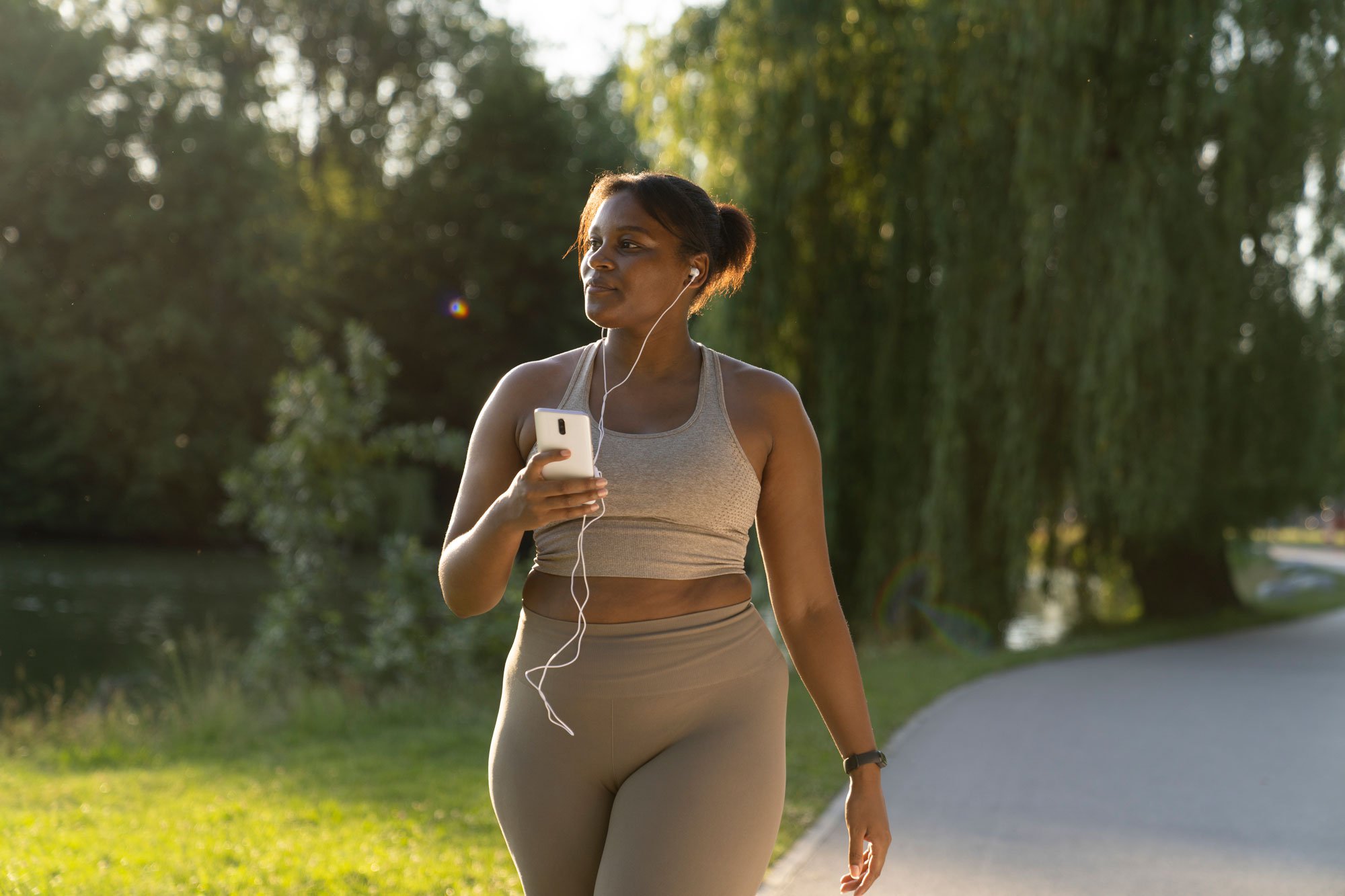 When we think of exercise, our minds often jump to sweaty, high-intensity cardio or weight sessions at the gym. While it's true that regular physical activity is key for good health, the reality is it doesn't need to be hard or overcomplicated. As it turns out, one of the simplest forms of movement - walking - may actually be one of the most beneficial. Here's how getting those daily steps in can boost your overall health and well-being.
The health benefits of walking
Though it may not seem as tough or intensive as other workouts, walking can significantly improve both your physical and mental health and help with everything from stress and sleep to disease prevention and longevity.
"Several studies have shown that exercise — even brisk walks — have many benefits including positive effects on cholesterol levels, decreased levels of markers of inflammation, and decreased blood pressure," says One Medical provider Jeremy Jones, PA-C. "Studies also suggest that regular exercise may improve type 2 diabetes, risk of heart disease and stroke, and prevent osteoporosis as well as some cancers."
According to the Mayo Clinic, regular brisk walking can strengthen your bones and muscles, improve muscle endurance, reduce tension, boost your immune function, and increase energy levels. But the rewards don't stop there; walking has numerous psychological benefits as well. Several studies have found that walking can reduce stress and anxiety, lower the risk of depression, and boost mood and creativity levels. Even just a few minutes can make a difference. One 2018 study found that just 10 minutes of brisk walking led to an improvement in mood, while some psychologists suggest that a 10 minute walk may relieve anxiety and depression just as much as a 45 minute workout.
How to add more steps to your day
So how can you reap the benefits of walking and make the most out of your daily steps? Here's what Jones recommends:

1. Any amount counts.
While there can always be too much of a good thing, research suggests that the vast majority of Americans could stand to squeeze in more daily movement. There's no need to block out half the day for exercise - some physical activity is better than none. Setting aside as little as 150 minutes (a little over 2 hours) per week could help reduce the risk of many chronic diseases and other adverse health outcomes, according to the U.S. Department of Health and Human Services.
"To a point, the more you exercise, the more benefit you will receive," Jones says. "Daily exercise, including walking, has been shown to provide the best health benefit but that may not be a reality for everyones' lifestyle. Remember, any exercise is better than none. A reasonable goal is 30 minutes a day or 150 minutes a week and this can be broken up into shorter stints. I generally recommend at least 50 minutes of exercise three times a week."

2. Just start moving.
Yes, "walking" is a vague term since that could cover everything from a leisurely pace to a brisk power-strut around the neighborhood. So is there a specific speed walkers should aim for? According to the USDHHS's Physical Activity Guidelines for Americans, exercise can be measured in different intensities. "Light-intensity" is walking at a pace of about 2 miles per hour or less while "moderate-intensity" is walking "with purpose" at a speed of about 2.5 to 4 miles per hour. At a moderate pace, you should still be able to talk, but with increased effort. Walking very fast (4.5 to 5 miles per hour) is considered "vigorous-intensity." You'll know you've reached the "vigorous" level if you have a hard time speaking in full sentences while you're exercising.
Everyone's physical activity needs are unique, but experts say for substantial health benefits, adults should aim for at least 150 minutes (2 hours and 30 minutes) to 300 minutes (5 hours) a week of moderate-intensity, or 75 minutes (1 hour and 15 minutes) to 150 minutes (2 hours and 30 minutes) a week of vigorous-intensity aerobic physical activity (or an equivalent combo of those two) and spread that activity throughout the week. And even light-intensity physical activities can help reduce the risk of all-cause mortality for sedentary adults who swap sitting for some movement.
"Start moving and set your own goals," Jones says. "There is no specific pace that will match everyone. Warm up, get moving, and stick to a pace that you are comfortable with but also feel that your heart is working more than when at rest. Finish up with a slower, cool down pace and don't forget to stretch! As you continue this, you will find that your tolerance will increase and so will your pace."

3. Set a step count that works for you.
Many health advocates have encouraged exercisers to strive for 10,000 steps a day. While there's no single step or mileage goal that is universally "right" for everyone, Jones says the 10k rule isn't a bad one to abide by when possible.
"Overall, I think that it is a good goal in that it gets people moving and gives them a feeling of success when they meet it," Jones says. "Generally, 10,000 steps is around five miles which is much more than most would typically walk without trying."
While you can spend plenty of time (and money) researching clothing, shoes, and gadgets to optimize your physical activities, the bottom line is that carving out the time for a walk is a simple, sustainable solution for busting out of a sedentary rut — and you may be surprised how much better you feel once you make it a regular part of your routine.
"In my opinion, walking is one of the best and easiest ways to improve your physical and mental well-being," Jones says. "You can do it just about anywhere, at any time. It is low-impact on your musculoskeletal system and beneficial to your cardiovascular system. In the technological age, it gives you a chance to connect with nature and others all around you. Get out there and enjoy."
Have more questions about walking and your health? Our primary care team is here to help. At One Medical, we aim to provide exceptional care designed around you and your unique health needs. Sign up today to book a same or next day appointment — in person or over video — through our app.
The One Medical blog is published by One Medical, a national, modern primary care practice pairing 24/7 virtual care services with inviting and convenient in-person care at over 100 locations across the U.S. One Medical is on a mission to transform health care for all through a human-centered, technology-powered approach to caring for people at every stage of life.
Any general advice posted on our blog, website, or app is for informational purposes only and is not intended to replace or substitute for any medical or other advice. 1Life Healthcare, Inc. and the One Medical entities make no representations or warranties and expressly disclaim any and all liability concerning any treatment, action by, or effect on any person following the general information offered or provided within or through the blog, website, or app. If you have specific concerns or a situation arises in which you require medical advice, you should consult with an appropriately trained and qualified medical services provider.