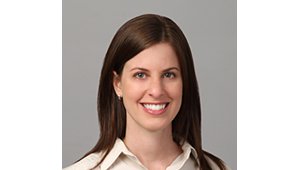 Lauren Levy, PA-C, loves farmers' markets. She enjoys putting a vegan spin on traditional Southern dishes, and she knows a very creative use for bacon (hint: It doesn't involve eating). A relatively new addition to One Medical Group, Lauren has a knack for putting her patients at ease and loves helping patients tackle health issues that they may feel awkward or embarrassed about. Her infectious warmth and penchant for silly jokes have won over both patients and staff in our Washington, DC offices. Get to know Lauren with this Q&A–and find out what's up with that bacon!
Where did you go to school?
I went to a small liberal arts college in Michigan called Kalamazoo College. Most people have never heard of it, but know of Kalamazoo because they've had Oberon or another beer from Bell's (a Kalamazoo-based brewery), or have heard the Glenn Miller song "I've got a gal in Kalamazoo." I also attended Emory University's joint PA/MPH program for graduate school.
Give us the quick version of how you came to work at One Medical.
I moved to DC earlier in 2012 and found out about One Medical online. I was immediately impressed by the unique patient-centered approach to primary care. After visiting the offices and meeting my future colleagues, I knew that it was a perfect fit. I can't believe I've only worked here for four months: I feel right at home!
What made you want to go into medicine? Why did you choose to become a PA?
There are so many things that I love about medicine and, in particular, the PA profession. I love the challenge of interpreting a patient's symptoms with science while understanding each person's unique social, cultural, and environmental contexts. I love to learn and to empower others by sharing information and skills. I love the team approach of being a PA and collaborating with physicians, nurse practitioners, and other health care providers to best care for our patients. I also love the focus on patient education and advocacy, which our training emphasizes. I could go on and on.
What's the most rewarding aspect of what you do?
When I see a "light bulb" moment in patients' eyes–such as when we discuss a complicated diagnosis or treatment plan in such a way so they fully understand its importance. I love seeing my patients' motivation and determination once they realize how they can take charge to improve their health.
What do you want patients know about your practice style or approach?
I don't tell people what to do; I provide them with information and help them decide what's best for them in terms of their overall health and lifestyle choices.
I love when patients come in having already researched their symptoms–it makes my job easier when I know their concerns. So I often ask patients, "What are you worried about? What have you Googled?" This helps patients feel more comfortable opening up to me, and we can discuss their fears and expectations based on what they already know, or maybe don't know. I love being able to reassure patients that they most likely don't have some rare and serious disorder they read about on the Internet.
What kind of cases are you most passionate about?
What I like best is making people feel as comfortable as possible by being approachable, compassionate–and sometimes silly! This approach is especially important when patients are nervous or embarrassed about discussing really personal aspects of their health, which often includes digestive health, sexual health, and mental health. It's very gratifying to me when patients come in nervous but leave laughing.
Got a health tip you care to share?
I think almost everyone can benefit from a diet rich in probiotics (found in yogurt and other fermented foods) to improve digestive and immune health, as well as consuming more omega-3 fatty acids (found in fish oil and flaxseed oil) for improved heart and mental health, and decreased inflammation.
What are your favorite healthy treats? Guilty pleasure foods?
I love treats! Everyone knows I have a secret snack drawer in my desk. My favorite healthy treats are hummus and veggies, berries, and these wonderful flax/chia/sesame seed honey bars Dr. Kara Choi's mom makes!
My guilty pleasures are Coca-Cola, anything covered in dark chocolate from Trader Joe's, and Tater Tots.
How do you stay fit?
Oy vey! I don't have a fitness routine, but I eat a lot of vegetarian and vegan foods and I like to be active outside. I also have solo dance parties in my living room, and occasionally, when I'm feeling really motivated, I break out my Billy Blanks Tae Bo DVD!
Tell me more about your vegetarian/vegan preferences. How did you start eating that way?
My husband is a vegetarian and I'm lactose intolerant, so together we're almost vegan. I don't really restrict my diet; I just eat meat in moderation. I like the way vegan foods taste and make my body feel. I love and eat a lot of fruits and veggies, tofu, and seitan. My husband and I spent a lot of time in the South, so we like to go to farmers' markets and make big vegan/vegetarian Southern feasts.
What's your favorite DC activity?
Walking around the National Mall with my husband and our dog Asa, and popping in and out of the free museums–I don't have the attention span for a four-hour tour.
I hear you like reality television. What are your favorite shows?
Oh man–this question is a bit embarrassing! I don't think I can divulge my full DVR schedule (I have to leave something to the imagination), but I will say that I love "Cupcake Wars" and "Project Runway"–I like shows that involve challenge and creativity. And I exercise on the elliptical while watching my shows, so I don't feel as guilty about it.
Who inspires you and why?
I have several family members who are integrative medicine physicians. They've taught me to care for patients in a holistic way–body, mind, and spirit. I've inherited all sorts of wisdom, from homeopathic remedy kits, to CDs that use sound waves to help you relax or concentrate, to a 900+ page book with remedies from the early 1900s (my favorite: "for a sore throat, tie a piece of bacon around the neck"…I can't say I've tried it, but hey, who knows!).
The One Medical blog is published by One Medical, a national, modern primary care practice pairing 24/7 virtual care services with inviting and convenient in-person care at over 100 locations across the U.S. One Medical is on a mission to transform health care for all through a human-centered, technology-powered approach to caring for people at every stage of life.
Any general advice posted on our blog, website, or app is for informational purposes only and is not intended to replace or substitute for any medical or other advice. 1Life Healthcare, Inc. and the One Medical entities make no representations or warranties and expressly disclaim any and all liability concerning any treatment, action by, or effect on any person following the general information offered or provided within or through the blog, website, or app. If you have specific concerns or a situation arises in which you require medical advice, you should consult with an appropriately trained and qualified medical services provider.