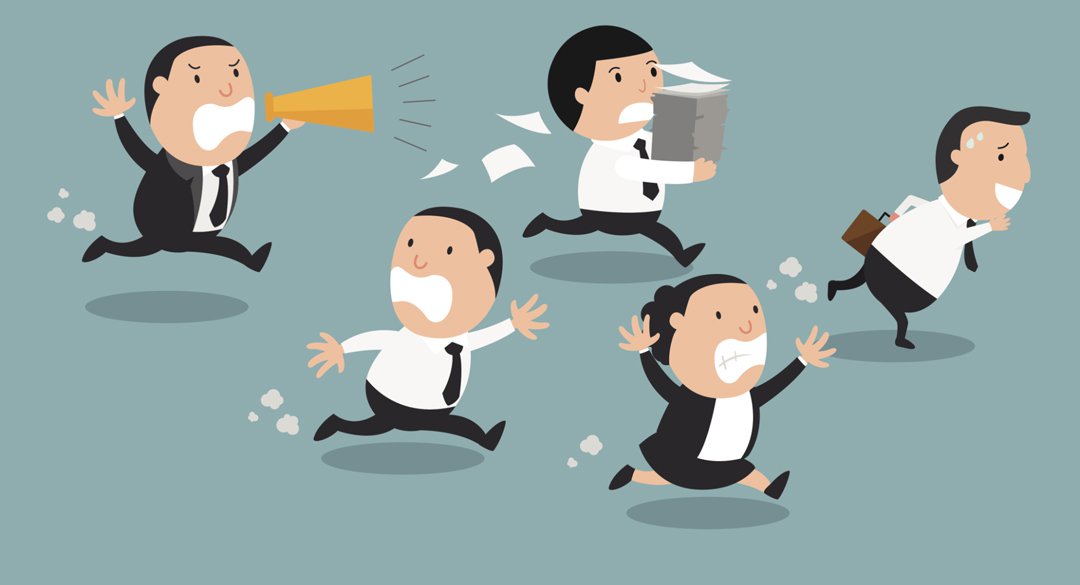 Bullying: you know it happens in the schoolyard and online, but would you recognize it in the office?
Workplace bullying may be more prevalent than you realize. In fact, according to David Maxfield, cofounder of corporate training consultancy VitalSmarts, the vast majority of American employees experience some form of bullying at work. In his study of almost 2,300 workers, a staggering 96 percent said they'd experienced bullying, and more than half said they'd endured it for more than five years.
The bullying these employees experienced and observed was almost always psychological and emotional. Only four percent of respondents had ever witnessed physical intimidation or assault, but over half had seen threats, intimidation, or sabotaging of others' work or reputations.
Maxfield's study revealed another surprise about the workplace bullying epidemic: Although 51 percent of respondents said their company had a policy for dealing with bullies, only seven percent knew of anyone who had ever actually used it, suggesting that even if a company made the attempt to protect employees from abuse, few took advantage of the support.
What is workplace bullying?
Unlike the more obvious forms of bullying you see on the playground, workplace bullying can be much more covert. According to the Workplace Bullying Institute (WBI), on-the-job bullying is defined as "repeated, health-harming mistreatment of one or more persons (the targets) by one or more perpetrators." The abusive behavior can include threats, humiliation, intimidation, verbal abuse, or sabotage that prevents work from getting done.
How does bullying affect my health?
The repercussions of workplace bullying can be serious, and self-perpetuating. In a study from the University of East Anglia, researchers found the 350 participants who had experienced bullying exhibited deteriorated mental health, decreased well-being, and anxious behavior that made them "an easy target, leading to a spiral of abuse."
How do I combat bullying?
If you're being bullied, it's important to step back and assess the situation, and talk to peers to get their perspectives. Consider taking the following steps:
Identify the bullying behavior. Is it cruel emails? Passive-aggressive conversations? Being ignored? Start keeping track of events and their frequency. Document the specific details so you can articulate why it feels harmful.
Once you've identified the behaviors, identify the target(s) of the bullying. Is it only you? Are there others?
Examine your reactions. Are there things that have made the situation better or worse? How are people who get along with the bully behaving? It's important to understanding group dynamics in order to understand the purpose of the bullying behavior.
If the bullying is aggressive and career-limiting, consult peers outside of your organization. Getting a variety of perspectives can help elucidate what's happening.
If you've tried reasonable actions (e.g., asking the bully to stop, indicating you're uncomfortable with the behavior in a clear way), contact your human resources department to understand the next steps. Documenting behavior and intervention is important.
Ultimately, it's important to understand how you want the situation to be resolved. While it might seem like the resolution is termination of the "bully," it can have ripple effects in your life and career. Be thoughtful about the risks and benefits, seek counsel from trusted colleagues, and potentially seek therapy as a way to consider all your options.
Although it's often thought of as a childhood problem, bullying is a serious form of harassment that can affect your job, relationships, and even your health. If you're experiencing bullying at work, take the steps to address it right away and seek out support.
The One Medical blog is published by One Medical, a national, modern primary care practice pairing 24/7 virtual care services with inviting and convenient in-person care at over 100 locations across the U.S. One Medical is on a mission to transform health care for all through a human-centered, technology-powered approach to caring for people at every stage of life.
Any general advice posted on our blog, website, or app is for informational purposes only and is not intended to replace or substitute for any medical or other advice. 1Life Healthcare, Inc. and the One Medical entities make no representations or warranties and expressly disclaim any and all liability concerning any treatment, action by, or effect on any person following the general information offered or provided within or through the blog, website, or app. If you have specific concerns or a situation arises in which you require medical advice, you should consult with an appropriately trained and qualified medical services provider.