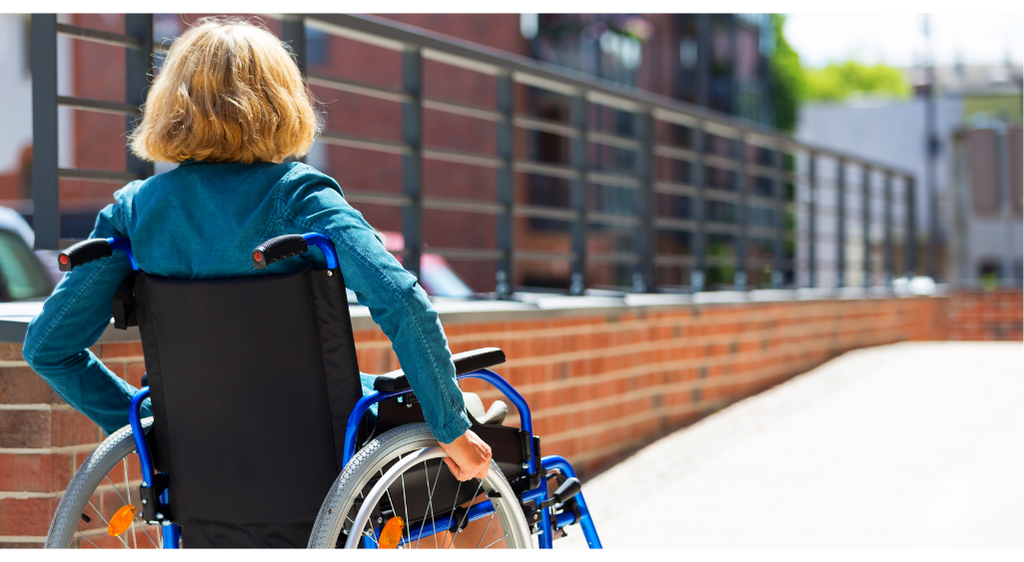 Wheelchair Safety Guidelines for Seniors and Their Caregivers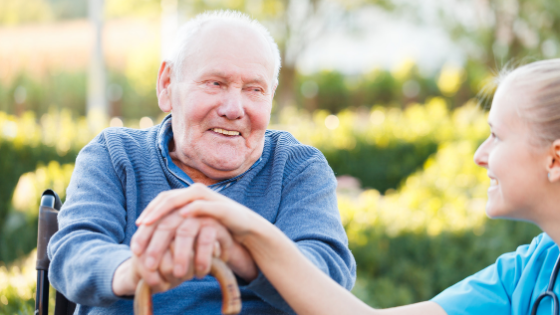 Are you curious what health concerns don't get enough attention these days? Wheelchair safety for seniors is a top contender. 
If you're one of the 2.7 million Americans with limited mobility, then you likely feel safe when sitting in your wheelchair. However, they often aren't as sturdy as they seem. Research shows that more than half of all wheelchair users will experience an accident within three years—mostly due to tips and falls. 
Those aren't great odds. But, here's the good news; most wheelchair accidents are preventable. If you take the time to learn about wheelchair safety guidelines, you can significantly decrease your risk of injury WITHOUT compromising your independence. 
Let's look closer at some wheelchair safety tips that will keep you moving and injury-free this year. 
Manual Wheelchair vs. Electric Wheelchair: What's the Difference?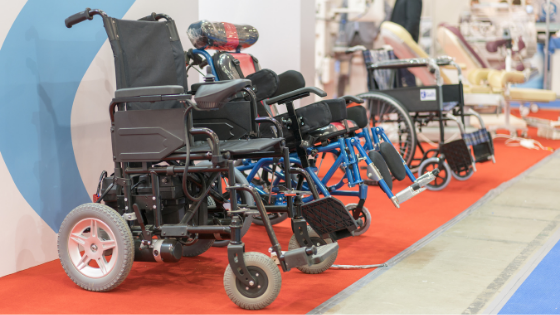 Your first decision when it comes to wheelchairs is determining whether you want a manual or electric model. 
A manual wheelchair moves only with physical effort. In most cases, you will push the wheels along the push rim or require someone's help to move around. These chairs tend to be easy to transport, as they can fold up and be packed into cars without a problem. 
In contrast, every electric wheelchair has a motor that powers it. You won't have to rely on your strength or other help to move around. However, you'll be dealing with a bulkier chair with lots of moving parts that can cause problems if it breaks down or runs out of power. 
No matter your model preferences, your wheelchair will likely be covered by Medicare part B and can be approved for you by an authorized Medicare provider. 
Still unsure whether to go manual or electric? Let's dive into the details. 
Pro's and Con's of Manual Wheelchairs
For those who have enough upper body function to propel one, manual wheelchairs are a smart choice. They move only by human power, and their simple design means you'll rarely need to deal with repairs. 
Lightweight, low maintenance, and cost-effective, there's a lot to like about manual wheelchairs. However, they are best if you plan on only occasionally using a wheelchair, as you run the risk of overusing your arm muscles and hurting yourself. 
Likewise, manual wheelchairs do require some maintenance. You'll need to keep the tires inflated, and most models aren't designed to withstand rugged use. 
You can make moving in a manual wheelchair easier on yourself by maintaining good posture and practicing upper body exercises for seniors. Keeping your chair in good condition serves a dual purpose, as it ensures you aren't fighting against flat tires or a frame that's out of alignment. 
Pro's and Con's of Electric Wheelchairs
Electric wheelchairs offer more mobility than their manual counterparts by helping you move without any exertion on your part. These chairs are designed for long term, everyday use for those who struggle to get around otherwise. 
The right electric wheelchair can dramatically increase your independence by making it possible to move around without effort. Many also let you shift positions to reduce fatigue and prevent pain on your pressure points. Most are controlled with a joystick and run on a rechargeable battery. Some even let you switch between rear and all-wheel drive. 
That's not to say electric wheelchairs are right for everyone. They cost more than manual models and require more upkeep. Most are bulky and tricky to travel with, and they aren't always designed for a caregiver to push. You're also out of luck if the motor or another electric component breaks down until you can get it repaired. 
Wheelchair Safety Tips for Seniors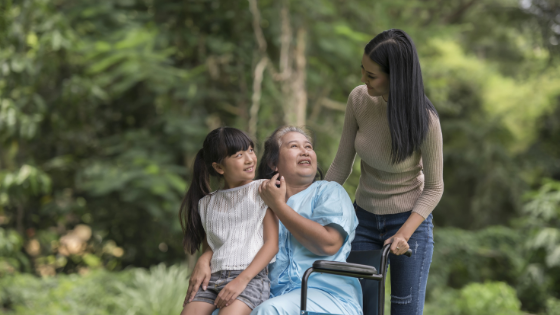 Whether you choose a manual or electric style, learning how to use a wheelchair properly is the best thing you can do to keep yourself safe. Make sure you follow these tips for wheelchair fall prevention so you don't become a statistic. 
Keep bags off the handles: As convenient as they seem, your wheelchair handles aren't a safe spot for your purse, backpack, or other bags, as they will affect the weight of the wheelchair and may make you tip.  
Avoid the rain in your electric wheelchair: The sensitive electronics on electric wheelchairs aren't designed to get wet, so plan on using yours outdoors only when there's no risk of water damage.  
Say no to small children: Tempting as it may be to allow a grandchild onto your lap, this isn't safe for either of you when you're using a wheelchair. 
Don't push off on furniture to move faster: Many people in manual wheelchairs like to push off on furniture or doorways with their arms to gain some momentum. However, this position isn't stable because you're shifting your body weight from the center of the chair, making you more likely to tip.  
Be aware of caster flutter: As the small wheels attached to the front of your wheelchair base, castors are essential for smooth movement. Castor flutter occurs when they aren't aligned correctly and cause the wheelchair to veer sideways at high speeds, potentially tipping you over. Seek out a professional inspection if you start noticing it.  
Follow the (electric wheelchair) speed limit: While most electric wheelchairs max out around eight mph, that's often faster than what's safe in many situations. Err on the side of caution and take it slow. 
Take note of your terrain: Despite their versatility, most wheelchairs aren't stable on steep inclines and declines, curbs, or other uneven surfaces. Be cautious before proceeding in these conditions and ask for help finding an alternate route if necessary.  
Wheelchair Safety Tips for Caregivers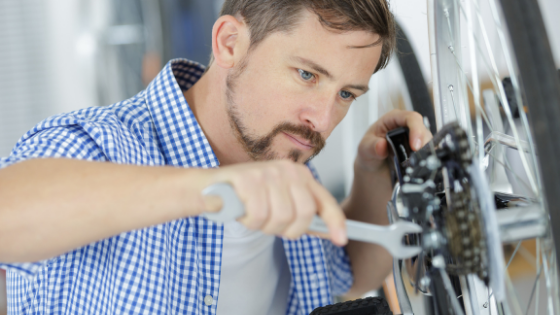 If you're an in-home caregiver or are regularly working with a senior that's wheelchair-bound, then you need to make sure you know how to keep them safe. 
For starters, you should learn how to perform wheelchair safety checks and do them often. This involves looking at the chair's hardware by checking whether the frame is in good condition and if any screws are popping out. You should monitor the wheels for signs of wear every few weeks and replace any worn-out tires. 
Wheelchair brakes also need attention to ensure they are in good repair. Make sure you trigger the wheel locks when leaving anyone unattended in their chair so there's no risk of unexpected movement.
If your loved one has minimal mobility, it may be tempting to use incontinence pads in the wheelchair. While convenient, only plan to use them on occasion as the liquid may seep through and damage the wheelchair cushion. 
Likewise, make sure they shift positions regularly to prevent muscle fatigue and soreness. Pulling up the leg rests can be helpful here, as can incorporating some in-chair exercises into the day. 
How to Perform a Safe Wheelchair Transfer
Learning the steps for safely transferring a person with limited mobility in and out of a wheelchair is essential for keeping them safe and minimizing fall risk. You can follow these wheelchair safety tips for a successful wheelchair transfer. 
Move the wheelchair as close as possible to where the user needs to be. 
Lock the wheelchair wheels and move the leg rests out of the way. 
Position yourself on their strongest side so they can better assist with the transfer. You may want to use a gait belt for extra stability. 
Instruct the person to grab the chair's handrails, and have them move to the edge of the seat, leaning forward and pushing up. 
Move in front of the chair, assisting the user to stand or grabbing the gait belt if available. You may need another person to help if their legs aren't strong enough to support their weight. 
Upon standing, pivot them where they want to with small movements. Once in position, assist them in slowly sitting back down. 
Follow these same steps to transfer someone back into their wheelchair. Ensure to lock the wheels before you start. 
Learning how to use a wheelchair safely is well worth the effort. Take some time to understand these best practices, and you'll reduce your risk of suffering or causing someone else to suffer from fall-related injuries.   
The One Medical blog is published by One Medical, a national, modern primary care practice pairing 24/7 virtual care services with inviting and convenient in-person care at over 100 locations across the U.S. One Medical is on a mission to transform health care for all through a human-centered, technology-powered approach to caring for people at every stage of life.
Any general advice posted on our blog, website, or app is for informational purposes only and is not intended to replace or substitute for any medical or other advice. 1Life Healthcare, Inc. and the One Medical entities make no representations or warranties and expressly disclaim any and all liability concerning any treatment, action by, or effect on any person following the general information offered or provided within or through the blog, website, or app. If you have specific concerns or a situation arises in which you require medical advice, you should consult with an appropriately trained and qualified medical services provider.