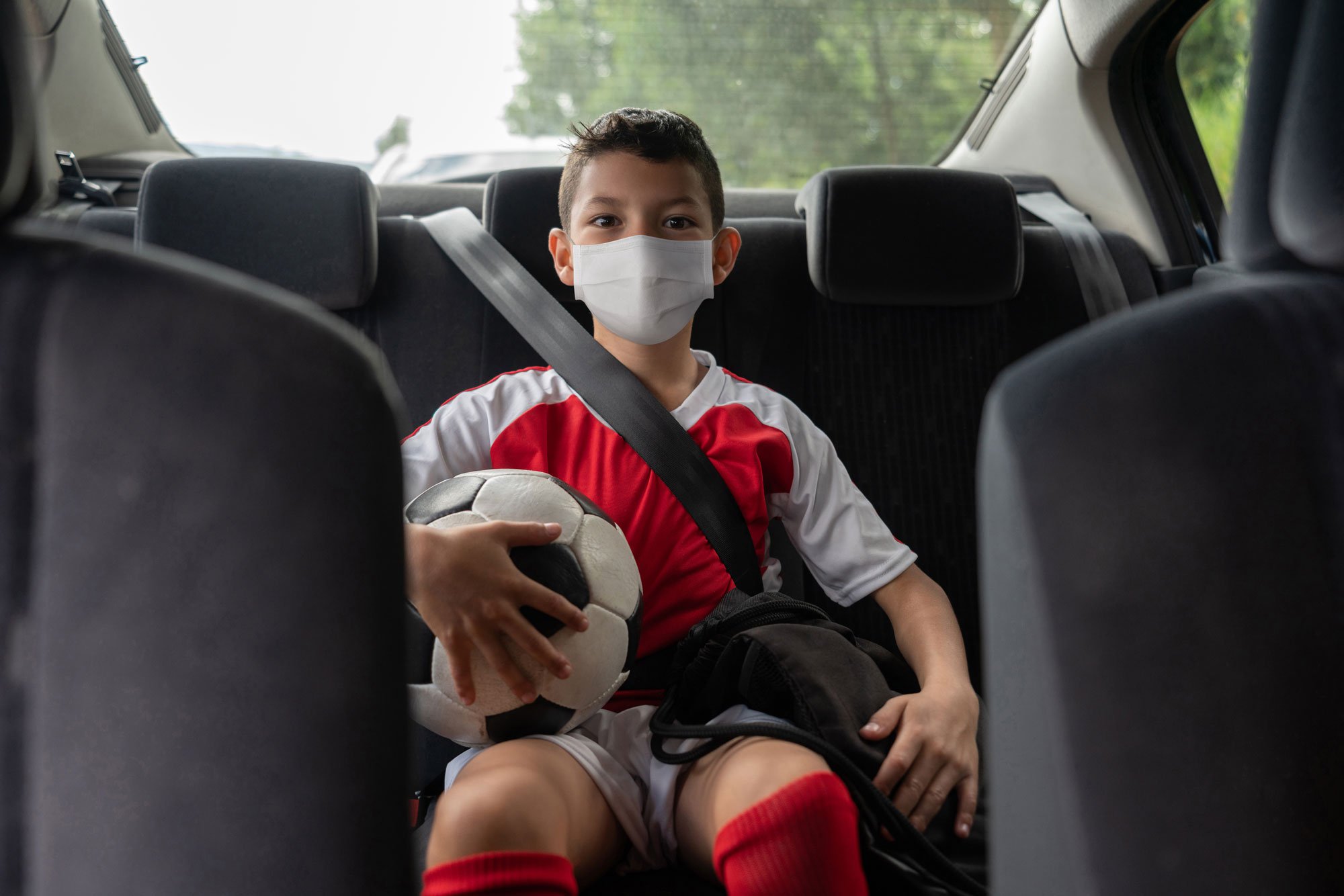 After months of being stuck at home and separated from their friends, many kids and young athletes are itching to get back on the court and field this fall. While parents may be just as eager to get their kids out of the house again, many are questioning the safety of team sports amid the pandemic. A recent survey by the North Carolina State University, in partnership with the Aspen Institute's Project Play, Utah State University and George Mason University, for instance, found that 50% of parents were worried their child would fall ill by returning to sports. Meanwhile, 46% were worried about getting sick themselves because of their kids' participation in these activities.

While the threat of COVID-19 is far from over, there are several ways you can help your child reduce his or her risk of COVID-19 both on and off the field. Here's how you can keep your kids healthy if they're considering playing a sport this season:
Consider local case and spread rates
Before allowing your child to play a sport, it's important to understand COVID-19 transmission and public health guidelines in your area. Some places are still banning large, nonessential gatherings, while others are limiting gatherings to 10 people or fewer. If you live in a city or state where cases are still on the rise, you might reconsider letting your child socialize and play with non-household members until the curve is flattened. "We are seeing that COVID-19 cases increase as communities reopen. In these conditions, close contact sports are a potential super spreader event waiting to happen," says One Medical's Michael Richardson, MD. "Even if your state allows gatherings and sports, it may be best to wait on engaging in sports until cases settle down. Your child's primary care provider is a great resource if you have any questions or concerns about the safety of your child returning to a sport."
Evaluate the risks of the sport itself
Prompting concern among parents is the close proximity with which kids interact while playing sports. Everytime your kids interact with another person, they risk exposing themselves and others to the virus. According to the CDC, this risk can be different, depending on the type of sport. The risk of COVID-19 spread increases in youth sports settings as follows:
Lowest Risk: Performing skill-building drills or conditioning at home, alone or with family members.
Increasing Risk: Team-based practice.
More Risk: Within-team competition.
Even More Risk: Full competition between teams from the same local geographic area.
Highest Risk: Full competition between teams from different geographic areas.
The risk of COVID-19 spread increases with the more people a child or coach interacts with, the closer the physical interaction, the more sharing of equipment there is by multiple players, and the longer that interaction lasts. When deciding whether your child should play a sport right now, opt for activities that allow for as much social distancing as possible. "At the moment, any gathering that does not allow you to socially distance and wear a mask is risky," says Richardson. "It is still quite risky to participate in sports, but the level of risk may be lower in sports that allow you to distance yourself from others and wear masks." He suggests sports like golf and tennis that do not rely on close interaction. Individual water sports, staggered running, and frisbee golf are other good options.
You should also consider the size of the team and the number of spectators involved when making this decision. Bigger teams can be more difficult to manage and too many parents, family members, and other spectators can increase your child's risk of exposure to COVID-19. You may also choose to avoid any sports involving travel competition where your child could be exposed to players from areas with more cases of COVID-19.
Wear a mask and practice social distancing
Richardson recommends practicing the "COVID-19 Trinity." "Social distancing at least six feet, wearing a mask, and good hand hygiene are your protectors while you are on the field or on the sideline," he says. "If you are able to maintain these three behaviors, you will dramatically reduce your risk of catching covid." More specifically:
Encourage your child to avoid celebratory behavior like high-fives, fist bumps, hugs, or handshakes, as physical contact can increase their risk of COVID-19.
Likewise, it's important for them to keep at least six feet of physical distance from other players at all times, including during any downtime. They should avoid team huddles, as well clustering along the sidelines, benches, or the dugout to cheer on teammates.
When it comes to masks, it's important to ensure that your child's mask is well-fitted and will stay in place when he or she is active.
Avoid masks with vents. "Masks during this pandemic work by protecting those around you if you happen to be infected, reducing the spread of infectious droplets. Vents in your mask will increase the chances of spreading droplets to others as your exhaled breath is pushed through these vents and in your surrounding area," says Richardson.
Avoid shared equipment and food
One of the fastest ways to spread germs is through shared, high-touch surfaces. If your child is planning on playing a team sport, make sure they bring their own equipment, including balls, bats, gloves, and towels when possible. Label your player's gear, jersey, and bag with their name and keep it separate from other teammates when it's not in use. Your child should also bring their own reusable water bottle to practice and games to avoid drinking out of water fountains or sharing drinks with others. Additionally, pack your child's backpack with individual snacks so that they can skip out on any shared half-time or post-game food.
Stay outdoors
Outdoor sports are much safer than those played indoors. This is because there is more space for players to spread out and less risk of touching the same surfaces. Additionally, there is better ventilation and air flow outside, which dilutes the number of virus particles per volume of air. Your child should try to steer clear of shared spaces like locker rooms and changing rooms where they are likely to encounter more high-touch surfaces.
Sanitize frequently
Finally, players should clean their hands before and after practices, games, and sharing equipment with soap and water for 20 seconds, or use hand sanitizer that contains at least 60% alcohol. Be sure your child takes hand sanitizer in their bag with them so they can disinfect frequently throughout their activity. After practice, you should clean and disinfect all bats, balls, helmets, mats, and any other gear your child brought with them. This includes uniforms, jerseys, shoes, and other clothing as well. You should also clean any chairs, coolers, or blankets used if you attended the game as a spectator.
Have more questions about your child's participation in team sports during the pandemic? Contact our virtual care team using the One Medical app or check out our library of coronavirus resources here.
The One Medical blog is published by One Medical, a national, modern primary care practice pairing 24/7 virtual care services with inviting and convenient in-person care at over 100 locations across the U.S. One Medical is on a mission to transform health care for all through a human-centered, technology-powered approach to caring for people at every stage of life.
Any general advice posted on our blog, website, or app is for informational purposes only and is not intended to replace or substitute for any medical or other advice. 1Life Healthcare, Inc. and the One Medical entities make no representations or warranties and expressly disclaim any and all liability concerning any treatment, action by, or effect on any person following the general information offered or provided within or through the blog, website, or app. If you have specific concerns or a situation arises in which you require medical advice, you should consult with an appropriately trained and qualified medical services provider.