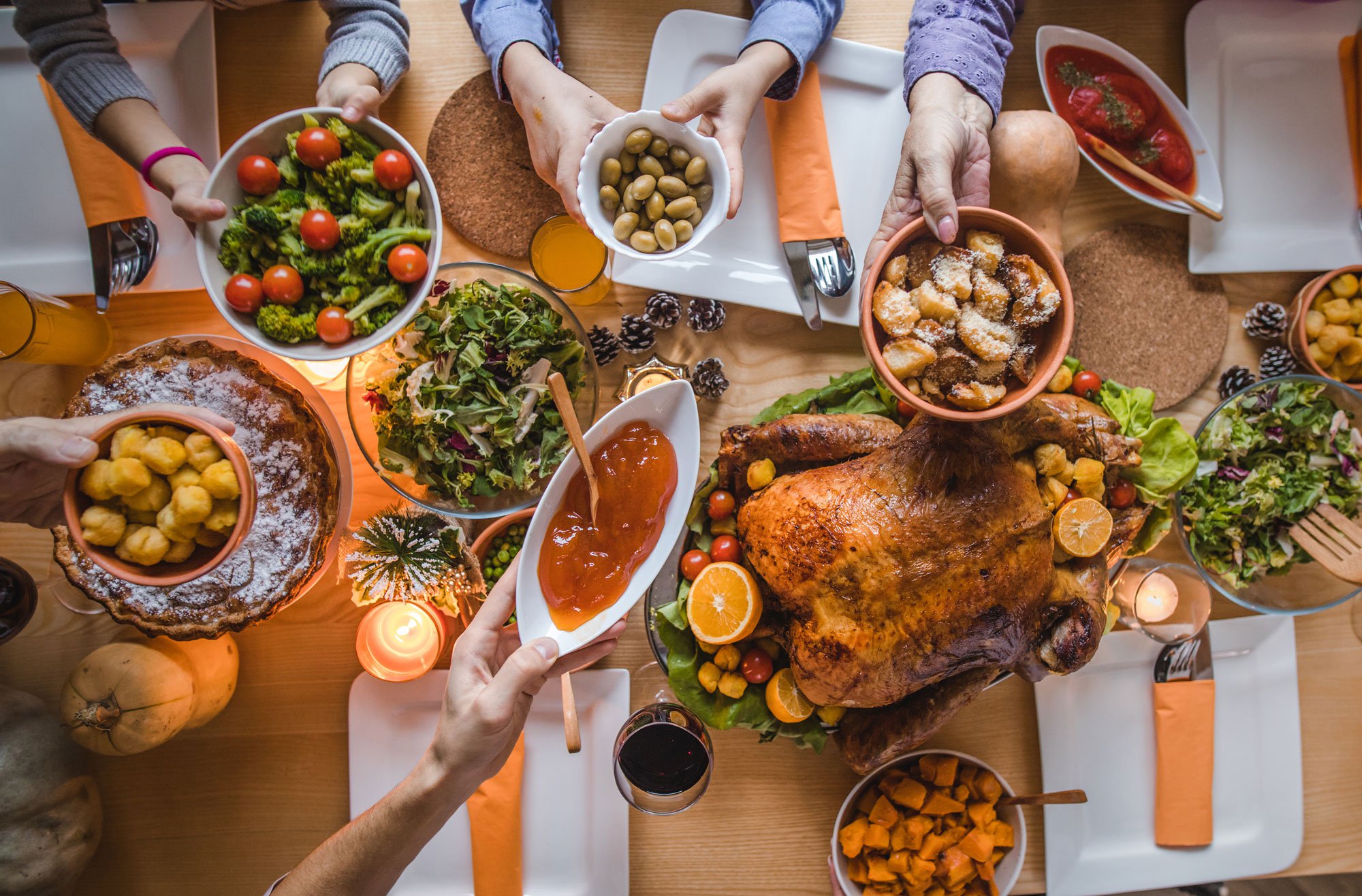 Gearing up for the holidays means (drumroll please) … festive eats! Turkey, pies, drinks, candy and more – there are many choices to make when it comes to maintaining a healthy diet during the holidays. Here are some quick tips that can help you get through some of the typical holiday feast dilemmas.
An abundance of food
From work parties to family gatherings, it is easy to stray from your regular diet. Some people skip lunch in anticipation of an evening feast, but when we skip meals we tend to make poor choices about what we eat. By not skipping lunch and maintaining our normal meal schedule, you will be less likely to overeat and choose calorie rich foods. If you are going to be eating out later than usual, add a fiber or protein rich snack such as Hummus with veggies or celery sticks with peanut butter to tide you over as it could help you resist that extra serving of cake.
Dietary constraints
The holiday season doesn't necessarily cater to those of us who have dietary restrictions. Nothing kills 'Comfort and Joy' like being excluded from the holiday feast as you watch your friends digging in. Be proactive and offer to bring a dish or two! By bringing something you know meets your dietary needs, it provides you with at least one good option to enjoy. If hosting a party, having a few dishes for your friends who may be Vegetarian or Gluten-Free will make the party more inclusive and fun for all. For example, if your guest is Vegan, you can place cheese crumbles in a dish on the side instead of mixing them into the salad, or toss the green beans with olive oil instead of butter. Your guests will be touched by such consideration and you'll be slashing calories too! Check out these great recipes for Vegan appetizers.
Celebrating with alcohol
Oh boy. Where to start? Remember that alcohol is a calorie-rich, nutrition-poor, mind-altering drug. Having said that, many of us expect to drink more at this time of year than usual with all the parties and celebrating. That's not necessarily a problem if you remember these tips to stay safe while enjoying drinks with friends.
While drinking in excess will certainly not help with your diet, the harm from alcohol during the holidays can extend beyond the impact to your waistline. DUIs and alcohol related deaths increase around the holidays. If you know you will be drinking at a party, plan ahead by having a designated driver or use a ride share app. This will allow you to have fun and be merry without endangering yourself or your loved ones.
There are a lot of great resources available to make your holiday celebration a healthy one. Check out the One Medical Blog for more tips this holiday season, ranging from decorating safely to how to incorporate mindfulness during the holidays.
Coming down with a cold or finding your mood worsen during the holidays? Book an appointment with us and we will be happy to get you back on track to enjoy the festivities.Eat, drink and be healthy!
The One Medical blog is published by One Medical, a national, modern primary care practice pairing 24/7 virtual care services with inviting and convenient in-person care at over 100 locations across the U.S. One Medical is on a mission to transform health care for all through a human-centered, technology-powered approach to caring for people at every stage of life.
Any general advice posted on our blog, website, or app is for informational purposes only and is not intended to replace or substitute for any medical or other advice. 1Life Healthcare, Inc. and the One Medical entities make no representations or warranties and expressly disclaim any and all liability concerning any treatment, action by, or effect on any person following the general information offered or provided within or through the blog, website, or app. If you have specific concerns or a situation arises in which you require medical advice, you should consult with an appropriately trained and qualified medical services provider.