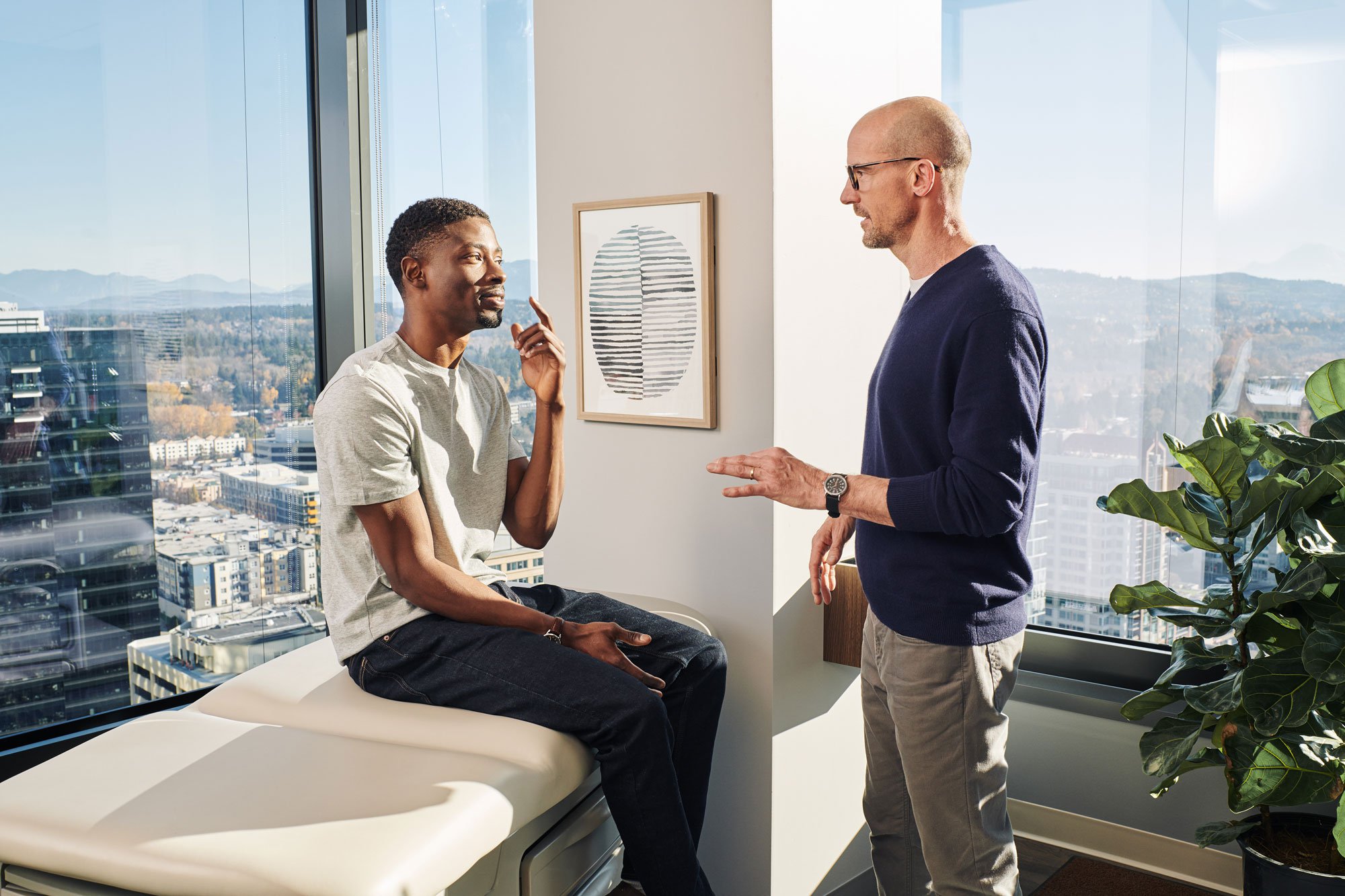 In the past year, coronavirus has not only disrupted our routines and lifestyles, but has also reminded us how important it is to be proactive in protecting the health of ourselves, our loved ones, and our communities. While some may be wary of going to the doctor for any non-urgent needs, prioritizing your preventive health is essential.
Data shows that those who have become most critically ill or died from COVID-19 are those with pre-existing conditions that can be addressed through primary care, such as cardiovascular disease, chronic lung disease, or diabetes. In fact, as of May 30, 2020, the CDC reported that hospitalizations were six times higher and deaths 12 times higher among those with reported underlying conditions compared with those who had none. By addressing these health concerns through proactive care with your PCP, you are not only keeping yourself healthy but also helping your community by keeping emergency rooms and hospital beds open for those who need them most.
Everyday health is more important than ever amid our current pandemic and will remain crucial in preventing similar public health crises in the future. Here are five primary care visits that you shouldn't delay:
Annual Wellness Checks
Studies show that a consistent patient-primary care provider relationship is critical to positive health outcomes. At One Medical, we've designed our Live Well visits as meaningful time for our patients to connect with their PCPs and establish health goals that they will track together. Patients will receive a survey prior to their visit to share insights on their health history, environment and concerns, which will help their providers prepare an agenda for the visit. The visit then serves as an opportunity for providers to listen to their patients and make sure they are up to date on recommended preventive services. After the visit, patients will receive digital action items that help them stay on track throughout the year.
Mental & Behavioral Health Care
A recent JAMA study found that nearly a quarter of people in the United States are currently experiencing symptoms of depression — that's triple the number before the start of the COVID-19 pandemic. At One Medical, we've heard increasingly from patients experiencing anxiety and depression, often triggered by the financial stress, fear of illness, and feelings of isolation, that so many of us are feeling right now. While these stressors may be circumstantial, it's important that people address them in order to prevent lasting effects on their mental and behavioral health. One Medical providers are trained to care for the whole person, inclusive of both mental and physical health, and can address these concerns through an in-person or remote visit. We have also rolled out stress coaching services in many cities. Contact your provider to learn what the best options are available in your area.
Cancer Screenings
According to a study by Epic Health in May, preventive cancer screenings in the U.S. dropped by 86 percent for colon cancer and 94 percent for breast and cervical cancers immediately following the onset of the pandemic. At the original height of the outbreak, this steep decrease in preventive screenings was a result of many factors, from hospitals needing to cancel "nonessential" appointments to care for the critically ill, to patients' concerns about exposure to COVID-19. While these percentages have started to improve, there are still hundreds of thousands of Americans missing or delaying their cancer screenings due to coronavirus concerns.
These screenings are essential to the early detection of cancers or cancer precursors, and could mean the difference of life and death. During your Live Well visit, you can speak with your One Medical provider about your health history and curate a custom schedule for screenings based on your unique needs. In order to help our patients stay on track with these important screenings, One Medical has created technology that allows us to proactively reach out to patients within the app with "action items" reminding them to complete their cancer screenings when needed. If you're unsure if you are due for a cancer screening, please get in touch with your primary care provider to discuss when to prioritize these appointments.
Vaccinations
Keeping up with your routine vaccination schedule continues to be as important as ever amid the COVID-19 pandemic in avoiding outbreaks of preventable diseases. Within weeks of the U.S. declaring a national emergency in March, data showed a dramatic decrease in routine vaccines among children, including important vaccinations against serious illnesses like measles, meningitis and whooping cough. Adults of all ages have also increasingly delayed their non-flu vaccinations since March, including immunizations for HPV, tetanus, pneumonia, and other unnecessary illnesses. After establishing a proactive care plan with your One Medical provider, you should receive active items via the One Medical app when you are due for a vaccination. If you are unsure when you or your child may need a routine vaccination, please contact your One Medical provider for guidance.
With flu season beginning as early as October, experts recommend that everyone over the age of six months get a flu vaccination as early as September. The flu vaccine is helpful in both reducing the number of flu cases, and reducing the severity of illness if someone does catch the flu, helping to keep hospitals and emergency rooms from becoming overwhelmed as flu season overlaps with the COVID-19 pandemic. Flu vaccines are available in all One Medical offices, and at several One Medical mobile sites (learn more).
Chronic Illness Management
According to the CDC, 6 in 10 Americans have at least one chronic health condition, and chronic conditions are the leading cause of death and disability in the U.S. Further, chronic conditions can make it harder for your immune system to form a response to viruses like COVID-19, making you more susceptible to severe illness if the condition is not properly managed. From diagnosing to monitoring and prescribing medications as needed, your primary care provider can help you stay as healthy as possible by providing important lifestyle guidance based on your unique needs. Even those who are generally considered "healthy" can benefit from having a relationship with a primary care provider to help prevent the onset of conditions that may run in their family, such as high blood pressure, diabetes or cardiovascular disease.
Having a relationship with a primary care provider that you trust can lead to better health outcomes. Now more than ever, the ability to easily connect with a PCP that knows and cares about your health is invaluable in navigating the complexities of continuously evolving health guidance and public safety measures. A PCP can help you break through the busy news cycle to make sure that you have the latest and most relevant information to care for your specific needs.
The One Medical blog is published by One Medical, a national, modern primary care practice pairing 24/7 virtual care services with inviting and convenient in-person care at over 100 locations across the U.S. One Medical is on a mission to transform health care for all through a human-centered, technology-powered approach to caring for people at every stage of life.
Any general advice posted on our blog, website, or app is for informational purposes only and is not intended to replace or substitute for any medical or other advice. 1Life Healthcare, Inc. and the One Medical entities make no representations or warranties and expressly disclaim any and all liability concerning any treatment, action by, or effect on any person following the general information offered or provided within or through the blog, website, or app. If you have specific concerns or a situation arises in which you require medical advice, you should consult with an appropriately trained and qualified medical services provider.