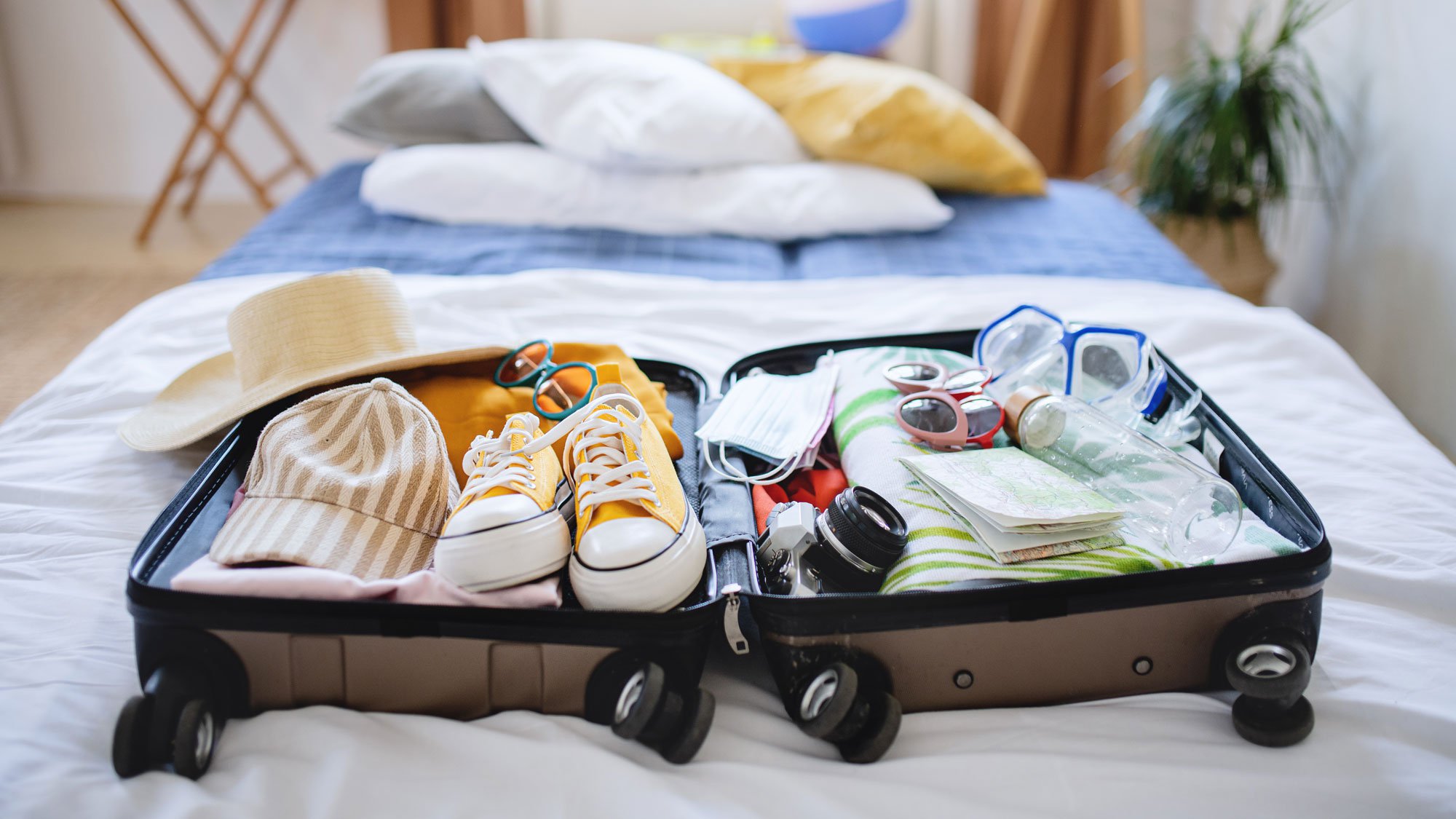 Clinical Editors: Nailah Abdulbaaqee, MD, Anna Askari, MD, and Megan Dodson, PA-C

Summer is just around the corner. And for many, that means it's time to dig out the luggage, dust off the passport, and soak up the sun with a vacation. But just because you're planning on hitting the road or taking to the skies this summer, doesn't mean you have to let your health slide. Whether you plan on making day trips to the beach or traveling internationally, there are a few things you can pack to prioritize your health and wellness, no matter where you're heading. Here are the top products our providers recommend for safe and healthy summer travel:
1. Supergoop sunblock
While experts recommend wearing sunscreen throughout the year, lathering up with SPF is especially important during summer, when the weather is warmer and the days are longer. Sunscreens like Supergoop's Play Everyday Lotion (SPF 30 or 50) help protect the skin from the sun's harmful rays, reducing the risk of skin cancer, as well as premature skin aging, such as wrinkles or sun spots. "Whether it's sunny or overcast, there is potential for skin damage from UV exposure," says One Medical provider Nailah Abdulbaaqee, MD. "If you are planning on spending any time — even just a few moments — outside, a good sunscreen with SPF 30 is essential to reduce skin damage from UV rays. SPF 30 blocks over 96% of UVB rays with marginal effects with higher SPF sunscreen concentrations." This pick from Supergoop makes an excellent choice for your bag, offering broad spectrum coverage, with a formula that's fast-absorbing, non-greasy, hydrating, and designed for all skin types. Plus it's water and sweat resistant too!
2. Welly first aid kit
Whether you're spending your vacation relaxing on a beach or hiking through the mountains, injury or illness can happen anywhere. "If this were a test, it would be a "no-brainer" that every travel bag should have a good first aid kit," says Abdulbaaqee. "This allows for quick "on-the-spot" treatments with bandages, antibacterial ointment and medication for pain relief and allergy exposure." Being prepared with a travel-sized first aid kit like one from Welly can help you stay comfortable and safe on-the-go. Welly makes a range of affordable, stylish travel kits, containing essentials like bandages, anti-itch ointment, hand sanitizer, and antibiotics. Choose a larger tin like the Excursion Kit for your camper or RV, or opt for something smaller like the Quick Fix Kit for your purse or backpack.
3. Quip toothbrush
Though it's easy to let your normal habits slide when traveling, it's important to maintain good oral hygiene even when you're away from home. Poor oral health can result in bacterial infections and inflammation, which can increase your risk of some serious medical issues, so a good travel toothbrush can go a long way in your overall health. Quip's toothbrushes are slim, sleek, and light-weight, making them a great option for those looking to bring an electric toothbrush on their travels. They run on batteries so you don't have to worry about bringing a clunky charger everywhere. Plus, they come with a handy travel case that doubles as a wall or mirror mount.
4. Brooklinen silk eye mask
Between bright planes and sunny hotel rooms, it's not always easy to get proper shut-eye while traveling. Thankfully, Brooklinen's Mulberry Silk Eye Mask can help you get your beauty rest anywhere. "Sleeping in a new environment can be uncomfortable, especially if there is bright light coming through the windows." says One Medical provider Anna Askari, MD. "I recommend an eye mask for sleep to provide the benefits of blackout curtains and help you fight any jet lag." This Brooklinen mask will block out all light so you can rest peacefully, no matter what environment you're in, while reducing wrinkles and keeping your hair smooth. It's also lightweight and breathable, making it great for any season.
5. Trtl travel pillow
If you have trouble dozing off on planes, a travel pillow is another must-have for good sleep. "Getting sleep on a long flight can seem impossible, but investing in a good travel neck pillow can do the trick," says Askari. "These pillows wrap around the neck and provide the extra support you need to keep your cervical spine upright and supported, while providing comfort so you can get that much needed rest." If those traditional U-shape pillows don't seem appealing though, check out this scarf-like one from Trtl. Unlike typical neck pillows, this fleece pillow is thin like a padded scarf or neck brace, and can easily be folded down flat and stowed in your luggage. With hidden internal support, you can adjust the pillow for your comfort, while keeping your head in an ergonomic upright position. It also doesn't have any filling in the back like traditional neck pillows so you can rest your head fully against the back of your seat, without pushing your head forward.
6. Bombas socks
In addition to your regular day-to-day clothing, you might consider packing some specific socks, depending on your trip. If you're flying, for instance, Askari recommends adding some compression socks to your bag. " This is a great tool for those who are frequent fliers to help increase the blood flow in your legs," she says. "This can help prevent blood clots, varicose veins, swelling, and fatigue in the legs." Meanwhile, if you're planning on hiking or camping, thick, tall socks will keep your feet safe and protect against bugs — especially ticks. Bombas has you covered with both types. You can choose between varying levels of tension with their compression socks, as well as different height hiking socks. To top it off, with every purchase, Bombas will donate an article of clothing on your behalf.
7. Hydro flask water bottle
Water is a necessary part of life, as it keeps our body's systems functioning properly, while protecting our organs and keeping us cool. "Water is excellent for our overall physical performance and maintaining our energy levels," says Abdulbaaqee. "Drinking water helps us avoid dehydration which occurs easily in the summer heat. It also protects our skin and can aid with digestion and the filtering of toxins." Dehydration can wreak havoc on the body and lead to serious health complications, so it's important to drink water regularly throughout the day.
Keep water handy and save money on plastic water bottles with a reusable bottle like this one from Hydro Flask. Hydro flask's stainless steel bottles come in a range of colors and sizes and can keep your drinks cold for up to 24 hours. With their flex caps and straps, these bottles are leakproof and easy to transport, so you can have water at the ready on-the-go. And they're better for the environment too!
8. Baggu sun hat
In addition to sunscreen, wide-brim hats can also offer solid sun-protection. With a brim almost 20 inches in diameter, Baggu's Packable Sun Hat can help shade your eyes, ears, face, and neck from the sun's harmful rays, so you won't have to spend your vacation caring for a painful sunburn. Plus, there's no need to worry about having enough space in your suitcase or backpack. Just like Baggu's popular bags, this sun hat folds into a convenient little pouch for easy carrying and storage.
9. Touchland hand sanitizer
From public restrooms and cramped airplanes to busy shops and crowded museums, traveling, unfortunately, often means exposure to new germs. Luckily, practicing good hand hygiene, including washing your hands and using hand sanitizer frequently, can protect you from getting sick and keep you healthy on your journey. "If we have learned nothing else from a two-plus year pandemic, it is that basic precautions, including sanitizing, can dramatically reduce exposure to viruses and bacteria that can cause anything from the common cold to pneumonia," says Abdulbaaqee. With its slim, rectangular design, Touchland's Power Mist Hand Sanitizer, for instance, can easily fit in your purse, backpack, or fanny pack. The hydrating sanitizer kills 99.9% of most common disease causing germs and even contains aloe vera and essential oils to help keep your skin moisturized. It also comes in over a dozen different scents, as well as a fragrance-free option.
10. OFF! bug spray
Summer can be a great time to get outdoors. Unfortunately, however, that can also mean a greater chance of bug bites. "While the outdoors may be a second home for some, it is also a first home for others - namely insects," says Abdulbaaqee. "Having a good insect repellent is key to avoiding insect bites which in some areas can be harbingers of infections like malaria and Zika. With multiple formulations of active ingredients (please make sure to read safety guidelines for best usage) as well as natural alternatives available, insect repellent can be safe for everyone - including children, pregnant and breastfeeding women." Not sure what kind to choose? Check out OFF!'s Deep Woods bug spray. Formulated with 25% DEET, this bug spray provides long-lasting protection from insects like mosquitoes, ticks, biting flies, gnats, and chiggers. It also goes on with a power-dry finish, so it's not oily or greasy.
11. The five minute journal
Though it may be fun, traveling isn't always stress-free. If you're feeling anxious or overwhelmed in between visiting family or wrangling the kids, find a few minutes to prioritize your well-being with the 5 Minute Journal. With guided exercises, daily affirmations, and positive quotes, this journal makes it easy to prioritize your mental health and add a little mindfulness, gratitude, and positivity to your day. Bring it to the beach, on a hike, or even out on the airplane, whenever you have a few moments to reset and unwind.
The One Medical blog is published by One Medical, a national, modern primary care practice pairing 24/7 virtual care services with inviting and convenient in-person care at over 100 locations across the U.S. One Medical is on a mission to transform health care for all through a human-centered, technology-powered approach to caring for people at every stage of life.
Any general advice posted on our blog, website, or app is for informational purposes only and is not intended to replace or substitute for any medical or other advice. 1Life Healthcare, Inc. and the One Medical entities make no representations or warranties and expressly disclaim any and all liability concerning any treatment, action by, or effect on any person following the general information offered or provided within or through the blog, website, or app. If you have specific concerns or a situation arises in which you require medical advice, you should consult with an appropriately trained and qualified medical services provider.