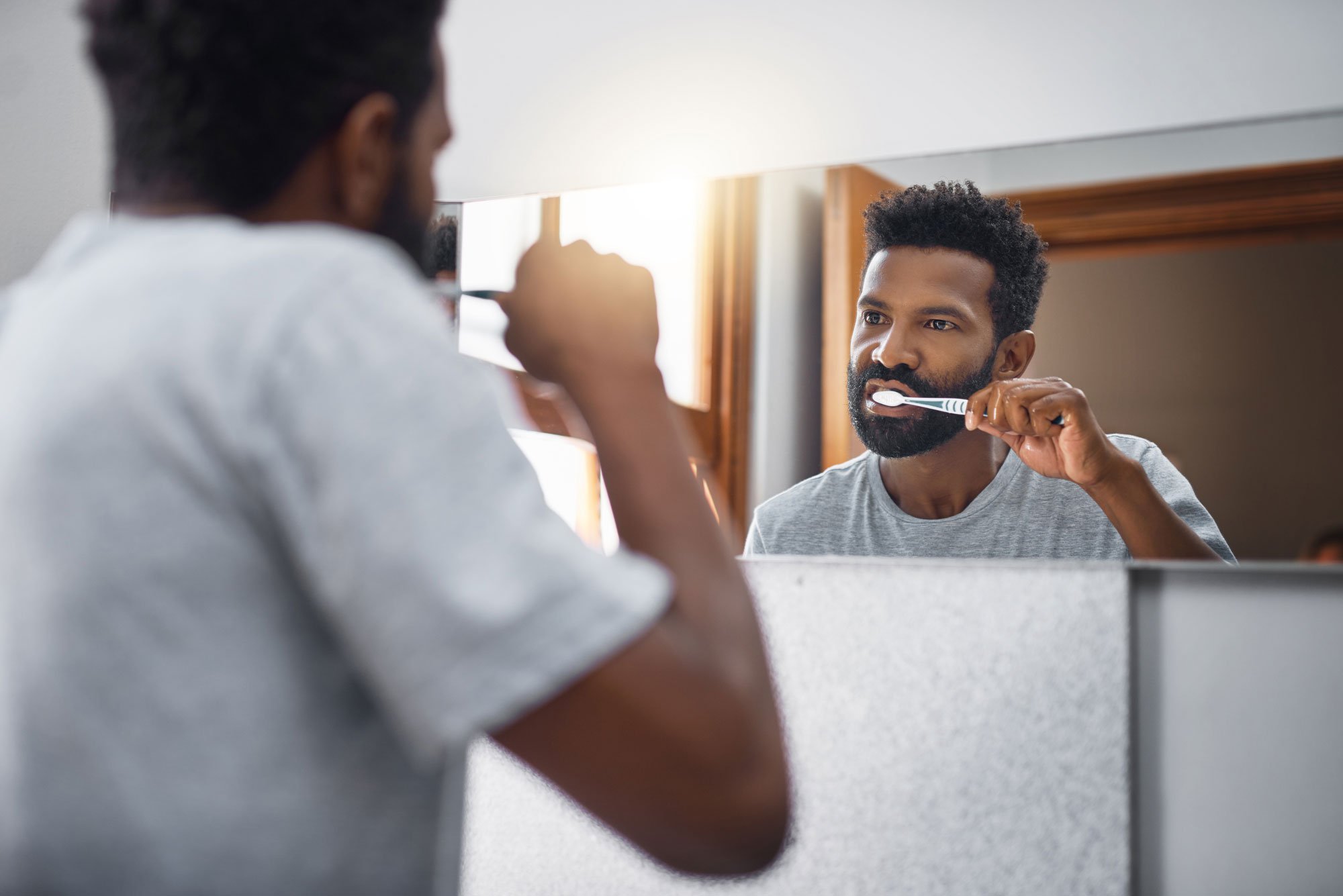 Clinical Editor: Megan Dodson, PA-C
When was the last time you went to the dentist? You're in good company if it's been a while. It's estimated that only 44% of Americans have had a dental visit in the last twelve months. If you've been putting off a routine cleaning or dental exam — or if you haven't been keeping up with routine care like you know you should — now's a great time to move your oral health back to the top of your to-do list.
Taking care of your mouth doesn't just affect the appearance of your teeth or the smell of your breath. Your oral health also impacts your daily functioning, including your ability to swallow, chew, speak, and smile. A growing body of research has found that the state of your teeth, gums, and mouth have an even greater role in your overall well-being, impacting your entire body.
Poor dental hygiene can increase your risk of some serious medical conditions, but the mouth-body relationship works in both directions. Your mouth may be the first sign of a health issue affecting the entire body, and your dentist is trained to identify those signs.
In either case, taking care of your mouth is a simple but powerful way to protect your overall health. Here's what you need to know about the relationship between oral health and the rest of your body — and steps you can take to protect them both.
How your oral health affects the rest of your body
When you go to the dentist, a hygienist cleans your teeth to remove tartar, a substance that can trap plaque bacteria in your mouth. If you don't take care of your teeth and gums at home or by going to the dentist regularly, you can develop bacterial infections in your mouth.
These infections are often treatable if caught early. Left untreated, however, oral infections can become severe and even infect other parts of your body. For example, germs from your mouth can affect your heart, causing a serious condition called endocarditis. These bacteria can also spread to your lungs, causing pneumonia and other lung problems.
Research has also found that inflammation caused by periodontitis, a severe kind of gum disease, can play a role in the development of other diseases. Some research has found a link between inflammation from oral bacteria and heart disease, stroke, and clogged arteries, and newer studies suggest poor mouth health may increase one's risk of alzheimer's disease and dementia. If you're pregnant, untreated gum disease can also be harmful to your baby, potentially contributing to premature birth or low birth weight.
What your oral health can tell you about your overall health
The state of your mouth can give clues about what's happening in your body, which means your dental provider may be able to catch early signs of disease or worsening medical conditions and refer you to a healthcare provider who can properly examine and diagnose you.
For example, your dentist might notice signs of nutritional deficiencies in your mouth and encourage you to visit your primary care provider for lab work. Oral cancers that affect the mouth and throat are often first identified at the dentist's office, and outcomes may improve with early treatment.
Problems with your oral health may also signal medical conditions that affect your immune system. For example, diabetes can reduce your body's ability to fight off infection, so severe gum disease could be a red flag that something's off. Recurring infections or problems with gum disease can also signal systemic infections, like HIV.
How to take care of your oral health
Oral health is an important part of your overall well-being, and the good news is, it's not too difficult to take care of your teeth and mouth. Do your best to keep up with these simple dental routines:
Brush your teeth twice a day, especially after you eat, for at least two minutes
Use a soft-bristled toothbrush and replace it when the bristles are worn down
Use fluoride toothpaste, which protects your teeth's enamel
Floss at least once or twice a day
Limit sugar-laden food and drinks and increase your intake of fruits and vegetables
Avoid smoking and tobacco use
It's also important to keep up with your dental check-ups, where your dentist will clean and examine your teeth and mouth (and provide you with advice for lowering your risk of oral health conditions). There's no hard-and-fast rule about how often to go to the dentist, according to the American Dental Association, but it's generally a good idea to go once or twice a year for a cleaning and exam. Check in with your dentist, too, if you experience changes in your gums or mouth, such as gums that bleed during brushing or flossing, pus between your teeth and gums, or any pain or sores that don't go away.
With these simple but important guidelines, you can keep your mouth — and hopefully, your entire body — healthy for the long-haul.
Have more questions about oral health? Our primary care team is here to help. At One Medical, we aim to provide exceptional care designed around you and your unique health needs. Book an appointment with a provider through our app today or get 24/7 virtual care on demand.
The One Medical blog is published by One Medical, a national, modern primary care practice pairing 24/7 virtual care services with inviting and convenient in-person care at over 100 locations across the U.S. One Medical is on a mission to transform health care for all through a human-centered, technology-powered approach to caring for people at every stage of life.
Any general advice posted on our blog, website, or app is for informational purposes only and is not intended to replace or substitute for any medical or other advice. 1Life Healthcare, Inc. and the One Medical entities make no representations or warranties and expressly disclaim any and all liability concerning any treatment, action by, or effect on any person following the general information offered or provided within or through the blog, website, or app. If you have specific concerns or a situation arises in which you require medical advice, you should consult with an appropriately trained and qualified medical services provider.