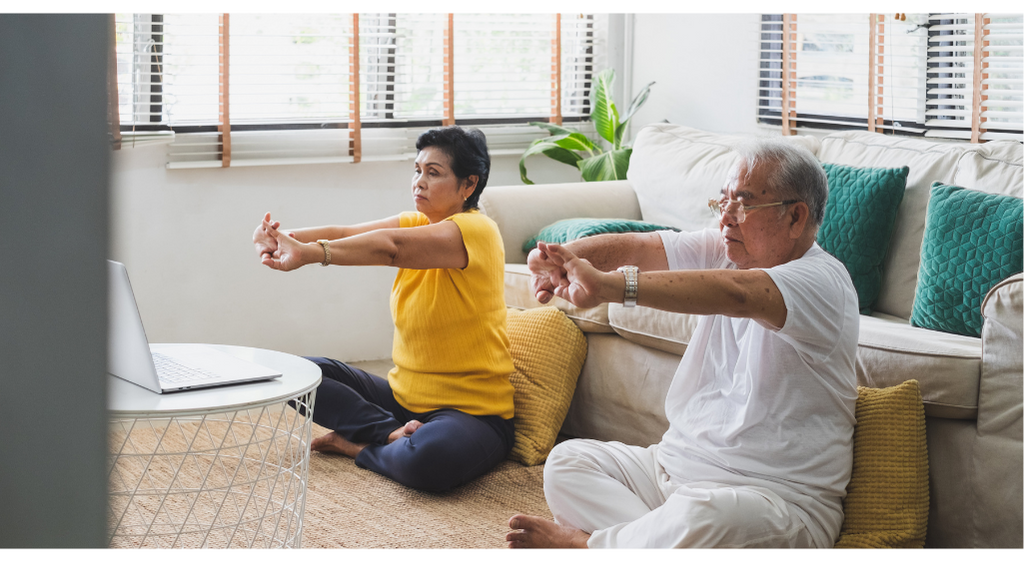 Sometimes, you may be feeling overwhelmed by the uncertainty of each day. That's why it's important to learn new techniques to help you manage stress. Yoga is one stress management tool for seniors that you can use from the comfort of home. 
What is yoga?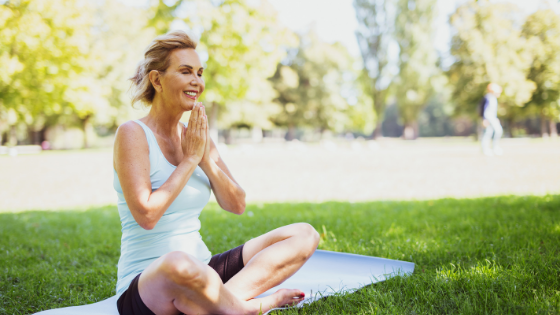 Yoga is a practice that connects both the body and mind through the use of various poses, breathing exercises and meditation. For seniors looking for a safe and effective way to improve their health, yoga is a great option. 
In addition to the physical benefits of improving flexibility, balance, posture, energy flow and strength, yoga can also provide  many psychological benefits. According to a report from Harvard Health Publishing, regular yoga practice seems to correlate with not only an increase in well-being, but improved sleep, better body awareness, weight loss, and greater balance. 
Getting started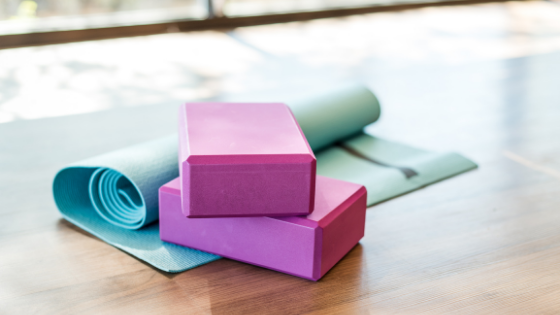 Just like any other physical activity, it's important to make sure that you and your surroundings are properly prepared. Here are some tips on how to get started.
Evaluate your physical condition
You can start yoga at any skill level and age; however, there are certain poses that should not be practiced by folks with certain medical issues. If you are concerned about your readiness to try yoga but would like to try it, contact your primary care physician or a member of our care team.
Make sure you have the proper gear
For starters, you will need a yoga mat to make sure you are comfortable. If you are practicing a modified form of yoga, you may need a chair, as well. Make sure you are wearing comfortable clothing -- preferably something that is fitted so it does not get caught while you're doing a pose. If you choose not to be barefoot during yoga, you can wear non-slip socks or sneakers. 
Find an instructor or class that is right for you
Whether online or in-person, it's important to choose a yoga class that matches your skillset. There are many online resources available to help you kick-start your yoga journey -- from live classes with Silver Sneakers, modified chair yoga videos, and databases filled with instructors who have experience teaching yoga to seniors. Whichever you choose, remember that it's always okay to start slow. 
Let's practice with these 5 simple beginner yoga poses for seniors
Mountain Pose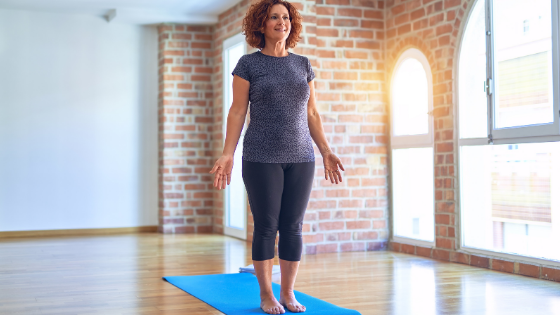 To start, stand and have your feet aligned with your hips. Relax your arms by your side and have your palms face outward. Roll your shoulders up, back and down while lifting your chest. Stay in this position and stand tall. Find a place of balance and maintain your breath. 
This pose stretches and strengthens the arches of the feet, ankles, and legs. If you find yourself struggling with the pose, you can make it easier by doing the pose near a wall if you lose balance. If you're up for more of a challenge, you can lift your arms up by your head. 
2. Tree Pose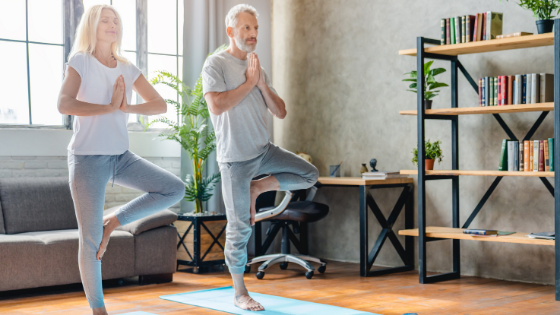 Place your hands on your hips and spread your feet hip-width apart. Roll your shoulders up, back and down while lifting your chest as if in mountain pose. Shift your weight into your left foot and bend your right knee so that your right foot can gently rest on your ankle without putting any pressure on it. Adjust your hips so they are aligned. When you are comfortable, move your hands so they are together at your chest or above your head. Find your place of balance and breathe. Then, repeat on the other side. 
This pose strengthens your core, hip, and leg muscles. You can make the pose easier by placing your back against a wall for extra support. You can also challenge yourself by lifting your foot higher than your ankle; however, make sure to not put your foot directly on your knee.
3. Warrior I Pose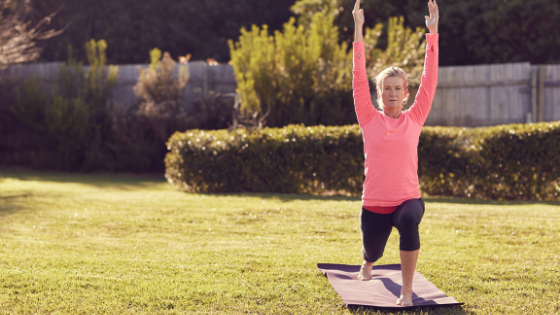 Stand as if you were in mountain pose. With an exhale, gently step your foot 3-4 feet backward. Bend your knee in the front at a 90-degree angle. Turn your back foot so it is pointed 45 degrees toward your front leg and press down. Keep your back leg straight. Raise your arms so they are straight and by your ears. Reach up toward the ceiling, keeping your hips squared. If your neck allows it, look up and hold for a few breaths. 
This pose improves balance and posture. It also strengthens the feet, ankles, calves, and thigh muscles. To make the pose easier, you don't have to press the back foot all the way down. Instead, press the heel down on a sandbag or firm blanket. If you're up for the challenge, try holding the pose for a longer period of time. 
4. Standing Knee to Chest Pose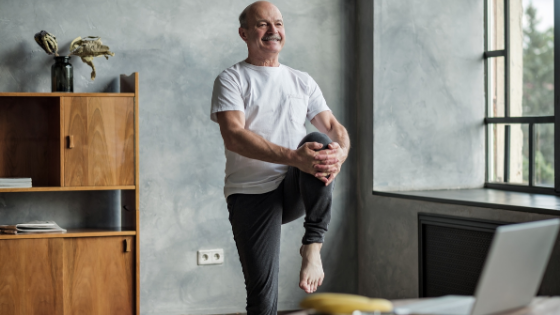 Stand as if you were in mountain pose. Lift your left knee to around hip height and bend. Flex your left foot, and balance on your right leg. Hold the position for several breaths and repeat on the other side.
This pose strengthens the core, legs, and hips. To make it easier, sit tall in a chair with both feet on the floor. Inhale, and lift the leg. To make the pose more difficult, lift the knee higher than hip height.
5. Modified Dancer Pose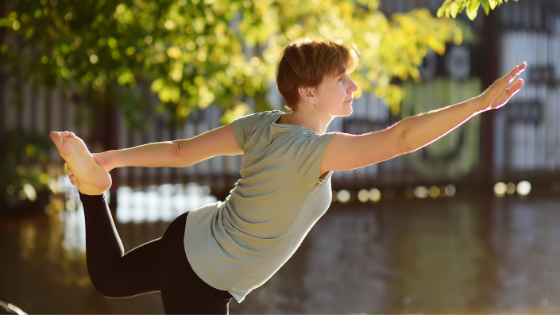 Stand as if you were in mountain pose. Bend your right knee and have your flexed foot lift behind you. Lift your left arm by the side of your face and keep your right arm on your hip. Hold the position for several breaths and repeat on the other side.
This pose strengthens your hip flexors, core, upper back, and lower body. To make it easier, hold a chair or wall with your lower hand to help maintain balance. To make it more difficult, try to lean your torso forward and reach for your back leg.
At One Medical Seniors, we care about our patients' health and well-being, and we understand how starting an exercise like yoga can be challenging. However, it's never too late to give it a try and reap the many benefits. The great thing about yoga is that it can be modified for any skill level. 
For more educational articles about exercises for seniors other than yoga, check out these chair exercisesevery senior should know.
The One Medical blog is published by One Medical, a national, modern primary care practice pairing 24/7 virtual care services with inviting and convenient in-person care at over 100 locations across the U.S. One Medical is on a mission to transform health care for all through a human-centered, technology-powered approach to caring for people at every stage of life.
Any general advice posted on our blog, website, or app is for informational purposes only and is not intended to replace or substitute for any medical or other advice. 1Life Healthcare, Inc. and the One Medical entities make no representations or warranties and expressly disclaim any and all liability concerning any treatment, action by, or effect on any person following the general information offered or provided within or through the blog, website, or app. If you have specific concerns or a situation arises in which you require medical advice, you should consult with an appropriately trained and qualified medical services provider.