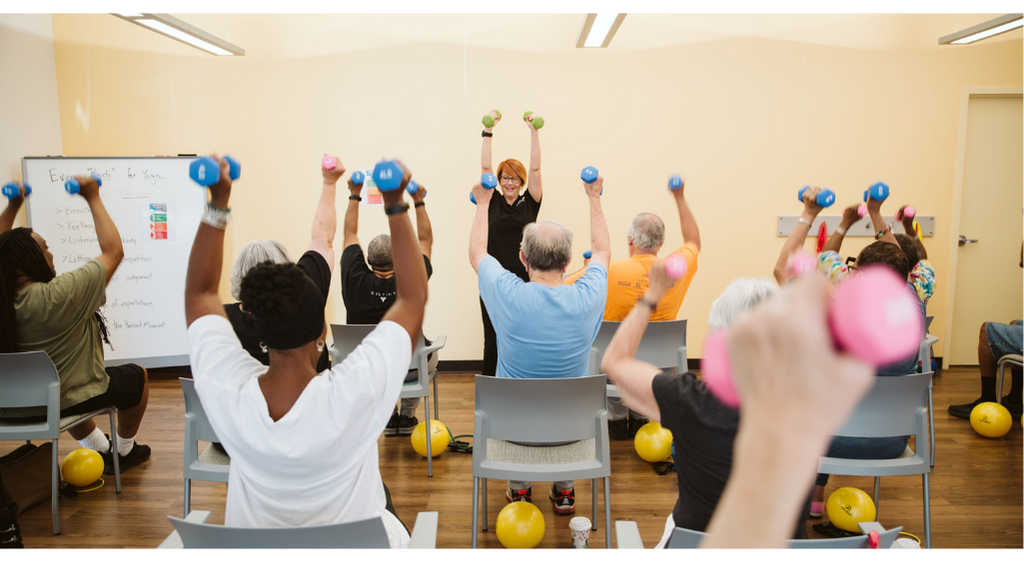 Exercise is an integral part of a healthy lifestyle, especially as we age. Here, we discuss strength training and its benefits.
What is Strength Training?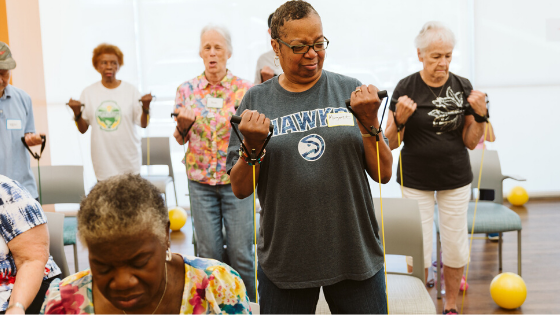 As we age, the body has to work harder to move around, go places, and do things that once might have been easy. However, strength training is a great way to combat aging as it strengthens your muscles, maintains mobility, and boosts balance. As a cornerstone of many great exercise routines, strength training yields significant health benefits, especially for seniors. 
Strength training is a style of exercise that makes you flex your muscles. Through such contractions, this form of physical exercise bears a number of positive health effects. Some include improved strength, endurance, size of skeletal muscles, and bone density. Just like muscles, bones naturally get weaker as we age. Strength training exercises put weight on bones and muscles throughout the body to maintain mobility and prevent future injuries.
Strength training commonly uses the technique of progressive weight training. Basically, this means you add weight in small increments to increase resistance and the amount of effort your muscles use to complete the exercise. However, beginning without any weights at all is a great way to start. Start low, and use one or two-pound weights to get your training started without injury.
Benefits of Strength Training for Seniors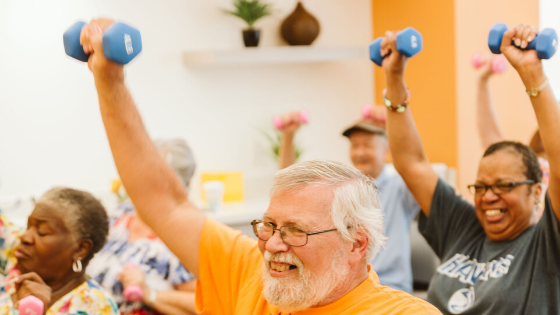 When it comes to exercise for seniors, strength training is especially important in order to maintain strength and mobility, rather than building it as we do when we're younger. As our bodies age, so do the tendons and muscles that help us move about our daily life. Muscles and tendons deteriorate over time. The deterioration can be expedited if one leads a sedentary, inactive lifestyle.
In addition to the physical benefits, strength training may result in mental health benefits. One of which includes combatting depression in seniors. Exercise is a natural way to destress, we almost always feel good after getting some physical exercise.
Overall, the verdict is that strength training for seniors yields a number of benefits ranging from better mobility to improved mental health. No matter your skill level, weight training for seniors becomes more and more of a staple as we age. The most important part, of course, is ensuring that you perform the correct exercises with the correct form.
What are the Best Strength Training Exercises for Seniors?
Weight training exercises typically focus on one or two muscle groups at a time. This means there are a number of exercises focused on certain muscle groups, leaving you with a lot of exercises to choose from.
It may seem overwhelming, but for the basics, there are some muscle groups and exercises seniors should commit to first instead of jumping right in. This way, we can focus on the muscle groups that are most important for functionality and mobility in seniors while avoiding injury.
Strength Training Exercises for Legs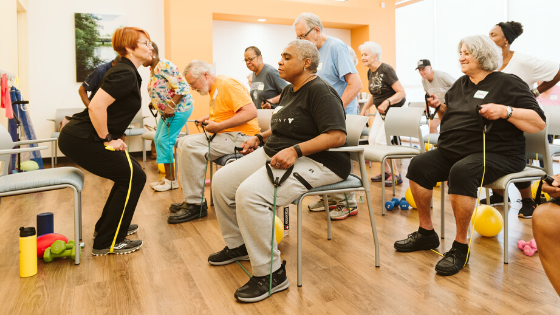 The first area where seniors should consider implementing strength training is the legs. As your greatest asset for mobility, your legs should be a major focus area when it comes to weight training. Luckily, there are plenty of weight training exercises that seniors may perform with or without weights. You can perform these exercises in the comfort of your home or at a local gym.
As they are your largest muscle group, your legs keep you moving in everyday life, so it's important that you make the effort to keep them and strong for improved strength, mobility, and functional independence. The legs are essential for balance, and there are many balance exercises you can do to improve it.
Strength Training Exercises for Arms and Back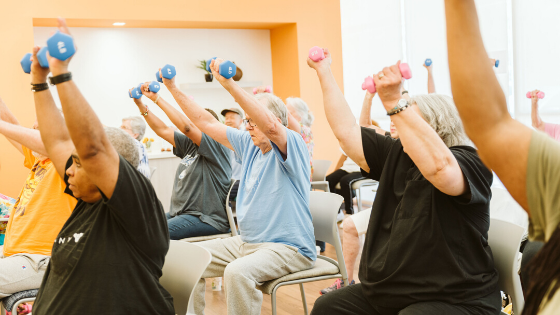 Next, let's talk about your arms. Your arms are made up of many muscle groups, including your biceps, triceps and shoulders. There are many different ways of exercising each of these muscle groups, but all are equally important in helping you maintain upper-body strength and mobility. Luckily, there are many easy upper body exercises you can do to maintain strength.
Our arms are a very intricate part of our body. They have many joints, tendons, and muscles that are important for everyday functionality. Weight training for seniors should include any exercise that helps strengthen your arms, whether it be bicep curls, arm raises, or rows, there are plenty of exercises to work your arms.
Lastly, back and hip weight training is another staple for seniors. When it comes to mobility, few areas equal in importance to the way that your hips and back do. Many leg and arm exercises work your back to some degree. However, your hips require an exercise that is a bit more focused.
Strength Training and Safety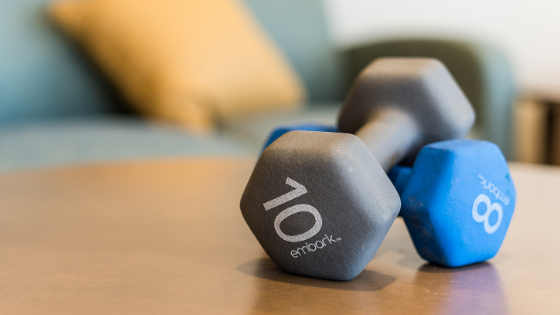 The importance of safety when it comes to strength training for seniors can't be overstated. Before beginning any of these exercises, or any weight training exercise for that matter, make sure you select a weight that works for you. It should be heavy enough that it ensures you're working your muscles the right way. Also, do not be afraid to ask for help! 
If you are working out at a gym, their staff is trained to help people of all ages with their exercise. Gym employees and trainers can show you proper form with free weights and machines. They can also help you determine what weight is best to start out with for you. When in doubt, ask a staff member for help.
Exercise is an integral part of leading a healthy lifestyle as we age, and strength training, in particular, is an important part of exercise to help seniors maintain proper health,  balance, mobility, and more. We've explored the benefits of strength training for seniors and how it may impact your life.
At One Medical Seniors, our care teams take the time to help you uncover your health and wellness goals. We care for the whole person, addressing physical, social, and mental health. We also work with each patient to achieve their health goals through nutrition and exercise classes designed for all ability levels.
Now that you've got strength training for seniors down, check out these chair exercises every senior should know.
The One Medical blog is published by One Medical, a national, modern primary care practice pairing 24/7 virtual care services with inviting and convenient in-person care at over 100 locations across the U.S. One Medical is on a mission to transform health care for all through a human-centered, technology-powered approach to caring for people at every stage of life.
Any general advice posted on our blog, website, or app is for informational purposes only and is not intended to replace or substitute for any medical or other advice. 1Life Healthcare, Inc. and the One Medical entities make no representations or warranties and expressly disclaim any and all liability concerning any treatment, action by, or effect on any person following the general information offered or provided within or through the blog, website, or app. If you have specific concerns or a situation arises in which you require medical advice, you should consult with an appropriately trained and qualified medical services provider.