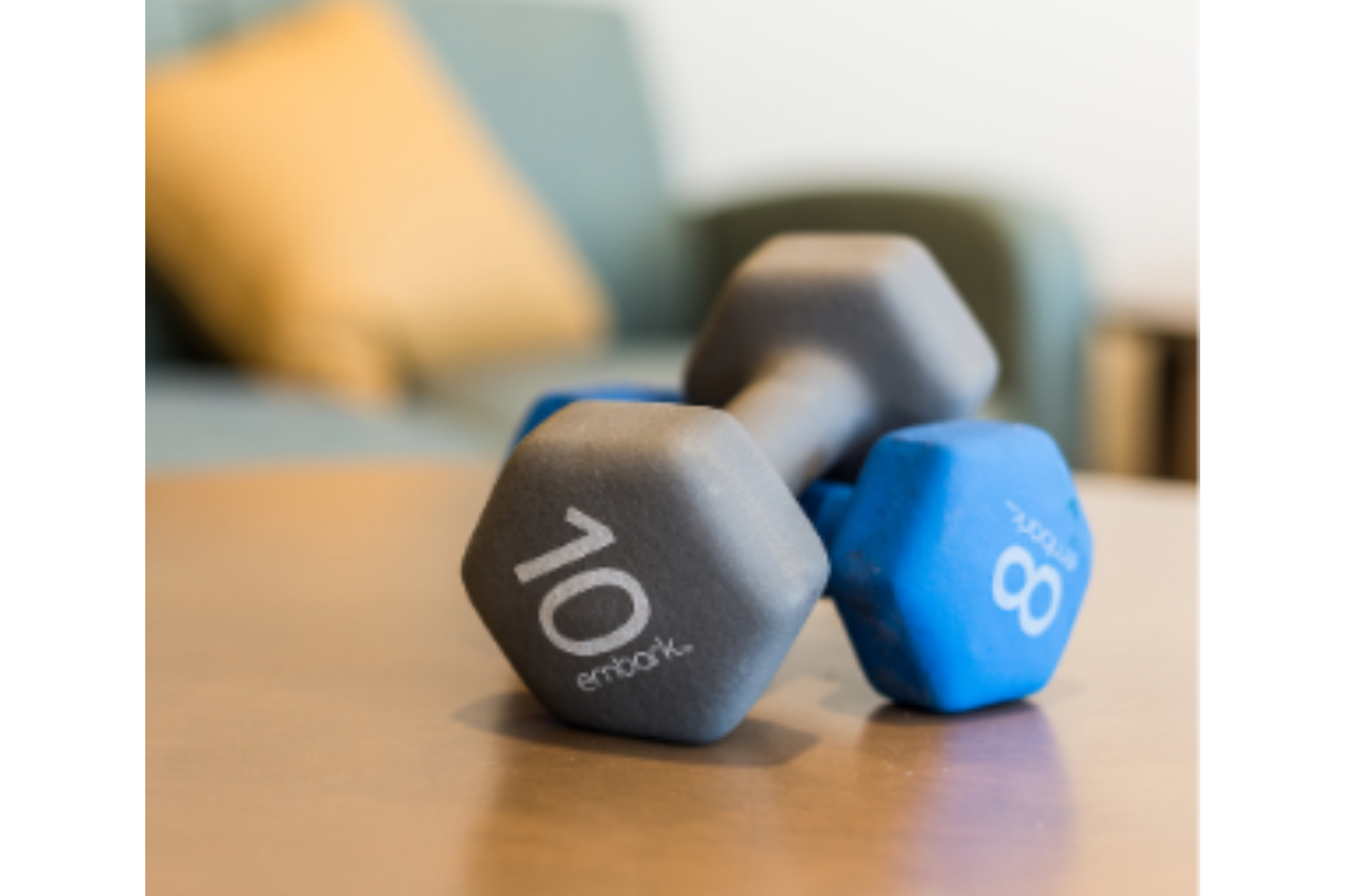 As we age, routine exercise becomes more important than ever for mobility, muscles and overall health. With endless equipment options, we've picked some of the best exercise equipment for seniors.
Choosing the Best Exercise Equipment for Seniors
One of the best things about exercise equipment is that there is no shortage of what you can achieve. Some exercise equipment for seniors may allow you to perform several exercises. And yet with so many options, how do you know what is right for you?
First, it's important to answer a few questions. Think about your health goals; are you trying to lose weight? Maintain muscle? Maintain full-body health? Then think about your limitations, restrictions or any complications you may have.
If your mobility is limited, think about what exercises you might do while seated, how strenuous your workout should be and which equipment is best to suit your needs.
Choosing the best exercise equipment for seniors can be difficult, but finding the right equipment can make all the difference for your workout, and therefore, overall health. Below, we take some of our favorite exercise equipment for seniors and address all the questions above. Let's start with what's available at the gym.
Exercise Equipment at the Gym
The gym is the perfect place to find any exercise equipment you may need. Packed with machines for targeted muscle groups, free weights and cardio machines like a treadmill or elliptical, the gym contains a variety of equipment at your disposal to take on your workout.
1. Free Weights
Barbells, dumbells and weight benches are a gym essential. You can find free weights at any gym, typically lined up in a row in front of a mirror and several weight benches.
Free weights are an exceptional way to maintain muscle strength. Since they are "free" you have a lot of freedom to choose how to use them. Progressive weight resistance can be great exercises for seniors that can help to maintain strength and mobility.  But, be sure to use them correctly and never overexert yourself.
Unlike machines, free weights do not have a safety mechanism that can prevent serious injury. With free weights, start small and work your way up to heavier weights at a safe pace so you don't injure yourself while exercising. This equipment is great, especially for upper body workouts.
2. Low-impact Treadmill
While running or walking — either outside or on a normal treadmill — is a great option for exercise,  these can also be quite harsh on your joints. For this reason, a low-impact treadmill is preferred equipment, especially for seniors. 
Unlike basic treadmills,  the low-impact machine tends to be larger, due to added suspension, which is able to absorb the impact of your foot against the treadmill, making it easier on your joints. 
This is important, for as we age, our joints, especially hips and knees, are more susceptible to injury. Low-impact treadmills are an excellent alternative to ensure that you get quality exercise without damaging your joints.
Treadmills have a variety of options for exercise. You can walk, jog or run at a pace that feels most comfortable to you. Some advanced treadmills have more workout options like hill workouts, which gradually increase the incline, fat-burn workouts and training specific workouts for a 5k, 10k and more.
3. Elliptical or Stationary Bike
Much like the low-impact treadmill, elliptical machines are great for cardio exercise while minimizing the potential damage to your ankles, knees and hips. With virtually no impact to your joints, ellipticals are an essential piece of exercise equipment for seniors.
On the other hand, stationary bikes are equally as low-impact as ellipticals. Stationary bikes are perhaps the easiest, least intense cardio machines available to you. Advanced stationary bikes increase resistance to increase your heart rate, a trademark sign of a great cardio exercise.
Both ellipticals and stationary bikes offer a variety of training options for your workout. Like the treadmill, they both include hill training and heart rate specific workouts to ensure you are maximizing exercise. These pieces of exercise equipment for seniors are especially great for those with arthritis, lower-limb discomfort or osteoporosis.
4. Resistance Bands or Tubes
Simple, inexpensive and portable, resistance bands are a terrific piece of exercise equipment for seniors. Generally used for building and maintaining strength, resistance bands are an excellent, safe alternative to free weights.
Because of their size and simplistic design, resistance bands and tubes offer a wide variety of workouts for seniors that can boost and maintain strength. Resistance bands and tubes are a great alternative for seniors who benefit from exercises but whose goal isn't to continue to increase weight over time with free weights.
Free weights are often better for building muscle and improving strength, given that there is no limit to the weight that can be added, but resistance bands do much of the same for seniors. They are easy to use, safe and are a great option of exercise equipment for disabled seniors as well.
5. Balance Trainers
As you age, balance and mobility become more of a challenge for seniors. As muscle fibers and tendons deteriorate, seniors are at a greater risk for falling. With balance trainers, you can maintain strength and mobility that contribute to your balance for fall prevention.
There are several different types of balance trainers, but all work to achieve the same goal. Some examples of balance trainers include:
Inflatable Balance Discs
Yoga Half Balls
Foam Rollers
Step Benches
Step Ladders
Each of these pieces of equipment serves the same function, but are different workouts altogether. However, before purchasing a balance trainer, it is important you consult with your doctor to see if you are physiologically able to perform these exercises. In the case you are not, step ladders and benches might be a better option for you. 
6. Swimming Pool
While it may not be the most portable piece of exercise equipment, there are many great exercises for seniors that can be done in a swimming pool. Whether it's aerobics, swimming or even some weight training, swimming pools are low-impact and easy on the rest of your body to ensure you get a great workout.
Along with their ease on your joints, swimming pools are great for cardio exercise, boosting your metabolism and maintaining muscle mobility and strength. With many additional benefits , swimming pools provide a complete and wholesome workout experience, making them one of the best pieces of exercise equipment for seniors.
While expensive, several exercise clubs and gyms have swimming pools. Most of the time, these establishments offer classes for a wide variety of workouts. These classes often include weight training, water aerobics for seniors and more. 
7. Home Gyms
Although one of the priciest pieces of exercise equipment for seniors on this list, home gyms serve as a great option for resistance weight training for seniors. Home gyms are quite literally the complete package, and you can get a full-body workout in the comfort of your home.
Most home gyms are also seated, making it much easier for you to complete your workout without stressing your joints and muscles in your legs. For technique, it is nearly impossible to have incorrect form with home gyms. Home gyms have no risk of injury due to technique, making them a safe option for exercise equipment for seniors.
It is important to note however that home gyms can be difficult to assemble. Before purchasing, consider asking for help to build your home gym to avoid injuring yourself while setting up the machine. Ultimately, home gyms provide a complete body workout all in one place. 
Exercise Equipment for Seniors with Disabilities
Exercise can be especially difficult for seniors with disabilities. However, getting proper exercise is just as important, if not more, for seniors with a disability. While it may seem daunting, and even difficult, there are plenty of exercise equipment options for seniors with disabilities.
Some of the equipment above like resistance bands, home gyms and free weights are also great options for seniors with disabilities. This equipment for seniors can be used seated, or in a wheelchair to get the exercise you need to be your best and healthiest self.
Without further ado, here are some other great options for exercise equipment for seniors with disabilities:
1. Mini Exercise Bike
For seniors with disabilities, mini exercise bikes are great, portable option to get cardio and aerobic exercise. There are many types of mini exercise bikes, ranging from simple pedals to magnetic, resistance-based pedals that build strength in your muscles and work your heart.
These bikes are great for low intensity workouts that burn calories, moderate blood sugar levels, combat cholesterol buildup and keep joints mobile through gentle circulation. More advanced exercise bikes provide resistance training, in which you can adjust how easy or difficult it is to pedal the bike.
Higher resistance training provides more difficult, yet better exercise as it builds up leg and core strength as well. All in all, mini exercise bikes are a great alternative for disabled seniors as they can be completed whilst seated or in a wheelchair.
2. Sitting Stepper
Similar to the exercise bike, this stepper is a great form of lower body exercise for seniors with disabilities. Instead of cyclical motion, the stepper promotes blood circulation and helps maintain leg strength and mobility. 
Sitting steppers are cheap, foldable and superbly portable. Most designs of the sitting stepper have small, round raised areas that promote blood flow in your feet and legs. The sitting stepper is an excellent form of exercise while resting.
3. Grip Strengthener
For upper body, many of the options listed above are great pieces of exercise equipment for seniors with disabilities. Free weights, resistance bands and home gyms all have great exercises for seniors with disabilities that provide them with the resistance weight training they need to maintain muscle and mobility.
Grip strengtheners are another upper body essential. These little devices are another form of resistance training, but are essential for helping maintain strength in your hands, wrists and forearms. 
Often, grip strengtheners are really portable and can fit in a small bag, pouch or purse. Inexpensive, grip strengtheners are a seamless way to incorporate exercise into your daily life.
As we can see, there are a wealth of options for seniors when it comes to exercise equipment. Whether it's at home or at the gym, we've highlighted some of the best pieces of equipment to use on your journey to better health. Remember, every equipment is different, so be sure to ask for guidance where you need it.
At One Medical Seniors, our care teams provide patients with all the keys to their success in health and wellness. Our dedicated team of health coach and physician work with you to uncover your health goals for the present and future.
We put the patient first, always, and we empower our patients to have their health journeys in their own hands. When it comes to exercise, we offer many classes on fitness, nutrition and more that older adults can use to educate themselves, stay active and live healthy. 
The One Medical blog is published by One Medical, a national, modern primary care practice pairing 24/7 virtual care services with inviting and convenient in-person care at over 100 locations across the U.S. One Medical is on a mission to transform health care for all through a human-centered, technology-powered approach to caring for people at every stage of life.
Any general advice posted on our blog, website, or app is for informational purposes only and is not intended to replace or substitute for any medical or other advice. 1Life Healthcare, Inc. and the One Medical entities make no representations or warranties and expressly disclaim any and all liability concerning any treatment, action by, or effect on any person following the general information offered or provided within or through the blog, website, or app. If you have specific concerns or a situation arises in which you require medical advice, you should consult with an appropriately trained and qualified medical services provider.