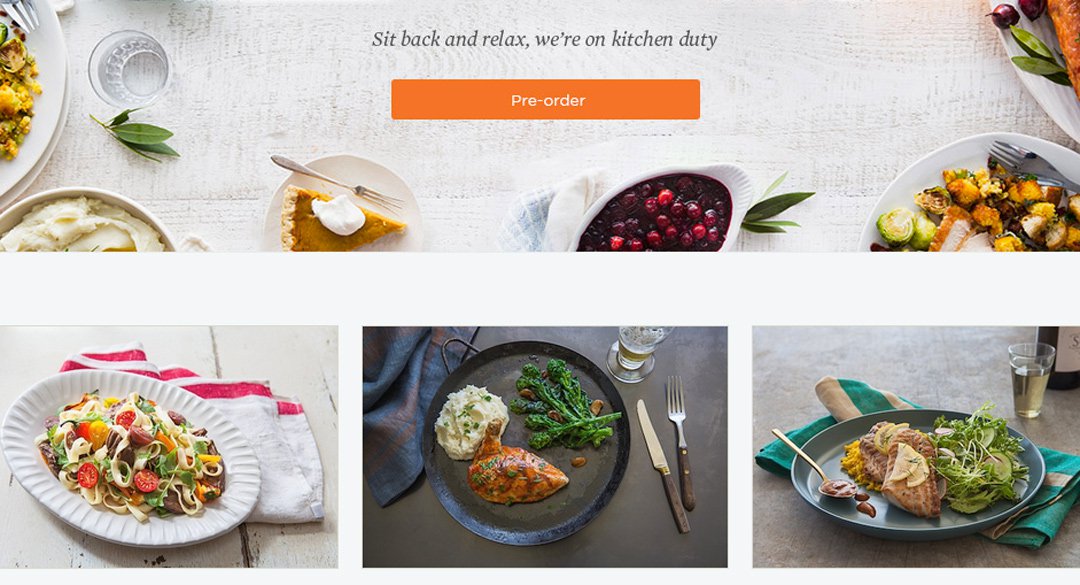 Well-balanced meals are essential to good health. But does the thought of planning, shopping, and preparing (not to mention, cleaning up) leave you too exhausted to attempt wholesome home cooking? It might be time to try a healthy food delivery service. Whether you'd like all the ingredients for a nutritious meal delivered to your doorstep, or you want a complete, cooked dinner to come home to after work, you can find what you're looking for in San Francisco.
Check out our roundup of some of SF's best healthy food delivery services.
Local Services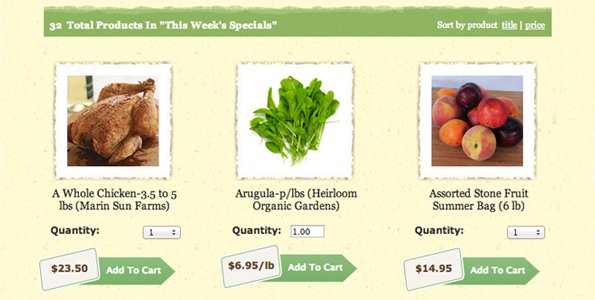 FarmBox SF
What it's all about: Similar to a CSA, the service delivers sustainably grown farmer's market finds and other local products to your door. Sign up for recurring delivery, or just order a box at a time.
Price: There are six FarmBox options ranging from the $39.95 Fruit and Veggie FarmBox Sampler (about a dozen different fruits and veggies) to the $159.95 Complete Meat and Seafood FarmBox (local veggies, eggs, artisan cheese, fresh bread, juice, artisanal items like hummus or honey, local seafood, and meat). You can also order products like Cowgirl Creamery Fromage Blanc ($4.50) individually. Gluten-free and paleo options available.
Sample item: Basic FarmBox: Loaf of multigrain bread, lemon apple cider, blue cheese, half-dozen pasture-raised eggs, hummus, spinach, parsley, squash, carrots, apples, peppers, raspberries, beets, Valencia oranges, white onions, and green zucchini ($77.95).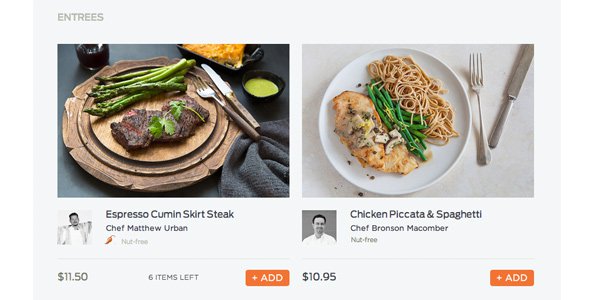 Munchery
What it's all about: Order meals from Munchery's daily rotating menu on the website or app, and meals are delivered chilled, with instructions for heating in the microwave or oven.
Price: Meals range from about $6 to $15. Place your order two or more days in advance and receive an early bird discount of 10 to 25 percent off most items.
Sample Menu Item: Poblano, Corn, and Shrimp Salad: Little gem lettuce, green hot chili peppers, red tomatoes, sweet yellow corn, frisee, scallions, shrimp, lime juice, olive oil, arugula, and oregano ($6.95).
Luke's Local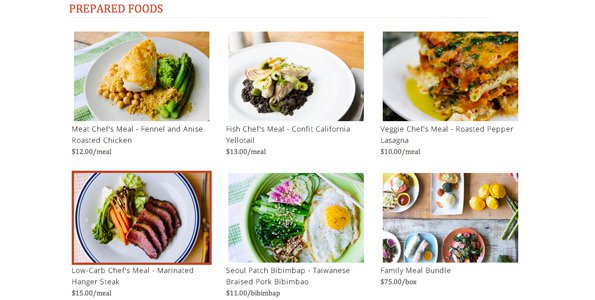 What it's all about: Order ready-to-eat, organic meals and products from local farms and food companies online. You can also sign up for a recurring weekly delivery service, family meal bundles, and curated boxes of local products.
Price: Meals range from about $5 to $15.
Sample item: Miso Kale Salad with Grilled Chicken: Kale, miso dressing, strawberries, sesame seeds, and grilled chicken ($7.00).
Cooking with Claudine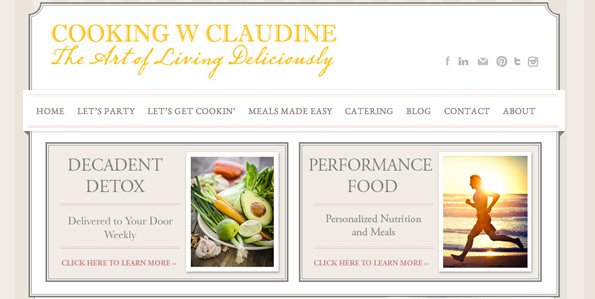 What it's all about: Head chef Claudine Dagit cooks up customized meals and delivers them to your home via her Decadent Detox service. All meals are organic, vegetarian, and gluten-free and the menu rotates weekly based on what's in season. She also offers personal cooking lessons and pantry makeovers.
Price: Meals range from $100 for 5 meals to $240 for 10 meals including performance snacks
Sample item: Grilled salmon over parsnip puree, topped with root veggie chips, and a side of sautéed dark leafy greens.
National Services
Plated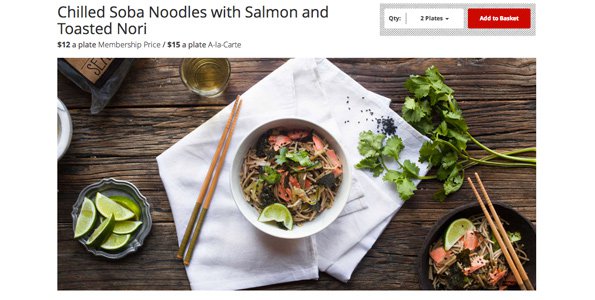 What it's all about: The website features seven chef-designed recipes each week including healthy meat, and fish, and vegetarian options. Your order includes all the ingredients and instructions you need to create a complete meal. Delivery dates vary according to your zip code, so you'll need to check the site to see when meals are available in your area.
Price: $15 per meal. With a $10 monthly membership, meals are $12. You can also sign up for an annual membership that's $8 per month (meals are also $12 each).
Sample item: Lemon Oregano Tofu Over Greek Salad: The delivery includes tofu, garlic, oregano, lemon, English cucumber, grape tomatoes, romaine hearts, red onion, red wine vinegar, Dijon mustard, Kalamata olives, and crumbled feta cheese.
Blue Apron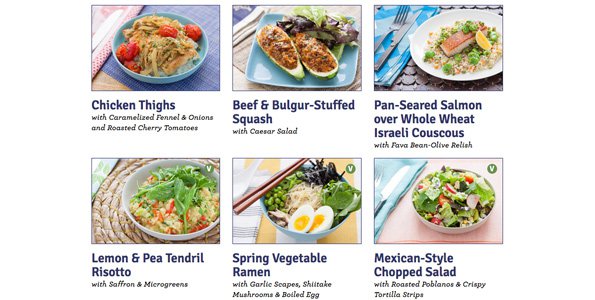 What it's all about: Sign up for a weekly subscription and you'll get three deliveries per week of pre-portioned ingredients for meals that can be prepared in under 35 minutes, along with recipe cards.
Price: A weekly subscription ranges from $59.94 for three meals for two people to $179.82 for three meals for six people.
Sample item:Roasted Chicken with Jalapeño-Herb Salsa, Mixed Citrus, and Cracked Wheat Berries: Ingredients include chives, parsley, jalapeño pepper, shallots, white wine vinegar, pistachios, chicken breasts, cracked wheat berries, clementines, grapefruit, and tangelos.
The One Medical blog is published by One Medical, a national, modern primary care practice pairing 24/7 virtual care services with inviting and convenient in-person care at over 100 locations across the U.S. One Medical is on a mission to transform health care for all through a human-centered, technology-powered approach to caring for people at every stage of life.
Any general advice posted on our blog, website, or app is for informational purposes only and is not intended to replace or substitute for any medical or other advice. 1Life Healthcare, Inc. and the One Medical entities make no representations or warranties and expressly disclaim any and all liability concerning any treatment, action by, or effect on any person following the general information offered or provided within or through the blog, website, or app. If you have specific concerns or a situation arises in which you require medical advice, you should consult with an appropriately trained and qualified medical services provider.