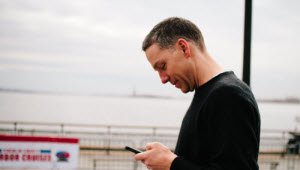 In 2009, Robert (Bobby) Wilson, MD, was living in Denver contemplating a move to New York City. One night, Bobby and his wife sat down to browse New York job postings. Almost immediately, he came across a distinctive ad for a different type of primary care. Bobby knew he'd found the practice he'd been seeking. He applied, interviewed, and became one of the first doctors at One Medical Group's Wall Street office when we opened in 2010.
Why did you go into medicine?
I wanted to help people. I grew up in my father's pharmacy, watching him interact with patients and other health care providers. I knew from an early age that I also wanted to work in health care. After trying a career in finance and considering many other professions outside of medicine, I realized that working in health care was the best place for me. And I'm a people person, which helps.
What do you want patients to know about your practice style?
I feel honored and inspired that my patients put their trust in me when they seek my opinion. I take their concerns seriously. I want my patients to leave feeling like I've really heard them. I try to be thorough, kind, and compassionate. I also want patients to know that if I don't know the answer to a question or a problem, I'll do what I can to help find the answer or find another provider who can help.
Tell me about the kind of cases you're most passionate about.
It's great to care for people who are motivated to take care of themselves. I enjoy the challenge of helping patients manage newly diagnosed or chronic medical conditions and helping to optimize their care. I also enjoy counseling people on actions they can take to improve their health without medication. This non-drug approach is applicable to so many conditions that I see every day–for example, weight issues, high blood pressure, high cholesterol, elevated blood sugar, diabetes, excess alcohol intake, stress, and anxiety.
What drew you to our Wall Street location?
The beautiful office, the amazing natural light, and the gorgeous 360-degree views make it very easy to come to work every day.
You're an avid runner. What is it about running that appeals to you?
So many things! It's great to be outside, listening to my music or the sounds of nature, and enjoying a nice landscape. I also like challenging myself and knowing that I'm doing something to maintain my health. And it's good personal time.
What are some of your favorite runs in NYC?
A long run starting at the George Washington Bridge and running to Battery Park City and back; any run through Central Park; and the NYC marathon route.
Any health tips for runners?
Primarily, don't overdo it: Start slow, run short distances first, and build mileage slowly. Stay well-hydrated every day, and especially during long runs. Wear the right shoes for your body, and stretch often.
It's good to practice other forms of exercise for cross-training. Swimming is great because it has low impact on the body, plus it has cardiovascular benefits. Cycling and yoga are good cross-training alternatives, too.
What's your stance on barefoot running?
It's not for me (so far)! My feet are too delicate and sensitive and I worry about nasty junk from New York streets getting on my feet. That being said, I'm not highly educated on this topic. I read "Born to Run" and liked it. I bought a pair of minimalist shoes, but returned them before I ever took them out of the box. I think there's some benefit to giving feet a break from big, bulky, heavy shoes and allowing them to make contact with the ground. I've done some barefoot running on a treadmill and found it helpful in dealing with foot pain.
If you're new to running in general, or making a switch from shod running, proceed with caution. Again, start slowly, build mileage gradually, and above all, listen to your body.
How do you juggle working, fitness, and family? Any advice for the rest of us?
Thanks–I love my family! My wife is the most supportive, wonderful person I've ever known. I couldn't do any of it without her. She's very supportive of my running. It's tough to get up early in the morning or head out on a run after my kids have gone to bed, but the routine of doing so makes it easier and having a race to train for motivates me. If you're having trouble staying motivated, sign up for an event like a 5K or a short bike race. Look for ways to make fitness fun.
Any tips for people who want to start a fitness routine?
First, find something you enjoy doing. Experiment with jogging, swimming, cycling, dancing, anything. Once you find an activity you enjoy, see if you can find others who will join you.
You can also think about a fitness goal that motivates you to continue before your activity becomes a habit–such as signing up for a fitness event. Remember: It takes repetition to form a habit. Be patient and consistent, and you'll start noticing benefits.
Alternatively, if something isn't working for you or you're getting bored, pick a different activity. Or try different types of training within your favorite sport. For example, if you like running, do fast laps around the track, or take it to the hills or trails to shake up your routine and stay engaged.
Let's talk social media…
I love Twitter! It's an awesome way to curate all the information I care about: I follow about 100 different people and check my stream daily. I love NPR, The New York Times, and CNN for the daily goings-on outside the world of medicine. Thich Nhat Hahn, Jimmy Fallon, Jimmy Kimmel, Ashton Kutcher, Richard Branson, GQ, and numerous artists also keep me interested and entertained.
How do you use technology to support your health and well-being?
What's the best piece of parenting advice you've received?
Enjoy every day with your kids. Things are so much better when I appreciate each day with them.
Who is a living inspiration to you and why?
My parents. Through tough times and easy times they've always been present for me, my wife, and my siblings. They're in their late sixties, but they still go to work every day, have a lot of friends who have been in their lives since I was born, and they still enjoy being together after many years of marriage!
Any parting words?
I'm really glad to be a part of One Medical. For the first time in my career as a doctor, I feel I'm where I'm supposed to be and want to be for the long-term. I also have the best co-workers ever.
Editor's Note: We love Twitter, too! Let's connect: Tweet us @onemedical. Not on Twitter? We can still be friends on Facebook.
The One Medical blog is published by One Medical, a national, modern primary care practice pairing 24/7 virtual care services with inviting and convenient in-person care at over 100 locations across the U.S. One Medical is on a mission to transform health care for all through a human-centered, technology-powered approach to caring for people at every stage of life.
Any general advice posted on our blog, website, or app is for informational purposes only and is not intended to replace or substitute for any medical or other advice. 1Life Healthcare, Inc. and the One Medical entities make no representations or warranties and expressly disclaim any and all liability concerning any treatment, action by, or effect on any person following the general information offered or provided within or through the blog, website, or app. If you have specific concerns or a situation arises in which you require medical advice, you should consult with an appropriately trained and qualified medical services provider.