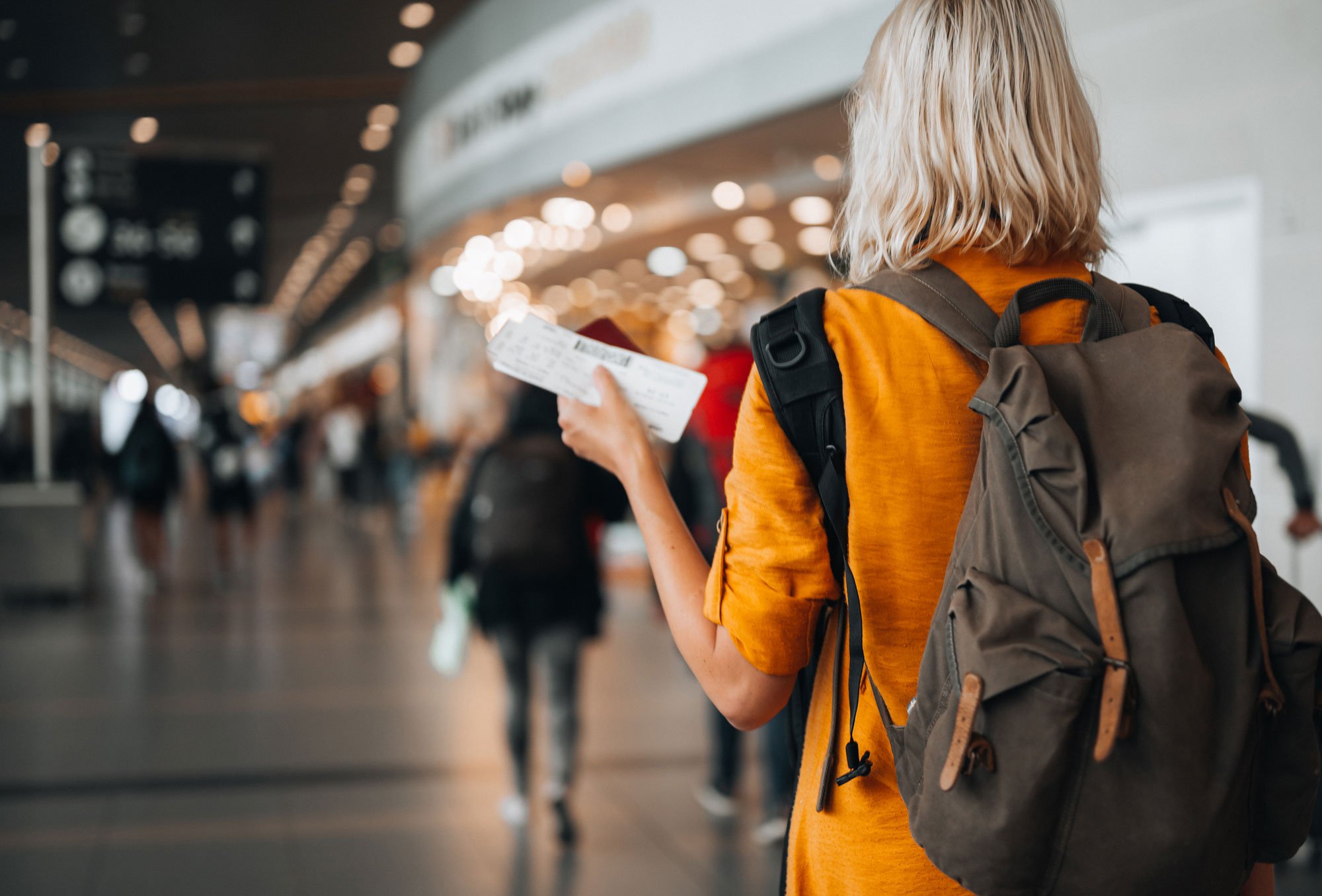 Clinical Editor: Andrew Bertagnolli, Ph.D.

Whether you're racing through the terminal to make a connection, trying to find a good, affordable hotel, or discovering you forgot to change your USD into EUR, travel can be incredibly stressful. And the irony is, your vacation time is supposed to be when you decompress from stress!
From planning your dream trip, through the TSA checkpoints, to making your way through a foreign land, travel anxiety can take center stage. According to One Medical clinical psychologist Andrew Bertagnolli, Ph.D., this unique type of stress is "triggered when thinking about or actually traveling, and is often associated with visiting an unfamiliar place."
Fear of the unknown (like, trying to read a menu in Japanese, for instance) or stresses around money (like the cost of a flight or a late checkout fee) can compound — your brain and body retain these stress events, and it can bring on the incredibly uncomfortable experience of anxiety. Think: chest tightness, increased heart rate, sweat palms, and the feeling of impending doom. Not fun, to say the least.
A catastrophe needn't actually occur for your mind and body to process as if there was a life-or-death moment. Bertagnolli says "having thoughts which are typically catastrophic in nature — eg: if I go on this trip, something terrible will happen and I won't be able to cope," can be enough of a trigger.
So what can you do to get back into a vacation state of mind? Bertagnolli shares a four-part strategy that'll help you start to conquer travel anxiety so you can relax and enjoy: Identify, Prepare, Adapt, Decompress.
1. Identify
The first phase of conquering travel anxiety is to figure out the root of your fears. "Identify the main concern," says Bertagnolli. "Write all the concerns down then ask yourself, 'What are my top three or five concerns?'"
Some examples he shared:
What if I get sick while away from home?
What if the cat gets sick while I'm away?
What if I get lost and can't find someone who speaks English?
Everyone has different fears for different reasons — they're valid! Don't beat yourself up. While you're still in the planning stages, try to get these fears out of your head and onto a piece of paper. You'll deal with this list in the next step.
2. Prepare
Once you have those fears listed out, make a plan. Consider what will happen if each of these fears actually plays out. What would you do next? This is sometimes called "decatastrophizing" and is a technique from cognitive behavioral therapy in which you flesh out a worst case scenario.
"Develop a believable, high level response for each of your top three or five fears," says Bertagnolli. For instance, "You could contact your health insurance plan to ask about coverage while you're away from home, or perhaps purchase travel insurance that has benefits for health related issues." Maybe you're concerned about packing or bringing certain valuables. If so, ask yourself what you really need on the trip. Consider leaving important valuables at home to remove some unnecessary stress from your travels.
3. Adapt
At this stage, you're on your journey, but you still might have concerns that come up along the way — each of which could trigger anxiety and panic. Bertagnolli has three go-to tools to help mitigate this all-consuming stress response.
Bring distractions. Arm yourself with podcasts, pre-downloaded video, books, and perhaps some things that don't require battery power, he suggests. If panic strikes on a plane or train, these distractions can help you regulate your breathing and heart rate by allowing you to immerse yourself in something enjoyable and light.
Keep valuables close. If you tend to be a constant "checker" and are worried about the location of certain valuable items (ie. your passport, medication, etc), Bertagnolli suggests carrying them on your person. If your checked bag gets lost, you won't lose the most important items. One less stressor in a stressful situation.
Breathe. It sounds simple, but can be hard to implement in the moment, so it bears repeating! "Practice breathing and relaxation techniques while you are traveling," says Bertagnolli.. Consider deep belly breathing, box breathing, and alternating nostril breathing — whatever works for you and helps you regulate your nervous system.
4. Decompress
You've made it to your destination! It's time to relax, unwind, and recharge. So how do you keep vacation anxiety at bay?
Practice daily relaxation. Remember (as much as you can): you chose to travel to take some time away from work and daily life. You deserve rest and relaxation! Choose at least one daily activity that helps you unplug and kick back. This is so important for your health and wellbeing. Don't let the vacation moments pass you by!
Practice healthy self talk. One thing that could exacerbate stress is berating yourself. If you forgot to book a reservation, left something at home, or missed a connecting flight, you might find yourself defaulting to negative self talk — try to catch yourself! Those negative self thoughts can spiral and make the anxiety even worse. By shifting the way in which you speak to yourself, you can start to assuage stress and keep anxiety away.
Pace yourself. Take things at your own pace. Don't push yourself to race around to see all the sights. Prioritize what you want to do - maybe one or 2 activities each day - and let yourself enjoy them. You don't have to do it all at once.
Resist the urge to numb out. This last one deserves some extra attention. If you're particularly anxious, Bertagnolli points out that it can be easy to "engage in certain behaviors like avoidance (ie: avoiding making plans, talking/thinking about the vacation, drinking/using drugs during travel or when at the destination or perhaps not leaving your hotel room)." While sleeping in and ordering room service or imbibing in a few more piña coladas can be harmless here and there, when used as an anxiety crutch, they can do more harm than good, he says. "These behaviors can often initially lessen our anxiety, but more often than not, they contribute to an increase in our anxiety in the long term," says Bertagnolli.
While this approach can be powerful, sometimes vacation anxiety can need additional support. If you're still struggling with travel anxiety or feel like it's interfering with your daily functioning, our primary care team is here to help. Learn more about our mental health services or sign up today to book a same or next day appointment — in person or over video — through our app.
The One Medical blog is published by One Medical, a national, modern primary care practice pairing 24/7 virtual care services with inviting and convenient in-person care at over 100 locations across the U.S. One Medical is on a mission to transform health care for all through a human-centered, technology-powered approach to caring for people at every stage of life.
Any general advice posted on our blog, website, or app is for informational purposes only and is not intended to replace or substitute for any medical or other advice. 1Life Healthcare, Inc. and the One Medical entities make no representations or warranties and expressly disclaim any and all liability concerning any treatment, action by, or effect on any person following the general information offered or provided within or through the blog, website, or app. If you have specific concerns or a situation arises in which you require medical advice, you should consult with an appropriately trained and qualified medical services provider.