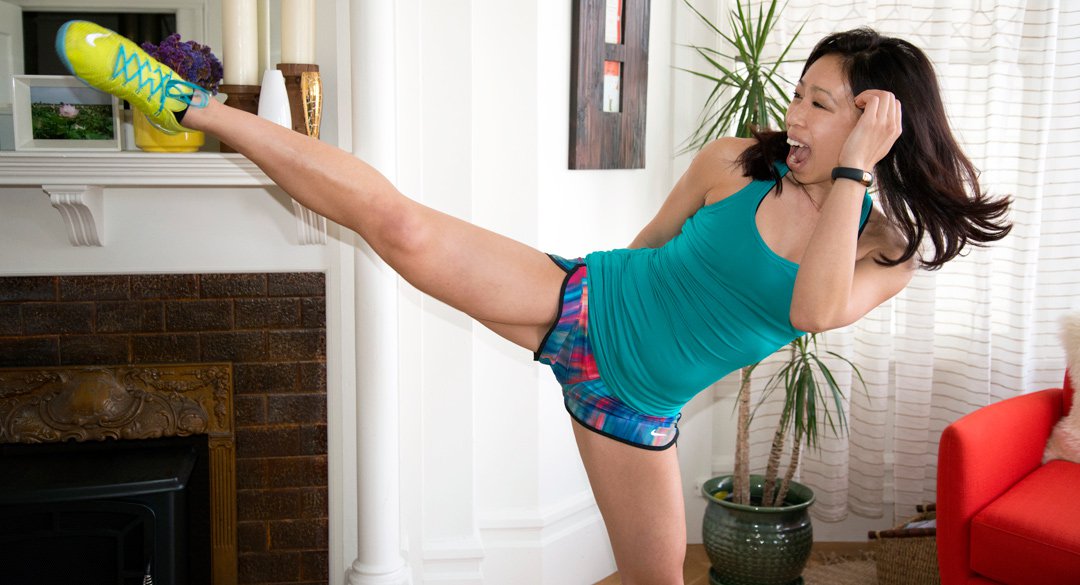 Whether the lingering winter chill is disrupting your morning runs or long hours at the office are getting in the way of your weekly spin classes, you may be cardio-deprived. The American College of Sports Medicine and the Centers for Disease Control (CDC) both recommend at least 30 minutes of moderate physical activity on most days of the week, and heart-pumping cardio is a great way to improve endurance and stay fit. But for most big city apartment dwellers living between thin walls, jumping jacks and burpees just aren't an option.
We asked fitness expert Jackelyn Ho to show us her top quiet cardio moves to do at home. Repeat the routine below as many times as you like to get a full-body workout and stay on good terms with your neighbors.
1. Lunge Hops
Begin in a lunge position with your right leg behind you. Quickly drive your right knee in toward your chest as you hop up on your left leg.
2. Curtsy Lunge
Begin in a lunge position with one leg extended at a slight diagonal behind. Put your hands on your waist and dip you as if you were performing a curtsy.
3. Mountain Climbers
Begin in a plank position with your shoulders over your wrists and your feet extended behind you. Draw one knee in toward your chest and quickly alternate to the other knee.
4. Bear Crawl
Start in a plank position with your hips slightly raised—don't bring them too high up. Crawl forward on your hands and feet as fast as you can. Bring your left leg forward as you bring your right arm forward and bring your right leg forward as you bring your left arm forward.
5. Lunge to Front Kick
Start in a lunge position with your right foot behind you and your left knee tracking over your ankle. Tap the ground with your right hand as you lunge up, then rise up to standing and kick your right leg forward in one smooth motion. Imagine kicking a door down with the ball of your foot.
6. Book Push
Stack up your heaviest books. If you're on a carpet, put the books directly on the ground; if you're on a hardwood floor, place them on a towel. Crouch in front of them and push the books with your hands from one end of your hallway or living room to the other.
7. Shadow Boxing
Take a basic boxing stance with your right foot forward and your left foot slightly back. Perform a combo: jab, cross, hook, and uppercut.
8. Side Kick Repeats
Start with one leg and kick out to the side for one full minute. Switch sides.
The One Medical blog is published by One Medical, an innovative primary care practice with offices in Boston, Chicago, Los Angeles, New York, Phoenix, Portland, the San Francisco Bay Area, Seattle, and Washington, DC.
Any general advice posted on our blog, website, or app is for informational purposes only and is not intended to replace or substitute for any medical or other advice. The One Medical Group entities and 1Life Healthcare, Inc. make no representations or warranties and expressly disclaim any and all liability concerning any treatment, action by, or effect on any person following the general information offered or provided within or through the blog, website, or app. If you have specific concerns or a situation arises in which you require medical advice, you should consult with an appropriately trained and qualified medical services provider.