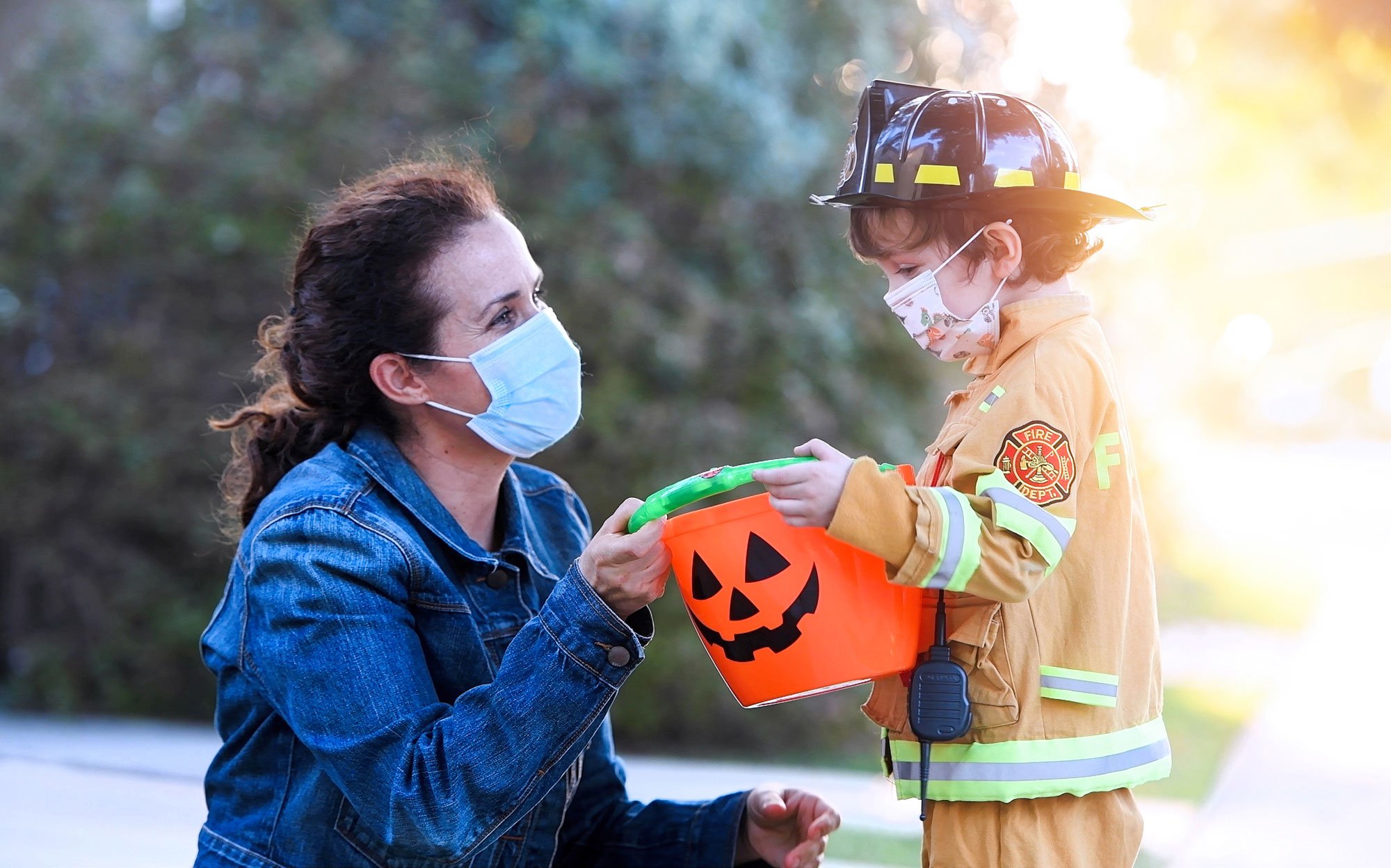 Updated October 26, 2021.

The pandemic has forced us all to get creative over the last year and half, in terms of work, childcare, exercise, and other daily activities. And Halloween has been no exception. Last year many people were forced to forgo their typical Halloween festivities from bar crawls and house parties, to traditional trick-or-treating and indoor haunted houses. While things may look different this year as more people continue to get vaccinated against COVID-19, it's still important to take precautions to protect yourself and your loved ones. Here are some creative ways to celebrate safely this year:
Safer trick-or-treating
While the CDC advised families against trick-or-treating last year, the public health agency has given it's okay for families to resume the activity this year, with some caveats. When asked if children should be able to go trick-or-treating, CDC director Rochelle Walensky said, "If you're able to be outdoors, absolutely." She also recommended smaller gatherings. "I wouldn't necessarily go to a crowded Halloween party, but I think we should be able to let our kids go trick-or-treating in small groups," she added. As most children trick-or-treating are under the age of 12 and not yet eligible for COVID-19 vaccination, it is recommended that your family continue implementing safety measures to reduce your risk of COVID-19 while out and about this Halloween. Here are some ways to stay safe among the festivities:
Consider your location — Because COVID-19 is still a concern, it's important to understand the level of transmission in your area and your family's personal risk when deciding whether to go trick-or-treating this year. "During this time, there are no 100% safe activities when interacting with non-household members," says One Medical Provider, Sara Huberman Carbone, MD. "Families can get a better understanding of their risks by looking at community transmission rates of COVID and community vaccination rates. Areas with lower transmission rates and higher rates of vaccination have lower risk of COVID spread to children."
Stick to a "Pod" or small group— Throughout the pandemic, many families and individuals have made pacts to socialize with only each other and limit interactions with all others. If you're thinking of organizing a trick-or-treating outing, you might consider limiting the households you stop at to those within your pod or those of close families and friends. "Trick-or-treating with a controlled group in a social pod with agreed upon houses could reduce that risk, especially if everyone agrees to adhere to wearing masks, physical distancing, and overall being cautious ahead of the event," says One Medical Provider, Natasha Bhuyan, MD. With these select families, you will be able to establish safety guidelines and ground rules ahead of time and limit your child's interactions with strangers. For more on building a pod and expanding your quarantine bubble, read here.
Limit interactions when handing out candy — One of the best ways to keep you and your child safe this Halloween is to limit as much direct contact with others as possible. If you choose to hand out candy this year, do so with caution. "If families choose to hand out candy, they should wear masks," says Huberman. "As ventilation is an important safety measure, staying outdoors while handing out candy will be a safer option. Families might also come up with creative ways to interact from a distance with things like a "candy shoot" where they send candy to trick-or-treaters down a tube." Leaving a bowl of candy out is a great safe no-contact option. Some neighborhoods are also choosing to set up tables or line the ends of their driveways with individually wrapped goodie bags. "A neighborhood can coordinate and agree to only leave out goody bags that children can walk by and grab from a table on the sidewalk, without interacting with others," says Bhuyan. "This minimizes the risk of transmission by limiting human-to-human interactions. Remember, COVID-19 most commonly spreads from person to person." This allows those who are high-risk to avoid interacting with others and also prevents trick-or-treaters from clustering around a house. If your neighborhood agrees to use these goodie bags, be sure to wash your hands with soap and water before and after bagging up candy.
Use signs — Oftentimes it can be difficult to tell if a house is handing out candy on Halloween. This can cause families to cluster around a doorbell or sidewalk waiting for an answer or figuring out their next stop. To prevent people from crowding outside a house or in the street, work with your neighborhood to decide on a sign or signal houses can use to indicate that they are participating in trick-or-treating this year. This could be a porch light or even a pumpkin. You may also want to consider putting up signs around the neighborhood that encourage the use of hand sanitizer, masks, and social distancing.
Wear an appropriate mask — Whether you are out trick-or-treating or handing out candy from home, always maintain at least 6 feet of physical distance from others and wear a mask as much as possible. However, you shouldn't rely on your costume mask to protect you from COVID-19. "Masks should be worn anytime you are around others who are not your household contacts," says Bhuyan. "Costume masks are not a substitute for cloth masks. That is because costume masks often have holes in the nose or mouth, which can allow droplets to readily pass." Huberman also encourages parents to wear masks while out with their kids. "Not only does this help to prevent the spread of COVID-19, wearing a mask is a great way to model what we are asking children to do this season."
Sanitize frequently — Be sure to pack hand sanitizer and use it frequently throughout the night. "Sanitizing your hands between each home visit is a good idea." says Bhuyan. "However, because COVID-19 is primarily spread from person-to-person either via respiratory droplets or in the air, sanitizing your hands won't prevent the risk during those interactions." You might want to consider packing extra masks as well, in case anyone loses theirs.
Celebrate Halloween at home
Prefer to skip trick-or-treating altogether this year? One of the best ways to reduce your risk of COVID-19 is to keep your Halloween festivities to members of your own household. But just because you aren't out trick-or-treating, doesn't mean you have to be in for a boring evening. Give your family something to look forward to with these moderate to low-risk risk activities:
Scavenger hunt: Rather than having your kids go door-to-door this year, hide candy or prizes throughout your house or yard.
Virtual costume contest: You don't need a big Halloween party to dress up. Show off your costume over a virtual Halloween costume contest. You can even have friends and family vote for the best costume and give out virtual awards.
Carve or decorate pumpkins: Pumpkin carving with your household contacts is one tradition that doesn't need to change this year. Use paint or markers to get extra creative with your pumpkin!
Halloween movie night: Many TV channels and streaming services are featuring Halloween classics this month. Step up your movie marathon game by dressing up as your favorite characters and making some Halloween treats.
Socially-distanced gatherings
When deciding whether to get together with friends and family this Halloween, it's important to remember that there will always be some risk associated with social interaction. Every time we engage with another person, we risk exposing ourselves and others to the virus. If you do plan a gathering with people outside your household, though, there are ways to keep your group safer. First of all, it's important to keep your group small. You should also consider the confines of your space. There should be enough room for people to maintain at least 6 feet apart from each other at all times. Outdoor spaces are inherently safer, says Bhuyan. "Although COVID-19 is transmitted via droplets from one person to another, open air locations minimize the risk," she explains. You may even consider opting for public gatherings at a park or beach where there will be more space for people to spread out. With more open space, you'll reduce the risk of repeatedly touching the same surfaces or objects. Whether you're indoors or outdoors, it's also important to keep a safe distance and wear a mask as much as possible. Finally, avoid sharing food or drinks. If you do decide to eat together, have each person bring their own food and utensils to minimize the risk of contact and touching common surfaces.

Have more questions about your family's health amid COVID-19? Book an appointment to speak to a provider.
The One Medical blog is published by One Medical, a national, modern primary care practice pairing 24/7 virtual care services with inviting and convenient in-person care at over 100 locations across the U.S. One Medical is on a mission to transform health care for all through a human-centered, technology-powered approach to caring for people at every stage of life.
Any general advice posted on our blog, website, or app is for informational purposes only and is not intended to replace or substitute for any medical or other advice. 1Life Healthcare, Inc. and the One Medical entities make no representations or warranties and expressly disclaim any and all liability concerning any treatment, action by, or effect on any person following the general information offered or provided within or through the blog, website, or app. If you have specific concerns or a situation arises in which you require medical advice, you should consult with an appropriately trained and qualified medical services provider.