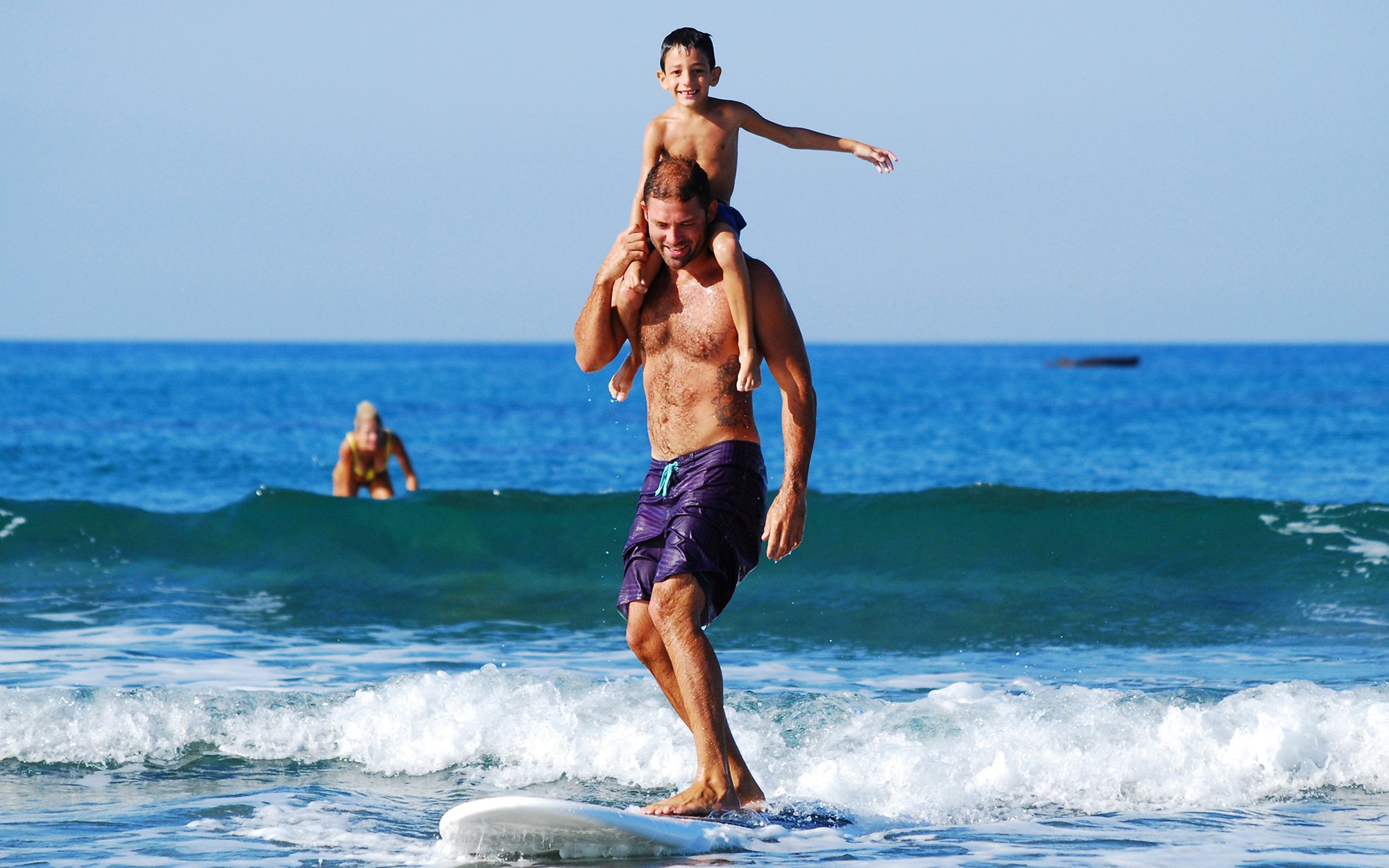 It may feel like you were just making those New Year's resolutions, but believe it or not, summer is officially upon us! Whether you're planning a major getaway or setting out on a mini road trip, you'll want to prep for some of the season's potential health obstacles so you and your family feel great through Labor Day and beyond. We asked San Francisco-based doctor Sara Huberman Carbone, MD to share her top three tips for safe and healthy summer family travel.
Block those rays
We all know sun protection is essential, but skin safety isn't quite as simple as slathering the same product on all of your family members. "Under age 6 months, sunscreen is not advised for infants," Carbone says. "Instead, using UV-blocking clothing and shade is safer. For infants, I recommend hats, long sleeve rash guard style shirts, or even full body rompers with UV protection. It's also a good idea to provide shade for infants if prolonged sun exposure is expected, such as at the beach. Beach tents and beach umbrellas are a great way to make shade."
When it comes to older kids and adults, sunscreen is a must, but make sure you're buying the right kind. "Over 6 months of age, mineral-based sunblock is recommended with a minimum SPF 30," Carbone says. "Ingredients to look for are zinc oxide or titanium oxide. These are physical blockers of UV rays as opposed to chemical blockers, so there is less absorption/ chemical exposure. I personally like Blue Lizard and Thinkbaby because they rub in better than other mineral based sunblocks." But regardless of which sunscreen you use, physical protection is always a good idea. "It's still important to wear hats, and also to consider eye protection such as sunglasses for toddlers and older kids."
Stay sleep savvy
Maintaining a sleep schedule while traveling can be tough for anyone, but kids may need some extra attention to stay on track. "Children usually adjust to a new time zone within a few days to one week," Carbone says. "I recommend allowing infants and young children who are still napping to continue napping during the day, but try to maintain the typical amount of daytime sleep." That means if your child normally takes a couple of one-hour naps per day at home (totaling two hours over the day), maintaining those mid-day snoozes is fine, as long as the total nap time doesn't exceed two hours.
"Light exposure during the day can also help to reset the circadian clock," Carbone says. "If a child wakes up in the middle of the night, keep stimulation to a minimum, try to avoid turning on bright lights and avoid engaging or feeding a child who normally does not eat during that time." And don't forget that your sleep environment matters too — mimicking the ambiance of home may help encourage better sleep. "If things such as white noise, loveys for older children [i.e. a comforting, familiar object like a favorite blanket], or sleep sacks are used, it is a good idea to bring them," Carbone says. "If an infant or toddler will be sleeping in a Pack 'n Play, some families will have the child start sleeping in the Pack 'n Play at home before the trip to get used to their new bed."
Sidestep mosquito bites
Bug bites are arguably the worst part of summer, and mosquitoes are some of the season's biggest offenders. "If traveling to areas with mosquitoes, it's best to avoid being outdoors during dusk when mosquitoes tend to be more burdensome," Carbone says. "Keeping children in light long sleeves and pants can help protect them from bug bites. The American Academy of Pediatrics also advises insect repellent with DEET in concentrations between 10%-30% for infants and children."
Need some more expert guidance on family matters? One Medical provides top-notch primary care for the whole family in select offices in San Francisco Bay Area, New York City, and Phoenix. Head to our Children & Family page to learn more.
The One Medical blog is published by One Medical, a national, modern primary care practice pairing 24/7 virtual care services with inviting and convenient in-person care at over 100 locations across the U.S. One Medical is on a mission to transform health care for all through a human-centered, technology-powered approach to caring for people at every stage of life.
Any general advice posted on our blog, website, or app is for informational purposes only and is not intended to replace or substitute for any medical or other advice. 1Life Healthcare, Inc. and the One Medical entities make no representations or warranties and expressly disclaim any and all liability concerning any treatment, action by, or effect on any person following the general information offered or provided within or through the blog, website, or app. If you have specific concerns or a situation arises in which you require medical advice, you should consult with an appropriately trained and qualified medical services provider.