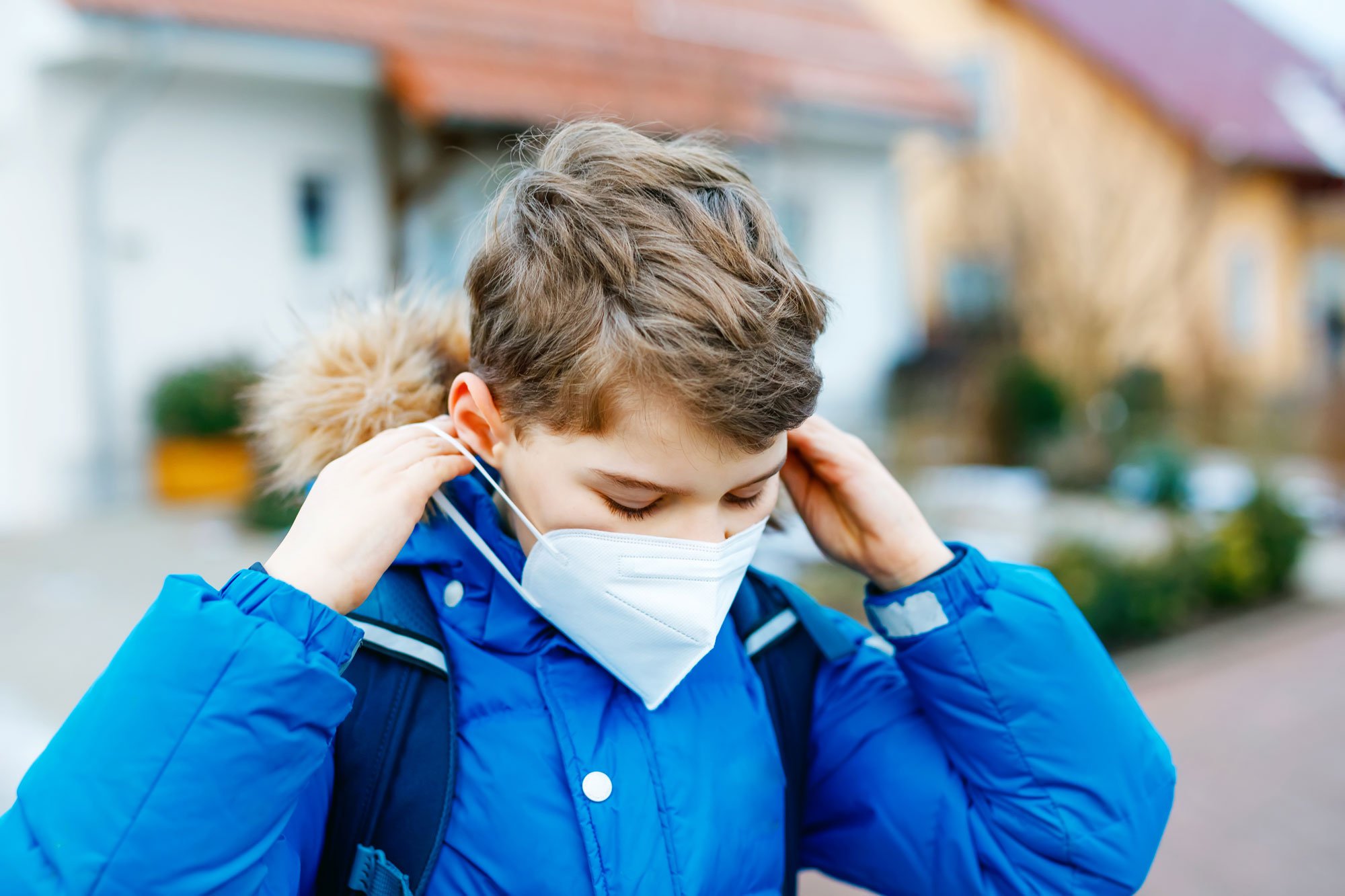 After two years of mask mandates, counties across the country are beginning to ease indoor mask-wearing restrictions. While this may come as a relief to some, others aren't quite as eager to see masks go.
As mask guidance changes once again, many parents are now left wondering how to best protect their children. Some are concerned about the emotional toll another big change could have on their kids, while others worry about their child's physical health with COVID-19 still present. Meanwhile, kids may have their own concerns about having to return to a mask-less world and adapting to a new normal once again.
If you're a parent, it's important to note that you and your child don't have to go through this transition alone. We've outlined some of the top ways to keep your child safe and healthy — and ease both their anxiety and your own —while navigating new mask-wearing guidance. Here's what to keep in mind:
When should kids continue to wear a mask?
While many businesses and schools are easing their own mask mandates, it's ultimately up to you and your family whether you continue to wear masks in places where they are no longer required. You may feel more comfortable continuing to require your children to wear masks at school, regardless of the new guidance, and that's okay.
If you're unsure whether or not to do so, there are some unique considerations to keep in mind for children when it comes to masking. For some children, including those who are too young to be vaccinated or those who have high risk medical conditions, masks continue to be an important layer of protection.
When making decisions about mask wearing, the American Academy of Pediatrics (AAP) suggests families take the following into consideration:
If their child is between ages 2 and 5 and currently ineligible for COVID-19 vaccine
If their child is not immunized
If their child is immunocompromised and may not have a protective immune response to the COVID-19 vaccine, or is at high risk for severe COVID-19 illness. High risk conditions in children include:

Obesity
Conditions that weaken the immune system
Sickle cell disease
Heart disease or congenital heart conditions
Lung disease (including asthma)
Diabetes
Neurodevelopmental disorders such as cerebral palsy
Chronic kidney disease
Complex medical conditions, including some that require breathing or feeding tubes, or home ventilators.

If other members of their family are at higher risk of severe disease or are not immunized
If they live in a community with "high" COVID-19 transmission
Based on the above consideration, families may choose to continue wearing masks in public indoor settings, including school or childcare, even if not required. It's important to note that masks are still required for all ages at certain times such as when visiting healthcare settings, on public transportation, and when local regulations require masks. One thing to keep in mind is that modeling for children is important. It may be difficult for a young child to understand why they need to wear a mask and older siblings or adults do not. In these cases, the entire family may opt to continue masking.
Helping your child transition with the new guidance
It is important for parents to recognize that changes are a common cause of anxiety in children, and that your child may be worried about new masking policies at school and activities. One way you can help is to prepare your child for what to expect in various situations. This can ease anxiety, as well as help your child feel more in control of the situation. You may highlight that as mask rules are changing, some children will continue to wear masks in school and others may not. In some situations, your child may be expected to continue masking while in others, they may no longer need to. Explaining when and why your child is or is not expected to wear a mask and how to address any questions from peers will help them feel prepared. Remind your child that every family is different and will be making the best choices for their household. Teach your child to respect others' decisions just as we respect other differences in our friends.
Best mask-wearing practices
Masks should fit snugly over the mouth and nose, without gaps. Typically, children need smaller masks than adults. When purchasing a mask, pay attention to the dimensions and measuring guide to help find the right size. Adjustable straps or ear loops can help ensure the best fit. Surgical masks, KN95 or N95 masks offer the most protection. Children may need to try a few different mask styles before finding one that they find comfortable.
Vaccination continues to be the best way to lower the risk of severe illness, hospitalization and death in both children and adults. Masks offer an additional layer of protection, as does ventilation and testing. When it comes to mitigation strategies, flexibility is key. As community transmission rates change or new variants arise, mask recommendations may also change.
Have more questions about how to keep your family safe? Our primary care team is here to help. At One Medical, we aim to provide exceptional care designed around you and your unique health needs. Book an appointment with a provider through our app today or get 24/7 virtual care on demand.
The One Medical blog is published by One Medical, a national, modern primary care practice pairing 24/7 virtual care services with inviting and convenient in-person care at over 100 locations across the U.S. One Medical is on a mission to transform health care for all through a human-centered, technology-powered approach to caring for people at every stage of life.
Any general advice posted on our blog, website, or app is for informational purposes only and is not intended to replace or substitute for any medical or other advice. 1Life Healthcare, Inc. and the One Medical entities make no representations or warranties and expressly disclaim any and all liability concerning any treatment, action by, or effect on any person following the general information offered or provided within or through the blog, website, or app. If you have specific concerns or a situation arises in which you require medical advice, you should consult with an appropriately trained and qualified medical services provider.