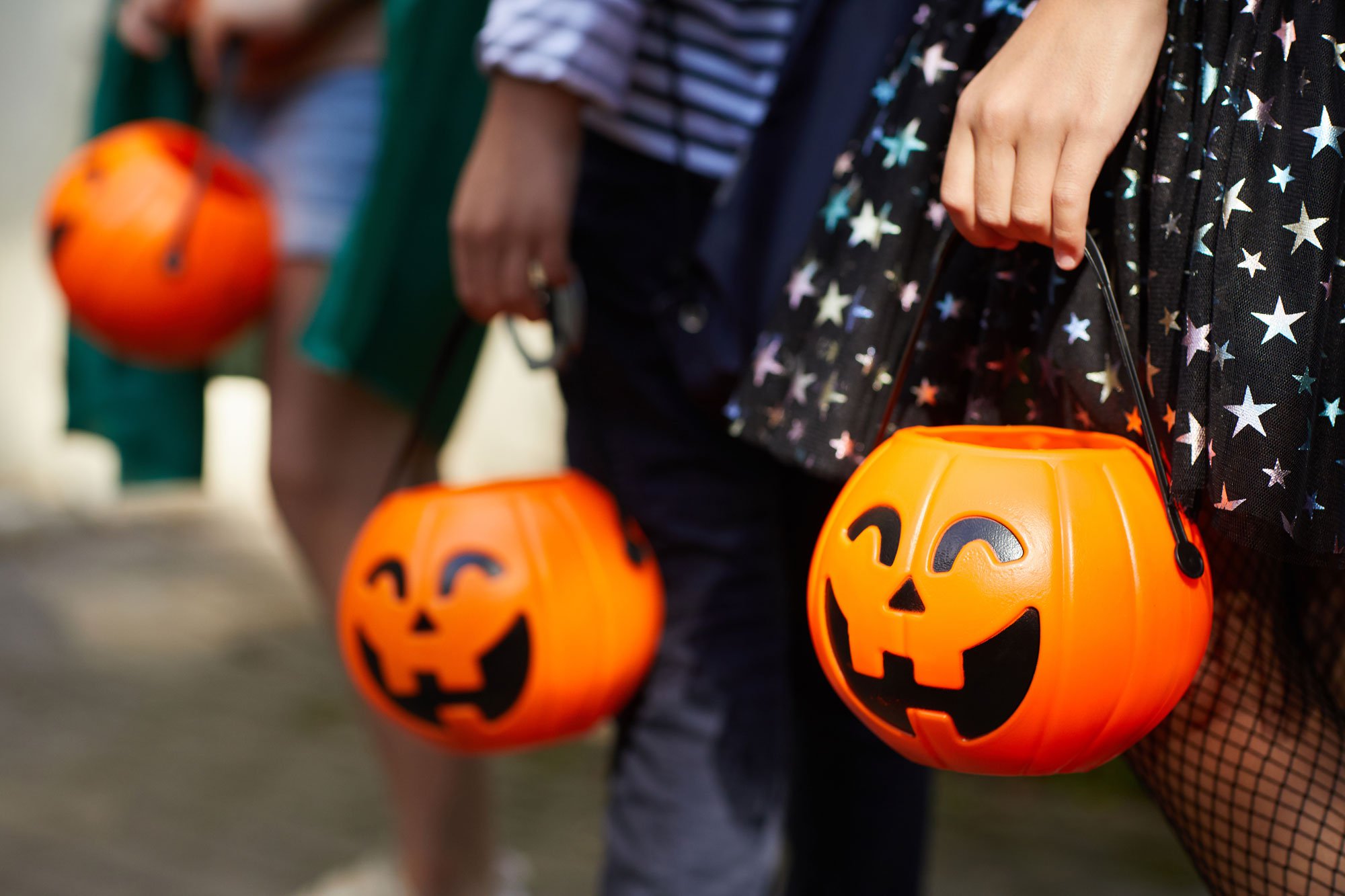 Clinical Editor: Sara Huberman Carbone, MD

Between the tricks, treats, costumes, and candy, Halloween has cemented its spot as the ultimate kid holiday. But October 31st isn't all fun and games for parents: with endless supplies of sugary snacks and delayed bedtimes to accommodate all the excitement, tantrums, meltdowns, and total chaos can often ensue. And considering the compromised COVID-era festivities of the last two years, many parents are wondering what constitutes a safe, responsible Halloween experience for kids. Luckily, One Medical provider Claribell Anyikam, PA-C has plenty of advice for families, including a list of must-have trick-or-treating essentials and the answer to the ultimate question: how much candy is too much? Read on for expert tips to ensure a safe, spooky celebration for all ages.
Continue to take COVID-19 precautions
While restrictions have eased in public spaces, experts say it still makes sense to play it safe in our post-pandemic world. "These last couple of years with COVID-19 have made the safety of Halloween questionable, but with the help of COVID-19 vaccines for our children, teens, and adults, this yearly holiday can get back to being safer and still fun," Anyikam says. "Keep the fun safe by wearing masks, bringing sanitizer, and staying outdoors when possible."
Have a sit-down chat before going out
Anyikam says that one helpful step in ensuring a successful Halloween is sitting down for an age-appropriate conversation with toddlers, children, or teens to discuss the expectations of any planned activity. This could be a good time to go over how much candy is allowed, which trick-or-treating routes are fair game, rules about interacting with strangers, and more. "Setting expectations beforehand increases everyone's chances of having a fun and safe Halloween experience," she says. "Although Halloween can be and is a very fun holiday for those who participate, keeping it safe for our kids is a priority. Review the do's and don'ts of any planned Halloween activity to ensure your kids are aware of the rules and have the safest Halloween experience possible."
Pack the absolute essentials
Parents are typically well-versed in the must-have items for family outings, but trick-or-treating may require some special additions. "Some helpful things to pack in a little fanny pack or bag while trick-or-treating with your littles include hand sanitizer, a flashlight and/or glow stick on the wrist of each child, napkin or Wet Ones wipes, a charged cell phone, comfortable shoes, extra trick-or-treat bags, an emergency contact card (especially for your teen), and water," Anyikam says.
Decide where you stand on candy consumption
Anyikam says there is no single consensus on how much candy is "too much" in one night. While some experts suggest limiting a child to 2-3 pieces of candy on Halloween night, others will say there's no harm in consuming a significant amount of sugar for a special occasion (and restricting children's food intake could end up being more detrimental in the long run). "The truth is that neither are wrong, especially if you set rules ahead of time," Anyikam says. "Whichever you decide and discuss with your child before trick-or-treating, it's best to reinforce healthy balanced eating habits all year round. A night of binging on candy, at worst, will cause stomach ache, bloating, constipation and cramping or a highly energized child followed by the resulting crankiness from the sugar crash, but choosing balanced meals with sweets in moderation sets your child up for developing a healthy relationship with food and reduces their risk of diabetes, high cholesterol, and obesity."
Have conversations and fostering a healthy relationship with food — before and after Halloween
"For so long we have been taught that candy and sweets are bad and fruits and vegetables are good, yet we use candy and sweets as a reward for good behavior or to celebrate special occasions," Anyikam says. "This can have the opposite effect of putting sweets on a pedestal that kids (and adults) can be prone to crave and consume in excess. We recommend avoiding referring to any foods as good or bad. The message is that candy is just food! This helps reduce the likelihood of using candy/sweets as punitive or a reward for behaviors in the future. Modeling healthy behavior and providing healthy balanced food options helps to reinforce this idea. This does require a little bit more creativity in choosing alternative options when celebrating birthdays, holidays, and special occasions. A good example would be swapping out sweets with fruits to celebrate a sports game."
Take measures to prevent meltdowns, but know they may happen
"Child meltdowns occur for any number of reasons such as tiredness, hunger, changes in their routines, disappointment/frustration, overstimulation, or because the sky is purple and not blue today (sometimes we just don't know!)," Anyikam says. "Giving your child a balanced meal before going trick-or-treating should help prevent any hunger meltdowns." Anyikam also recommends trick-or-treating before dark with toddlers to prevent disruption to their sleep schedule, and keeping an eye out for meltdown triggers while you're out. Sticking to boundaries can also help kids in over stimulating situations. "If a meltdown is inevitable, it's best to remove the trigger and redirect their attention," she says. "Let your child know that you see they are upset, it is okay to feel upset, and that you are there for them. In general it is best to remain calm and stick to the boundary you have set. It's also important to model the behavior you want them to emulate."
Have treats of all kinds available
Whether a child has specific food allergies or isn't able to eat candy for any reason, it's always a good idea to have other fun, non-edible options on hand. "Healthy alternatives to pass out to trick-or-treaters instead of candy include non-edible options such as glow sticks, stickers, temporary tattoos, and other party favor items," Anyikam says.
Have more questions about your child's diet or setting expectations? Our primary care team is here to help. At One Medical, we aim to provide exceptional care designed around your child's unique health needs. Sign up today to book a same or next day appointment — in person or over video — through our app.
The One Medical blog is published by One Medical, a national, modern primary care practice pairing 24/7 virtual care services with inviting and convenient in-person care at over 100 locations across the U.S. One Medical is on a mission to transform health care for all through a human-centered, technology-powered approach to caring for people at every stage of life.
Any general advice posted on our blog, website, or app is for informational purposes only and is not intended to replace or substitute for any medical or other advice. 1Life Healthcare, Inc. and the One Medical entities make no representations or warranties and expressly disclaim any and all liability concerning any treatment, action by, or effect on any person following the general information offered or provided within or through the blog, website, or app. If you have specific concerns or a situation arises in which you require medical advice, you should consult with an appropriately trained and qualified medical services provider.