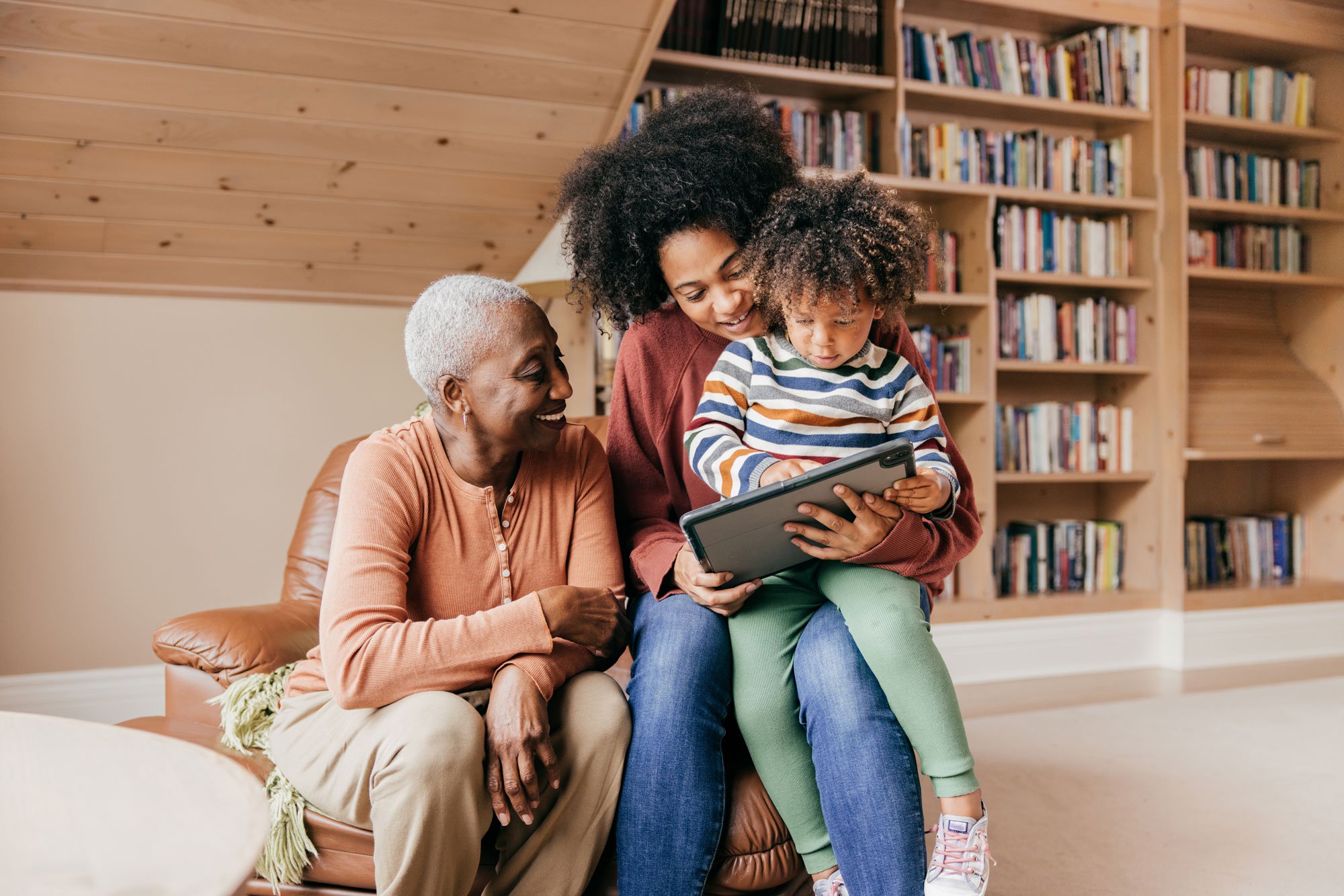 Every generation has their challenges, but for one particular pool of adults, navigating the ups and downs of daily life comes with a unique set of stressors. Meet the so-called "sandwich generation," aka adults in their 40s and 50s who are simultaneously caring for aging parents and either raising young children or financially supporting grown children. Nearly half of adults in this age group are juggling all these obligations, and the multitude of responsibilities can come with a lot of mental and physical health implications. Adult children at any age can also find themselves struggling to find a balance in caring for their parents, children, and themselves.
"The sandwich generation faces mental health challenges caused by the emotional, financial, and even physical toll of raising children while also caring for parents or elders who may have limited (or no) independence," explains James Lyda, Ph.D., a licensed psychologist on One Medical's Mindset Virtual Mental Health Team. "These individuals may find it difficult, or even impossible, to find enough time in the day to meet the demands of children, parents, work, and other life tasks. This may leave little time for the things we know contribute to maintaining mental health such as exercise, healthy eating, rest, sleep, quality time with a partner, and social life."
Lyda points out that finances can also be a significant source of stress and anxiety for these individuals, as they face the cost of providing for children and their parents.
"Members of the sandwich generation often face caregiver burnout, depression from feeling stagnant and isolated in their role as a caregiver, and anxiety as they try to balance multiple roles at once which range from being a caregiver, parent, and for many sandwich generation members, an employee — especially as many have become remote workers during the pandemic," says One Medical Mindset Virtual Therapist, Laura Koziej, MA, LCPC. "Any kind of self-care or rest is often on the backburner as they spend most of their time focusing on caring for those around them and feel they cannot allot any time to themselves, and if they do, there is a sense of guilt. Many times, the lack of self-care and rest have significant physical consequences such as a weaker immune system, strain on the heart, and obesity due to not having the energy to exercise and eat healthy meals."
"The sandwich generation may also feel alone, isolated, and overwhelmed," Lyda adds. "These conditions can lead to burnout, and left unchecked can lead to depression, anxiety, substance abuse, and other mental health conditions."
Anyone who is simultaneously caring for children and aging parents may be at risk for these very real health and happiness hazards, but some individuals may face additional obstacles. "If the relationship between an adult child and their parent(s) has been strained because of past dysfunction, or abuse, caring for a parent can be triggering," Lyda says. "This creates the challenging situation where one tries to reconcile their upbringing and relationship with their parent(s), while learning to be a parent to their own children. For some, this can surface or resurface strong emotions and even trauma."
If you or someone you know is caring for both parents and children and struggling to stay balanced, consider following these four self-care tips from One Medical's mental health professionals James Lyda and Laura Koziej:
1. Seriously prioritize self-care
"Take time and set boundaries for yourself and others," Lyda says. "I know this is easier said than done, but you have to look at it like this: if you break down, then you won't be able to care for anyone.
Taking the time to speak with a mental health professional can provide an outlet for emotional support and problem solving, and something as seemingly simple as setting up non-negotiable workout appointments can make a big difference. "Don't underestimate how much 30 to 45 minutes of exercise a few days a week can contribute to making the load you are carrying easier to bear," he says. "You may not be able to eliminate stress, but you can keep it in check."
"You cannot pour from an empty cup," Koziej says. "Dedicate at least 10-15 minutes a day to yourself where you can focus on yourself and engage in activities such as breathing exercises or reading. Ultimately any activity that slows down the tempo around you and provides a break."
2. Consider 'no.' a vital full sentence.
"Make 'no' followed by a period, one of your favorite statements," Koziej says. "Many times you might be asked to do something when you're already stretched too thin. It is okay to say 'no' in order to preserve your energy. Time and energy are your most valuable resources. Many times those caring for parents and children have more on their plate than they can manage and feel the need to complete everything to perfect standards — it's okay to leave some room on that plate for activities you enjoy rather than fill it with responsibilities."
"The key is setting realistic expectations for yourself and others, aka boundaries," Lyda says. "It's also easy to feel overwhelmed by guilt or a sense of obligation, which makes it hard to say 'no' or delegate tasks. You are not being selfish if you take a little time for your mental health and wellbeing."
3. Consider this an opportunity to strengthen familial bonds.
"If you have young kids, and their grandparents are relatively healthy, the grandparents can be a source of childcare which can provide much needed relief for parents whether they are working inside or outside the home," Lyda says. "Even one or two hours per week can make the difference. Having grandparents take more of a caretaking role with kids, may also provide some financial relief when it comes to childcare and after-school care expenses. Additionally, those with older children can elicit their support in looking after grandparents. This is an excellent way to foster a sense of responsibility, service, duty to family, and respect for elders."
4. Be honest with yourself about your own limitations
Lyda says that anyone caring for parents experiencing cognitive or neurological disease and/or significant mobility impairments, has to be willing to admit when they need support.
"It's critical for you to be honest with yourself about your limits," he says. "This includes the limits of your time, energy, and mental health, as well as the limits of your competence to provide the care necessary to support their health. Understandably, getting help is not always easy, and finances, insurance, and access to services can be barriers. That said, consider the role that a home health aid, or skilled nursing facilities can play in caring for a parent or elder who requires high levels of care."
"It's okay to ask for help," Koziej says. "Even if this means asking your spouse to help or having children help with chores around the house. Delegating responsibilities can save time and give you a break that you deserve!" There are also organizations that can provide both emotional and logistical support in caring for your parents. Here are just a few:
The One Medical blog is published by One Medical, a national, modern primary care practice pairing 24/7 virtual care services with inviting and convenient in-person care at over 100 locations across the U.S. One Medical is on a mission to transform health care for all through a human-centered, technology-powered approach to caring for people at every stage of life.
Any general advice posted on our blog, website, or app is for informational purposes only and is not intended to replace or substitute for any medical or other advice. 1Life Healthcare, Inc. and the One Medical entities make no representations or warranties and expressly disclaim any and all liability concerning any treatment, action by, or effect on any person following the general information offered or provided within or through the blog, website, or app. If you have specific concerns or a situation arises in which you require medical advice, you should consult with an appropriately trained and qualified medical services provider.