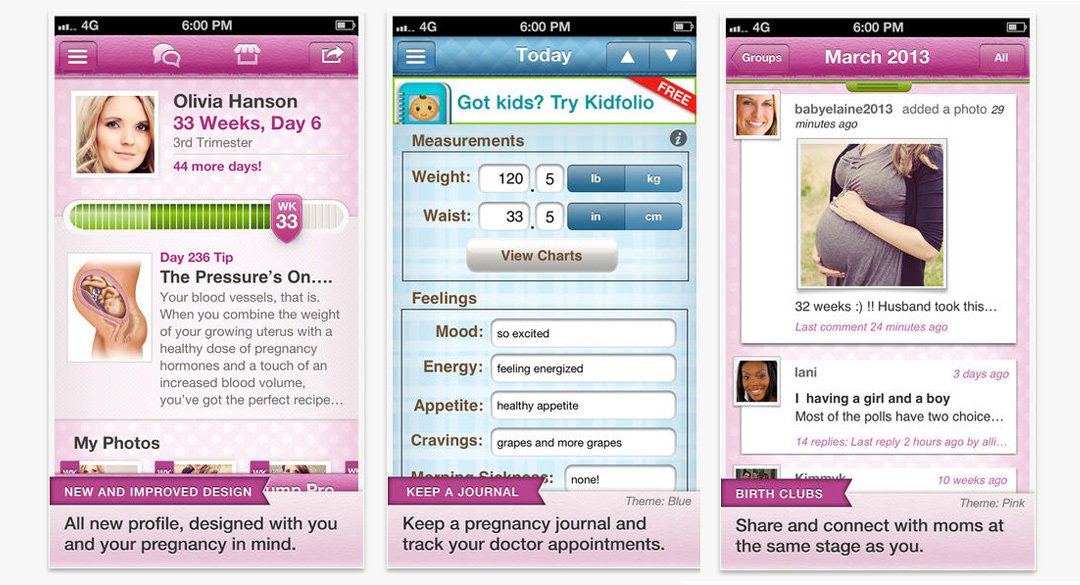 The happiest moment in a couple's life may be watching the positive sign appear on a home pregnancy test. A baby is on the way!
Apps for smartphones and tablet computers can help parents-to-be experience every day of a pregnancy to its fullest. Here are my 10 must-have pregnancy app picks.
1. BabyBump Pregnancy
Price: Free
Compatibility: iPhone and Android
The free version of the BabyBump Pregnancy app offers a pregnancy countdown feature, daily and weekly details about symptoms during different stages of pregnancy, and access to BabyBump's forum where you can chat with other expectant couples. You can supplement your experience by purchasing in-app upgrades. These include a baby name picker and even a contraction tracker–if you think you'll be able to type notes about your contractions while you're in labor (or have your partner do this).
2. My Pregnancy Today by BabyCenter
Price: Free
Compatibility: iPhone and Android
This app features videos and animations showing what a developing fetus looks like at every stage. The app's "Is It Safe" feature answers all of your questions about what to do and what to avoid during pregnancy. Can you still wear high heels? Eat shellfish? My Pregnancy Today answers these questions and many more. It also includes a nutrition guide and a helpful registry checklist to make sure you're not overlooking any essential baby gear.
3. Happy Pregnancy Ticker
Price: Free
Compatibility: iPhone and Android
Expecting twins? Happy Pregnancy Ticker includes a weight tracker for women carrying multiples. This app also offers a pregnancy journal to record all your precious memories, a contraction timer, and a due date estimator. iPhone users can download from the iTunes store.
Don't miss How to Manage Stress During Pregnancy.
4. I'm Expecting
Price: Free
Compatibility: iPhone and Android
I'm Expecting lets you record symptoms to discuss with your health care provider and compare your experiences with those of other women. The app also offers images of fetal development to give you a snapshot of what your baby may look like at each stage of growth. You can connect with other pregnant moms through I'm Expecting's forums.
5. Pregnant and FIT!
Price: $2.99
Compatibility: iPhone
Pregnant and FIT! is an app that allows you to stay fit and strong during your pregnancy. Customize the intensity of your workout to your energy level (because we all know some days are more draining than others). Videos accompany the exercises to help you perform moves correctly and maintain proper form.
6. BabyBag
Price: Free
Compatibility: iPhone
You'll pack your birthing center bag a million times in your mind before the big day arrives. Wouldn't it be nice to keep a simple checklist of what you want to pack and what you already have? BabyBag does just that. Maintain multiple lists: one for mom, one for dad, and even one for grandma (and, of course, don't forget one for baby). Pre-populated lists also ensure that you don't forget anything.
7. BabyNames!!
Price: Free
Compatibility: iPhone and Android
More than a list of potential names for junior, the BabyNames!! app allows you to search for monikers that go well with mom and dad's names, view a name's area of origin on a map, and even save and rate the names you like best. Perfect for endlessly debating the subject with your partner, friends, and family. Android users can find the app on Google Play.
8. Pregnancy for Men
Price: $0.99
Compatibility: iPhone
Lest we forget the dads-to-be, here's an app that covers the whole nine yards for the whole nine months. Pregnancy for Men is based on the book of the same name and includes a monthly glimpse into what's going on inside that ever-expanding belly of hers. It also features audio clips of men who have already been through pregnancy with a partner, offering advice.
9. Guy's Guide to the Delivery Room
Price: iPhone – $0.99, Android – $1.37
Compatibility: iPhone and Android
This app demystifies the birthing process by outlining the various scenarios that can occur, from a vaginal birth to a Cesarean section. A bit clumsily written, this book-as-app nonetheless provides valuable information to help men feel prepared for whatever comes up during childbirth. iPhone users can download Guy's Guide on iTunes.
10. Pimp My Ultrasound
Price: $0.99
Compatibility: iPhone
It's OK (and encouraged!) to have some fun during your pregnancy. Pimp My Ultrasound allows you to add some flair to your baby's ultrasound portrait. Frame it and embellish it with anything from a football helmet to an ear piercing and electric guitar.
Editor's Note: Parents: What apps do you swear by? Share your favorites in the comments!
The One Medical blog is published by One Medical, a national, modern primary care practice pairing 24/7 virtual care services with inviting and convenient in-person care at over 100 locations across the U.S. One Medical is on a mission to transform health care for all through a human-centered, technology-powered approach to caring for people at every stage of life.
Any general advice posted on our blog, website, or app is for informational purposes only and is not intended to replace or substitute for any medical or other advice. 1Life Healthcare, Inc. and the One Medical entities make no representations or warranties and expressly disclaim any and all liability concerning any treatment, action by, or effect on any person following the general information offered or provided within or through the blog, website, or app. If you have specific concerns or a situation arises in which you require medical advice, you should consult with an appropriately trained and qualified medical services provider.