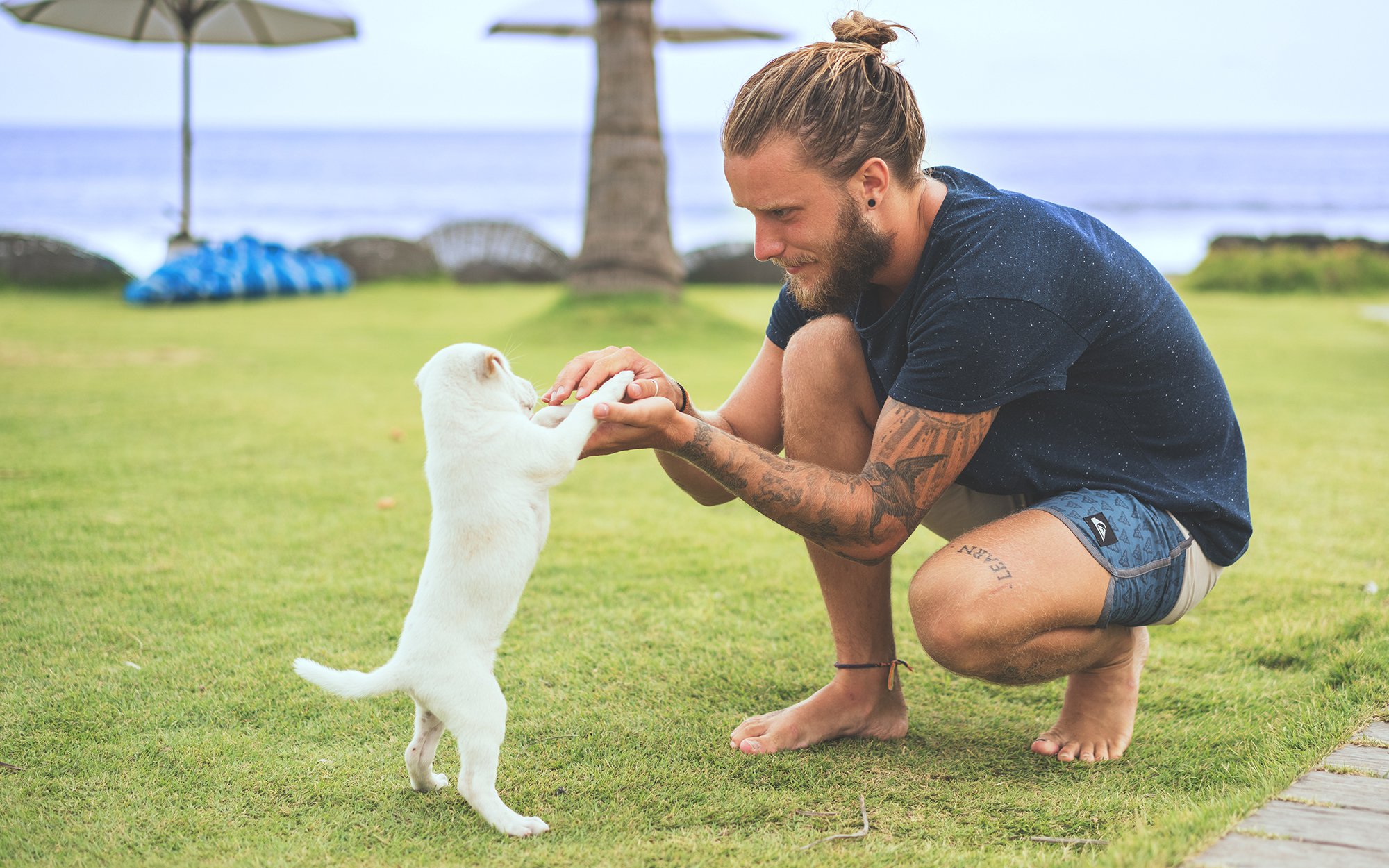 Updated December 20, 2018.
Who doesn't love playful puppies and cuddly kittens — there's a whole online industry around these pictures. But that four-legged friend may do more than just add some cuteness to your life.
Numerous studies done around the world show that owning a pet can help you be healthier and happier. What could be better than having a non-judgmental roommate who hangs on your every word, thinks you're the center of the universe, and is always happy to see you?
For me, nothing beats coming home to my 1-year-old Boston Terrier, Donnie. Besides making me laugh with his silly antics, he's helped me bring more balance to my work life routine. Instead of staying late at the office, bringing work home, or scheduling myself in twelve hour blocks, I prioritize spending time at home with Donnie. As a result, I'm less likely to overextend myself and it's easier to plan a realistic schedule that includes breaks in the day.
Donnie helps me stay present in the moment, which makes it easier to keep stress at bay. It's difficult to stay preoccupied with sadness or worries about the future when he's nudging me to throw his ball for a game of fetch or dancing around his food bowl because it's time for dinner.
Here are three ways that pets make your life more healthy:
1. Dogs Make You Exercise More.
If you've ever owned a dog, it's probably no surprise, but it turns out that dog owners who walk their dogs tend to get more exercise than people who don't own dogs. Researchers at Waseda University in Japan have done several studies to see what effect dog ownership has on physical activity. A 2012 study by Koichiro Oka and Ai Shibata found that dog owners who walked their dogs spent three and four hours a week strolling with their pets. These people were 3.5 times more likely to meet the government recommendations for physical activity than rest of the population. You might be able to make excuses to a human walking buddy, but dogs don't take no for an answer. Plus, they found dog walkers were less likely to be single… hmm.
2. Playing With a Pet Creates the Love Hormone.
You know how you feel like you could melt when your dog gives you puppy-dog eyes? It turns out there's a biological reason for that. Most people have heard of oxytocin – the feel-good chemical our bodies create. It's released when a mother is breastfeeding her baby or when you're falling in love, and it helps you feel bonded to the other person. Well, looking into your pet's big brown eyes causes you to release oxytocin as well. Researchers in Japan who study oxytocin found that the more time people spent staring into their dog's eyes, the more oxytocin they released. The same thing happens to the dog too, which probably explains why dogs tend to have a favorite human they follow around the house. Besides making us feel good, when oxytocin is present, the body is better at healing.

3. Owning a Pet is Good for Your Cardiovascular Health.
Happiness is good for your heart, and several studies indicate that pets can bring a range of cardiovascular benefits. Petting a dog – whether you're a dog person or not – lowered subjects' blood pressure more than talking to the dog or talking to another person, in a 1988 study at the University of South Carolina. Cat lovers will be happy to know that owning a cat has been associated with a reduction in stress: the sound of purring is like soothing music. And a 10-year study conducted at the University of Minnesota found that people who owned cats currently or in the past had a lower relative risk for death from heart attack or cardiovascular disease than people who have never owned cats.
And if do you have a heart attack, your chances of thriving afterwards were found to go up if you own a pet. Back in the late 1970s, a group of researchers from the University of Pennsylvania and University of Maryland collaborated on a study of 92 women and men with coronary heart disease. They interviewed the patients while they were in the hospital and followed up a year later with the 78 subjects who were still alive and available (two people couldn't be located). Of the 39 patients who didn't own pets, 28 percent had died. But only 6 percent of the 53 pet owners had expired. And those results held true even when they just looked at subjects who owned cats – so walking a dog wasn't the reason for the boost to health. The researchers concluded that owning a pet keeping to a schedule for feeding, petting it, constant attention and interaction brought a complex set of social and psychological benefits.
Given all the benefits of owning a dog, maybe I should get another one!
The One Medical blog is published by One Medical, a national, modern primary care practice pairing 24/7 virtual care services with inviting and convenient in-person care at over 100 locations across the U.S. One Medical is on a mission to transform health care for all through a human-centered, technology-powered approach to caring for people at every stage of life.
Any general advice posted on our blog, website, or app is for informational purposes only and is not intended to replace or substitute for any medical or other advice. 1Life Healthcare, Inc. and the One Medical entities make no representations or warranties and expressly disclaim any and all liability concerning any treatment, action by, or effect on any person following the general information offered or provided within or through the blog, website, or app. If you have specific concerns or a situation arises in which you require medical advice, you should consult with an appropriately trained and qualified medical services provider.