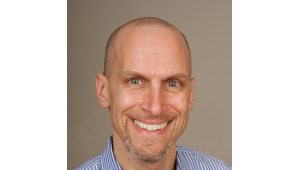 New York-based One Medical Group provider Paul Stabile, PA-C, always liked science growing up, but he was drawn to tornados and earth sciences before bones and biology. After attending an engineering high school, Paul studied geology, worked as a meteorologist, and then became an environmental consultant before making the transition to a physician assistant. Paul's strong science and consulting background uniquely prepared him for his role at One Medical. Here, Paul shares a few glimpses into what he finds fulfilling in life and at work–from French onion soup dumplings to working with HIV-positive patients and the LGBT community.
Give us the quick version of how you came to work at One Medical.
After 10 years as Director of HIV Clinical Care at a community health center network, I was looking for a change. Hana Yoshikawa, a colleague who currently practices at the Embarcadero Office in San Francisco, emailed me about opportunities at One Medical. I interviewed and was offered a position, and I started about a year ago.
Can you describe your role at One Medical? It's a little different than some of our other providers.
I think of my job as having two parts. The first part is seeing patients (which I love to do). The second part is working with our virtual care team, which helps provide patients care when they aren't in our offices. This team is on the forefront of how One Medical is trying to change health care, by handling patient issues remotely when possible. You can think of the virtual care team as a conduit between patients and their providers.
Can you tell me more about how the virtual care team helps patients and providers?
Let's say a patient's symptoms were to worsen after seeing a provider in our office. She might call in to ask for advice, and her provider might be seeing patients. The patient can speak with the virtual care team instead–she'll speak with an MD, PA, or NP who has access to her chart and health history and can make quick clinical decisions in real time. We could direct her to the ER if necessary and have all the relevant notes and history faxed over, and coordinate with the patient's primary care provider to follow up.
On the less extreme side, we also answer questions about issues that don't require a visit–like medication side effects–but that patients might still like to talk with a medical professional about.
The work we do on the virtual care team is very fast paced and requires more than just clinical skill: You have to be tech-savvy, a great communicator and collaborator, and have high emotional intelligence. It's really exciting to be part of a dynamic group that's changing the future of health care.
What made you want to go into medicine? Why did you choose to become a PA?
I wanted to feel connected to my job and, in some small way, make a difference. I was interested in health care and when I learned about PAs and what they do, it sounded like a good fit for me.  PAs practice as a part of a medical team, and are focused on patient advocacy and education, all of which appealed to me.
What's the most rewarding aspect of what you do?
Satisfying patients. At the end of a visit or encounter, when patients say that they feel all their needs were addressed and that they felt listened to–that's a good feeling.
What do you want patients know about your practice style or approach?
I will ask a lot of questions, because I feel most of what I need to know to help a patient is in his or her story. How does that person feel, when did the symptoms started, what makes those symptoms worse, for example. I like to sit and talk for a bit and then do an exam. I like to explain options and want to make sure the patient's needs have been addressed by the end of the visit.  If a patient has done some online research and has an idea of what could be wrong, I consider that a starting point for a deeper discussion of what might be happening. I like to help make sense of the information overload. That is our job as health care providers.
What kind of cases are you most passionate about?
I enjoy working with HIV-positive patients; that's the main reason I went into medical care.  Treating, educating, and helping my patients live with HIV is a job I am honored to be able to perform. I also enjoy working with the LBGT community. As a gay man, I have experienced less than optimal medical care from providers where I felt judged or marginalized, so I can relate to patients who have experienced this as well. I value being able to provide empathic care to all my patients regardless of their sexual orientation.
Got a health tip you care to share?
There is so much conflicting advice on diet and exercise "out there." As health care providers, we are constantly sifting through the evidence looking for the best recommendations we can make. Many people are dealing with weight issues–but a balanced approach of good food choices and varied exercise is key to success. Also, a meeting with a nutritionist can help many people start to make key changes in their diets.
How do you stay fit?
I work on moderation in diet, portion control and activity. New York is the greatest food city, so I try to maintain a healthy diet for the occasional times I indulge in the amazing choices the city offers.  Seasonal vegetables, fruits, fish, beans, whole grains, and occasional lean proteins are my staples and I try to cook at home whenever I can. Recent food favorites are arugula, fennel, and summer berries.
What's the best meal you've had in recent memory?
For a major indulgence, I love the French onion soup dumplings at The Stanton Social on the Lower East Side.
Tell me about the best trip you ever took.
A trip to Rome, Naples, and the Amalfi Coast. I spent two weeks traveling to the Roman ruins in and around Rome, Herculaneum, and Pompei. It was fascinating!
Editor's Note: Paul Stabile sees patients at One Medical's W 14th Street office. Got a One Medical provider you'd like to see profiled? Leave a comment below or email suggestions to editor [at] onemedical.com!
The One Medical blog is published by One Medical, a national, modern primary care practice pairing 24/7 virtual care services with inviting and convenient in-person care at over 100 locations across the U.S. One Medical is on a mission to transform health care for all through a human-centered, technology-powered approach to caring for people at every stage of life.
Any general advice posted on our blog, website, or app is for informational purposes only and is not intended to replace or substitute for any medical or other advice. 1Life Healthcare, Inc. and the One Medical entities make no representations or warranties and expressly disclaim any and all liability concerning any treatment, action by, or effect on any person following the general information offered or provided within or through the blog, website, or app. If you have specific concerns or a situation arises in which you require medical advice, you should consult with an appropriately trained and qualified medical services provider.