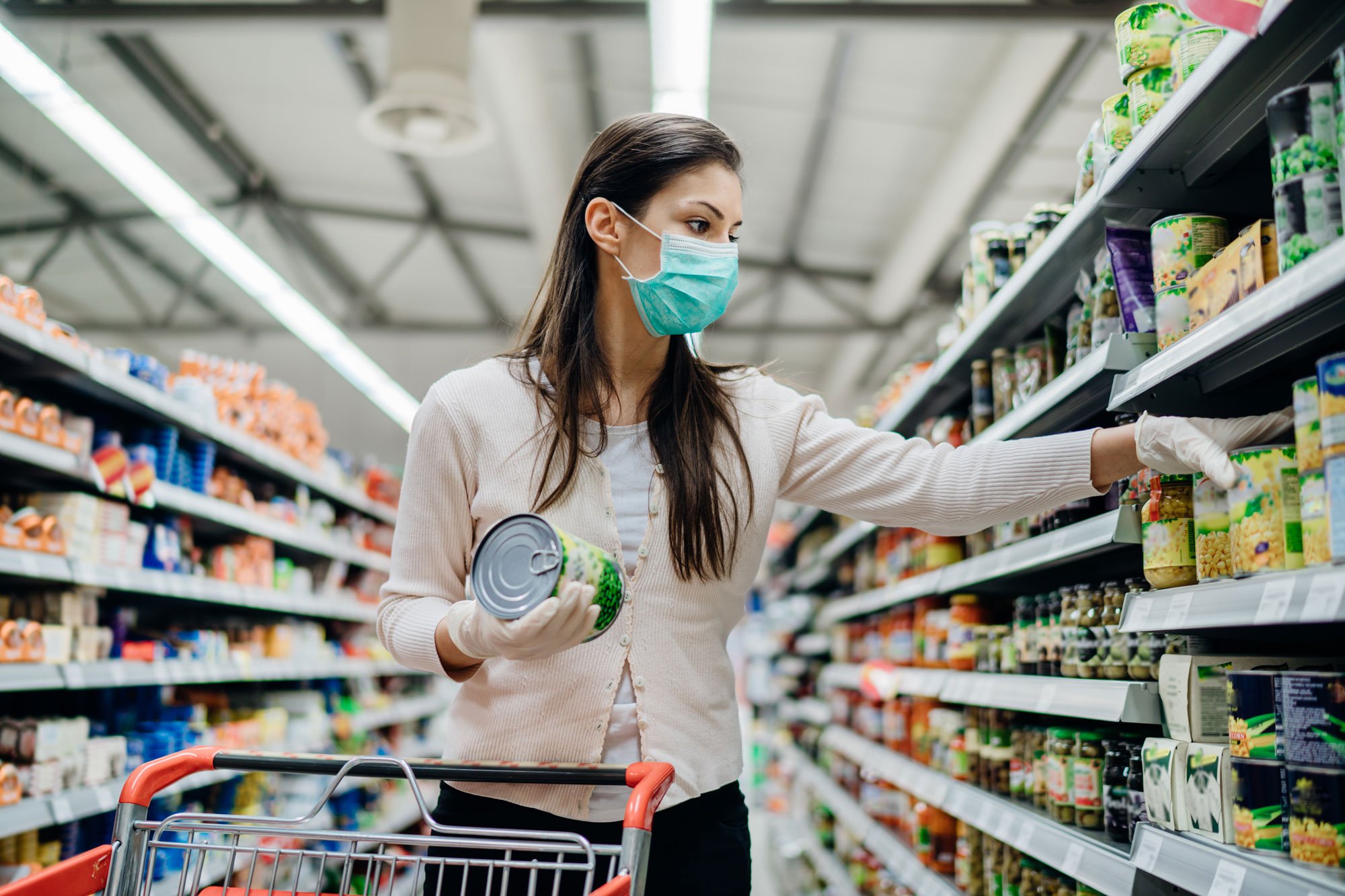 Throughout the coronavirus pandemic, millions of Americans have been under stay-at-home orders in order to mitigate the spread of COVID-19. Now, several states and businesses are looking to reopen and resume operations. As some lockdown restrictions ease, however, it's important to remember that COVID-19 still poses a risk. Thankfully, in addition to practicing social distancing and wearing a mask, there are several ways you can stay safe while out and about. Here are our tips for protecting yourself in public settings:
Grocery Stores and Retail
Plan Ahead: The best way to reduce your risk of exposure to the virus when out shopping is to limit your time in the store. Now is not the time to peruse the aisles for meal inspiration or new shoes . Before leaving the house, make a list of the items you need for roughly two weeks. This will help you navigate the store more efficiently, limit contact with other people, and avoid unnecessary trips. You should also try to keep your shopping to one store per outing, rather than visiting multiple stores.

Shop at non-peak hours: The key to social distancing is avoiding crowded places. To do so, consider shopping during less trafficked hours. While the regular rhythm of your grocery store may have shifted as more people are working from home or are out of school, early mornings and late evenings are generally the best time to avoid crowds. If you arrive at the store and it seems jam packed, come back at a different time if you can.

Commit to buying what you pick up: Given that grocery stores are highly trafficked places, it's impossible to know how many hands have been on any particular item. To protect yourself and others, try to only touch and pick up the items you plan to buy. A list as we mentioned before can help you avoid handling unnecessary items.

Practice good hygiene: Wash your hands before and after leaving the store. Upon arrival, you should disinfect your shopping cart or basket handle using a sanitizing wipe if available. Most stores are providing these upon entry, but you may also consider bringing your own wipes as a precaution. Additionally, it's important to avoid touching your face, eyes, and nose as you walk around the store. You should also stay home if you're sick. Consider using a grocery delivery service or having a friend or family member pick up essential items if you're running low on groceries.

Use contactless payments when possible: Credit cards and cash payments can be points of contact between you and the cashier. If you can, try to use a contactless method of payment like Apple Pay or Google Pay to maintain some distance.
Public Transportation
Adjust your commute time: If you're still going into work or find yourself taking public transportation again now that lockdown restrictions have lifted, consider adjusting your regular schedule.This may mean shifting your work hours or simply leaving the house earlier or later, in order to avoid crowded buses or trains.

Don't touch your phone: While you may be used to using your phone, laptop, or tablet on your daily commute, your personal items can be breeding grounds for germs. Try to avoid touching your personal devices while on public transit so you don't carry any germs you may encounter home with you. If you need to use your phone, disinfect it as soon as possible.

Wash your hands immediately: High-touch surfaces like the poles, railing, and bars we use for balance are often contaminated with germs and other bacteria. To protect yourself from infection, wash your hands as soon as possible after leaving the bus or train. If water and soap aren't immediately available, use an alcohol-based hand sanitizer.

Maintain distance: When you can, sit or stand at least 6 feet apart from other passengers. If you notice someone coughing or sneezing, try to move towards the other end of the car or exit at the next stop. If you can't physically move away from them, turn your back to the person coughing.

Consider other means of transportation: If you regularly take a densely packed bus or subway to work, consider walking or driving when possible. If you opt for less-crowded transportation methods like ride-sharing or bike rental services, be sure to follow the same health precautions you would on public transportation, including washing your hands immediately after use and practicing social distancing.
Parks, trails, and beaches
Follow local guidance: Like most things right now, guidance for parks and beach use is changing frequently. Before leaving home, check with your local and state park services about temporary closures and restrictions. Not all parks, trails, and beaches will be open and some may be limited to local residents. There also may be varying rules around sunbathing, parking lot use, water sports, bathroom access, and concession stands.

Stay local: Many parks and beaches are only reopening for those who live locally. To prevent overcrowding, state and local park services are advising people not to drive or road trip to parks, beaches, or neighboring states. Stick to parks and trails that you can walk or bike ride too.

Leave room for others: Whether inside or outside, it's important to maintain a physical distance of 6 feet or more from other people. This means being mindful of other parties when passing others on trails or in the water. Try to walk in single file lines or step off to the side to leave as much distance between you and other groups. If you notice that a trail or park is packed, consider leaving and choosing a less crowded spot.

Be prepared: While many parks are reopening, most restrooms, water fountains, visitor centers, and other public facilities will be closed. To maintain your personal hygiene, bring your own soap, hand sanitizer, disinfectant wipes, and water. It's also important to pack out all trash.

Avoid communal surfaces: As COVID-19 can live on surfaces, you should not touch communal maps, benches, railings, or playground equipment. If you do touch one of these surfaces, wash your hands with soap and water or use an alcohol-based hand sanitizer as soon as possible.

Keep it moving: Passive recreation, including sunbathing and picnicking, is being restricted in areas where social distancing is more challenging. As parks and beaches reopen, it's safer to plan for short, recreational visits.
For more information on how to protect yourself against COVID-19, read here.
The One Medical blog is published by One Medical, a national, modern primary care practice pairing 24/7 virtual care services with inviting and convenient in-person care at over 100 locations across the U.S. One Medical is on a mission to transform health care for all through a human-centered, technology-powered approach to caring for people at every stage of life.
Any general advice posted on our blog, website, or app is for informational purposes only and is not intended to replace or substitute for any medical or other advice. 1Life Healthcare, Inc. and the One Medical entities make no representations or warranties and expressly disclaim any and all liability concerning any treatment, action by, or effect on any person following the general information offered or provided within or through the blog, website, or app. If you have specific concerns or a situation arises in which you require medical advice, you should consult with an appropriately trained and qualified medical services provider.