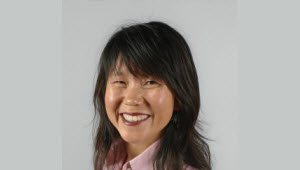 Spend a few minutes chatting with Michelle Rhee, and one of the first things you'll notice is her abundance of energy. She runs her morning commute to One Medical's Castro office, and enjoys cooking elaborate meals for her family and friends. And after having lived in three African countries and traveled all over the world, Michelle is proud to call San Francisco home.
Give us the quick version of how you came to work at One Medical.
I first interviewed in 2008. Although I ended up taking another job at the time, One Medical was always in the back of my mind. The people felt like my kind of people–we're funky and different, and we take great pride in that. We also strive for great patient care, while striking a work-life balance. That's rare to see in primary care–and something I was missing before–so I found my way back to One Medical.
What drew you to the Castro office?
Castro is an ideal location for a few reasons. I get to care for a wonderful cross-section of San Francisco residents: My patients include Mission hipsters, LGBT men and women of the Castro, Noe Valley families, and South Bay tech commuters. And I have the best commute. I used to drive an hour each way to work; now I run from and to my house in Bernal Heights every day!
What made you want to go into medicine?
I knew it would change me in ways that I never expected. I like that there are opportunities to teach, research, and improve the way health care is delivered, while continuing to learn new things and take care of people.
What made me go into medicine is very different from what actually keeps me in medicine. Until I started practicing, I didn't fully realize the positive and powerful impact I could have on a patient's life. Getting a hug from a patient at the end of a visit is one of the best things in the world!
You spent years researching infectious diseases in Africa. What inspired you to do that?
My interest first began when I took a political science course on southern Africa and I learned about the dynamics of health and health care in underdeveloped nations. I realized that if I wanted to work in international health, I needed to approach health problems on multiple levels, not just treat the acute issue in front of me.
Tell me about your time in Africa.
I performed field research in Zimbabwe, Ghana, and Mali. I went to Zimbabwe as an undergraduate with the Zimbabwe AIDS Prevention Project to work with HIV-positive Zimbabweans. My experiences there inspired me to continue my research and get my PhD from the University of Edinburgh, which brought me to Ghana to study malaria. In medical school, I did a number of studies on bed-net implementation for malaria prevention in Mali.
In Ghana and in Zimbabwe, I saw a lot of progress in improving health care because of the desire and determination of the local people. I was lucky to take part in that process.
Does having a PhD give you a different perspective on practicing medicine?
I'm not sure it does for everyone, but it certainly did for me. I was a science nerd in college, so doing research that could potentially impact malaria prevalence was pretty exciting. Research for developing vaccines, and forming new ways to look at and combat diseases is an important part of taking care of people. Those of us who practice medicine need these innovations. We see fewer people dying from HIV today because researchers were motivated to find out how to combat it.
What do you want patients to know about your practice style or approach?
There's no "right" way to practice medicine. There are evidence-based, standard treatments that I follow, but no one answer is right for everyone; each person and his or her situation is unique.
I believe that people will become healthier when they own their health and their health decisions. I spend a lot of time explaining all of the choices to my patients, and then together, we make the decision that is right for their particular circumstances.
You're a new mom–any health tips for new parents?
Do three things: Go outside for a walk once a day; take naps at the same time as your baby; and shower daily. It's amazing how much more human you'll feel if you do these things.
Be patient and lose the baby weight slowly. A good rule of thumb to keep in mind: It took nine months to gain the weight, so you can take nine months to lose it. Realize that your body will never be the same as it was before pregnancy, but know that you can be as healthy and physically fit as you were before.
Postpartum depression can be very hard on new mothers. Postpartum depression is often underdiagnosed, so reach out to your friends, family, a doctor, or a therapist if you're feeling low. Even if you aren't experiencing postpartum depression, remember to love yourself. Know that there are many right ways to raise a child, and try not to question whether you're doing the right thing.
One of your passions outside of work is preparing lavish meals–what's the most lavish meal you've cooked?
For my golden birthday: I turned 29 on the 29th and invited over 100 people to eat together. I had 17 sous chefs and we made a Korean-Japanese extravaganza. We spent all day rolling sushi and grilling different meats. There was teriyaki salmon, noodle dishes, marinated ferns, spicy mung beans, and fish roe soufflé–and I made four different kinds of kimchi. I was living with two roommates in a small apartment and we had rice cookers plugged into every outlet in the house!
What's your eating routine like, aside from lavish celebrations?
I rely heavily on Cooking Light magazine and the "Quick Meal" section in Bon Appetit to prepare healthy meals quickly. I also try to spend an occasional Sunday evening cooking and freezing meals for those days when I just don't have time to cook. I prepare a huge salad over the weekend to eat during the week at dinner. And in general, I try to keep my home free of junk food.
Who's a living inspiration?
My husband, who taught me how to communicate openly and warmly, and who doesn't need to be right. My stepson and baby daughter are inspirations as well.
I hear you've attended Burning Man. Any tips for first-time burners?
Read the First-Timer's Guide on the Burning Man website–it has very helpful advice.
Bring a Camelbak. Stay hydrated. Try to sleep at least a few hours a day, but never in the sun. If you don't have a way to keep your tent cool during the day, grab some space at Center Camp and take a nap.
Bring nutritious ready-made foods to keep your energy up, like cut melon and cantaloupe for the afternoons when it's too hot to move.
Editor's Note: Michelle Rhee sees patients at our Castro office in San Francisco. Would you like to see your provider profiled? Leave a comment below, or email editor[at]onemedical.com!
The One Medical blog is published by One Medical, a national, modern primary care practice pairing 24/7 virtual care services with inviting and convenient in-person care at over 100 locations across the U.S. One Medical is on a mission to transform health care for all through a human-centered, technology-powered approach to caring for people at every stage of life.
Any general advice posted on our blog, website, or app is for informational purposes only and is not intended to replace or substitute for any medical or other advice. 1Life Healthcare, Inc. and the One Medical entities make no representations or warranties and expressly disclaim any and all liability concerning any treatment, action by, or effect on any person following the general information offered or provided within or through the blog, website, or app. If you have specific concerns or a situation arises in which you require medical advice, you should consult with an appropriately trained and qualified medical services provider.