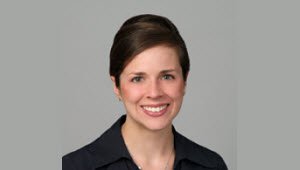 Washington, DC-based provider Lindsay Sher, MD, joined One Medical just three months ago, and she sees patients at our Farragut Square office. Despite her short tenure, however, Lindsay is already receiving rave reviews from our patients for her warm manner and hands-on approach to care. Lindsay completed her undergraduate work at the College of William and Mary and received her MD from the University of Virginia School of Medicine. Here's a brief Q&A to help you get to know one of our newest providers.
Give us the quick version of how you came to work for One Medical.
I wanted a place where I loved coming to work and where patients liked coming to see me. After a long search, I found One Medical and it's a perfect fit! It allows me the opportunity to provide quality care to patients and work with friendly, enthusiastic, dynamic people.
Why did you go into medicine?
I really like working with people and families. I also really like to teach. Medicine is a great fit for those two passions. I get to meet so many new people every day! I get to teach people about themselves, their health, and how to live a better life.
Tell me about a mentor who made a significant impact on you.
It's too hard to decide. There have been so many people in my life who have shaped it in one way or another. Every step along the way, someone has reached out to help me pick the right path.
What's the most rewarding aspect of what you do?
The most rewarding thing about medicine is when you can effect a positive change. Perhaps it is a diagnosis, a lifestyle change, weight loss, tobacco cessation. Whatever the change, it empowers people and makes them feel in control of their health and their destiny.
Your patients have wonderful things to say about you. How are you are able to make such strong connections with people during their visits?
I always try to find some way to connect with patients; I try to find some commonality that ties me to them. It helps to build a trusting relationship if both patient and provider feel connected to one another. I also try to make sure that patients know they can depend on me. So often people tell me how put-off they were by previous doctors, that they felt like their concerns had been dismissed. We are in this journey of life together, and I'll be there to help my patients, no matter the challenge.
Can you give me an example of when you found a commonality that helped make that connection?
I had a patient once who came in for fatigue. She really had a lot going on in her life, but what stood out to me was that she was a young, new mother. I could relate to that, so I was able to connect with her on that level. Sometimes I see patients who are in the military. I come from a military family, so I can empathize with that particular lifestyle. Sometimes it takes a couple of appointments to find the common element that I share with patients, but when we figure it out, I notice patients become more relaxed. They realize I'm a lot like them.
What kind of cases are you most passionate about?
I love helping people through life stages. I love working with young people who have just finished college and are embarking on their "real world" journey. I love the transition that occurs when patients become parents, and all the joy and anxiety that brings. I love working with patients who are aging and dealing with the changes in both the body and mind that occur.
Got a health tip you care to share?
My best health tip is to be happy. Life is full of stress and reasons to be anxious; that will never change. Find things that make you happy and hold onto them. Happiness brings health and leads to a better and longer life.
Tell me about your fitness routine.
Prior to getting pregnant (I'm four months in!), I ran a lot. I like to run longer races (10-milers are the best). In between races, I usually run three times per week for several miles. I also take every opportunity to walk that I am given. I was also an avid road cyclist, and I look forward to getting back into that after my kids are a bit older.
I hear you like to cook-is there a guilty pleasure you like to make? What about a favorite healthy dish?
Oh, I love to cook! My favorite guilty pleasure to make is, by far, cookies. For a long time, I was on a hunt for the best chocolate chip cookie recipe (since discovered). Needless to say, we ate a lot of cookies to achieve that goal!
My favorite healthy recipes are actually sinful recipes that I try to tweak and make more healthy. I love carbs, but try hard to avoid empty calories. I frequently substitute whole-grain flours for white flours. I also like to decrease butter and oils in baked goods and replace them with fruit and/or vegetables for moisture and flavoring. One healthy eating practice that I love is shopping at farmers' markets. If it's fresh and local, it tastes better. I enjoy finding new types of vegetables that I've never cooked with before and experimenting with them.
What's your favorite activity in DC?
My favorite thing about DC is how much there is to do! There are outdoor activities like hiking along the Potomac River in Great Falls. You can kayak in the Potomac and paddle right past the monuments. You can find any kind of regional cuisine–the food scene is hot! You can visit museums for free. You can go to outdoor concerts and music events whenever you please. It's a great city to live in!
Who inspires you and why?
My husband is my greatest inspiration. For so many reasons, I am lucky to have such a great partner in life. I wouldn't have made it this far, and I wouldn't make it the rest of the way without him. He is my happy thought. I would be remiss to not mention my daughter as well. Despite her tender age of almost three, she inspires me to be a better person. I want to be a good role model for her. I want her to see how happy her mommy is, and know that is possible for her, too.
What are three items on your bucket list?
As I move through life, that mental list changes quite a bit. When I had my glorious daughter, it opened up a whole new realm of exciting things to do that I never realized before. There are so many foods I have yet to try, so many people I have yet to meet, and so many places I have yet to go. Instead of having a list, I just try to experience something new as often as I can. Variety is the spice of life!
Editor's Note: All opinions expressed in One Medical's Meet Our Providers interview series are the interviewees' own.
The One Medical blog is published by One Medical, a national, modern primary care practice pairing 24/7 virtual care services with inviting and convenient in-person care at over 100 locations across the U.S. One Medical is on a mission to transform health care for all through a human-centered, technology-powered approach to caring for people at every stage of life.
Any general advice posted on our blog, website, or app is for informational purposes only and is not intended to replace or substitute for any medical or other advice. 1Life Healthcare, Inc. and the One Medical entities make no representations or warranties and expressly disclaim any and all liability concerning any treatment, action by, or effect on any person following the general information offered or provided within or through the blog, website, or app. If you have specific concerns or a situation arises in which you require medical advice, you should consult with an appropriately trained and qualified medical services provider.