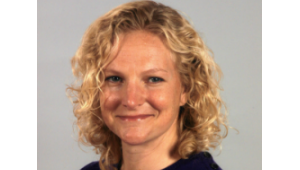 Whether completing a triathlon or discovering solutions to complex health cases, Family Nurse Practitioner Kristen Nelson tackles challenges with her trademark energy, good humor and grace. She currently sees patients at One Medical's Clay Street office in the Financial District. I chatted with Kristen about her work, life, and who inspires her.
How did you come to work at One Medical?
I'd heard about One Medical from friends and former UCSF classmates and I really liked the concept and spirit of the practice. I was also told once to judge a practice by how happy the front desk staff seems. Our staff is absolutely fabulous, so it was a no-brainer from the first time I checked it out!
Why did you go into medicine?
After the Peace Corps, I wanted to continue working in health care–perhaps in public health–but I was unsure if I had the skills to do so. Then I took a trip to visit my grandmother, who was having a congestive heart failure exacerbation at the time. She was disoriented, unstable, and often had trouble recognizing me. We were in a remote location with no access to health resources, so I became her caregiver. It was a humbling experience because my grandmother had always been an unstoppable force while I was growing up. She was like a titanium firecracker: indestructible, bright, and a bit contrary. It was hard to see her so weak, vulnerable, and disoriented, but taking care of her confirmed my interest in pursuing a health-related career. After we were both safely home, I decided to go back to school for nursing.
Why did you decide to become an NP?
Nursing felt like a good fit. It's about finding practical ways of supporting positive changes in patients' lives. That resonates with me. A great example of someone who practiced this is Florence Nightingale, the founder of modern nursing. She improved soldiers' health by opening their windows to let in light and fresh air–a simple intervention that we might take for granted now, but it was brilliant at the time.
Tell me more about your time in the Peace Corps.
Officially, I was a water sanitation volunteer in West Africa. I built a well, cleaned up a market, and had a radio show. Most likely, I'm remembered as that wacky, white-haired girl who learned enough of the local language to gossip with the neighbors, danced shamelessly, read over a hundred books, and drank a lot of water.
What do you want patients to know about your practice style or approach?
I truly believe the best practice is the patients' practice. I like to lay everything out on the table and help patients determine which choices will best help them meet their goals.
Tell me about the kind of cases you're most passionate about.
I've never been great about sitting still. However, if you give me a puzzle or a knotted-up piece of string, I'll focus and untangle it until it is completely usable again. My favorite cases are a lot like that–the complex ones! When a patient has several complaints, such as feeling poor or depressed, not getting enough sleep, and not being able to focus, I like to untangle the symptoms one by one in order to find a solution.
You work with victims of assault. What can you tell us about this experience?
I do sexual assault forensic exams for the city and county at San Francisco General Hospital (SFGH). The population of patients is very diverse because we serve the whole county. One of the biggest challenges is the meticulous quality of the documentation. Our primary goal is to collect evidence to support patients should they decide to pursue prosecution of an alleged assailant.
Do you find it rewarding?
Being challenged at work is important to me, and this work is definitely challenging. At the end of the day, it's about supporting men and women who have had terribly traumatic experiences. I like being the empathetic person who also gets to help them take action to protect themselves.
You were involved with sleep studies before joining One Medical. What's something interesting you learned about sleep during that period?
I was a research assistant for a number of sleep studies when I was in grad school. The most interesting thing I learned was the concept of sleep compression, which is when you purposely restrict sleep in order to improve it.
Any sleep tips for our patients?
Insomnia won't kill you. Over time, it will increase your risk of different illnesses, but it's not life-threatening! If you can take that to heart and stop worrying about your lack of sleep, it usually gets better.
You're a triathlete–how'd you get started?
I'm a retired amateur triathlete. I like testing the limits of my body. Like any good addiction, I was innocently introduced to it through my friends. The next thing I knew, I was planning my life around Ironman training. I'd run at lunch so I could fit in a spin class before work or Masters swim after. It was a great way to meet people when I was new to the city, and a great way to get to see the world from a different pace. When your body is your method of transport, you tend to go only as fast as your eyes and ears can take things in.
Any health advice for people considering a triathlon?
What's a favorite healthy snack or indulgence?
Trader Joe's chocolate-covered peanut butter pretzels: healthy for the soul, indulgent for the body!
Who inspires you and why?
Buffy–of "Buffy the Vampire Slayer"–and Florence Nightingale. They're very similar. They both slay demons: Florence with practical solutions to care, Buffy with spikes.
The One Medical blog is published by One Medical, a national, modern primary care practice pairing 24/7 virtual care services with inviting and convenient in-person care at over 100 locations across the U.S. One Medical is on a mission to transform health care for all through a human-centered, technology-powered approach to caring for people at every stage of life.
Any general advice posted on our blog, website, or app is for informational purposes only and is not intended to replace or substitute for any medical or other advice. 1Life Healthcare, Inc. and the One Medical entities make no representations or warranties and expressly disclaim any and all liability concerning any treatment, action by, or effect on any person following the general information offered or provided within or through the blog, website, or app. If you have specific concerns or a situation arises in which you require medical advice, you should consult with an appropriately trained and qualified medical services provider.