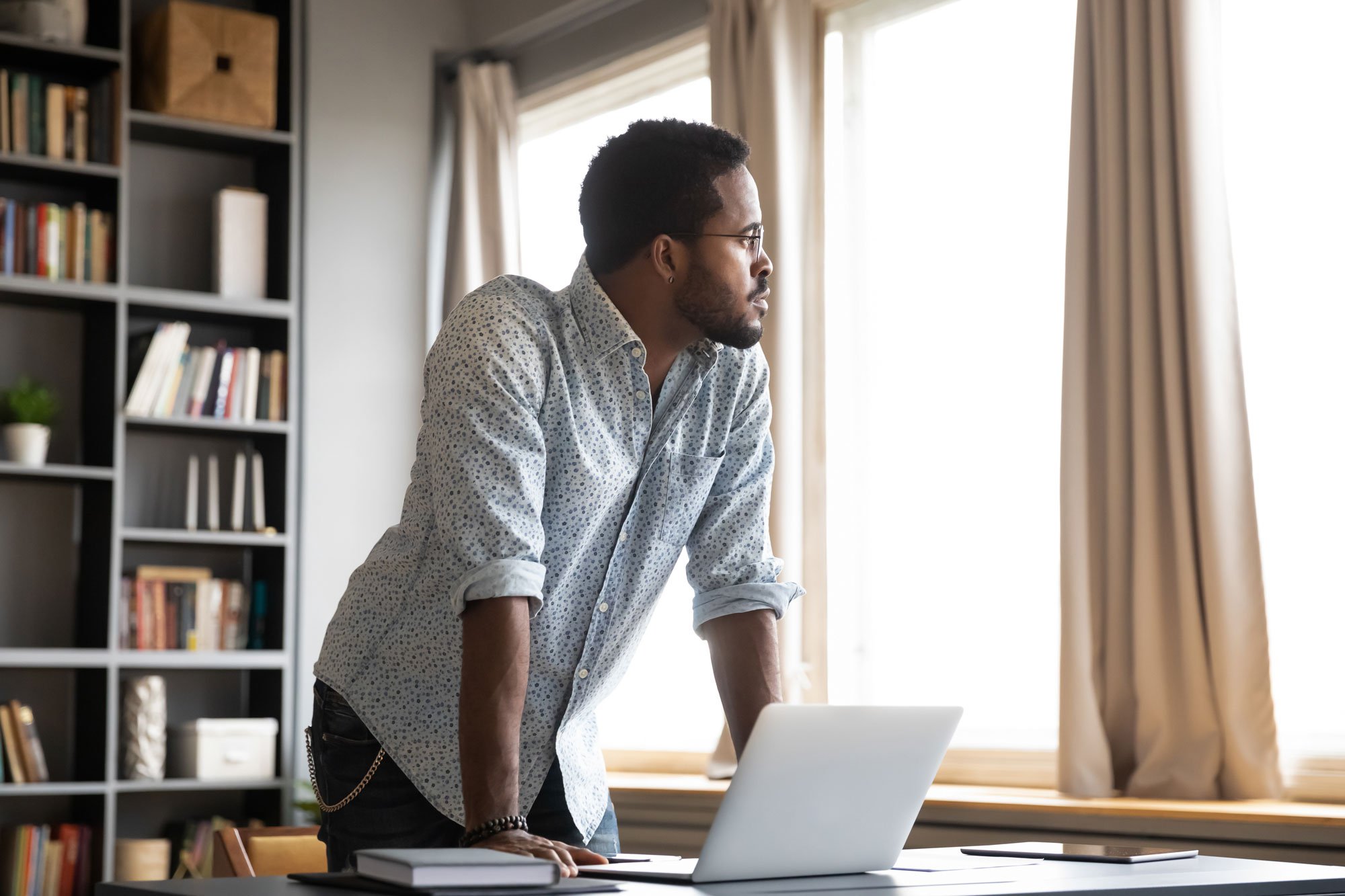 Between working from home, virtual schooling, and worries about COVID-19, you may feel like your mind is running a million miles a minute. Maybe you've walked into a room and forgotten why, caught yourself misplacing your keys, or struggled to concentrate on a simple work email.
If you've had difficulty focusing recently, you're not alone. With the world in a constant state of flux and new health recommendations released almost every other day, it's normal to feel overstimulated and a bit distracted. But at what point should you be concerned about your level of inattention?
After several months of working from home and adapting to new normals, many people are wondering if their restlessness may be the result of Attention Deficit Hyperactivity Disorder (ADHD). Though people often make offhand remarks about being "ADD" when referring to their ability to focus, ADHD encompasses more than just trouble concentrating. Here's what you should know if you're concerned about ADHD:
What is ADHD and how do I know if I have it?
ADHD is defined as a pattern of inattention, hyperactivity, or impulsivity that impacts social, academic and work performance. It is usually diagnosed during childhood and lasts into adulthood, though some people are not diagnosed until adulthood. It is rare for people diagnosed as adults to not have some indication of ADHD in childhood, such as having trouble sitting still or daydreaming a lot in class.
Though symptoms can vary person to person and over time, adults with ADHD may frequently experience the following:
Failure to pay close attention to details and making careless mistakes
Difficulty maintaining attention
Difficulty with organization
Poor time management
Avoidance or reluctance to participate in tasks that require sustained mental efforts
Losing things
Getting easily distracted
Becoming forgetful in daily activities like paying bills or returning calls
Fidgeting with hands or feet
Difficulty remaining seated
Excessive restlessness
Trouble engaging in activities quietly
Talking excessively
Frequently interrupting others
Impulsiveness
Difficulty waiting for their turn, such as in line
It's important to note that ADHD goes beyond the occasional missed appointment or memory lapse. Misplacing your phone from time to time does not automatically mean you have ADHD. Instead, in adults with ADHD, these symptoms significantly impair everyday functioning and can cause problems in one's relationships, work, or school performance.
Additionally, while it's possible for ADHD symptoms from childhood to carry into adulthood, it's unlikely that new symptoms experienced as an adult are the result of ADHD. "ADHD is diagnosed when issues with focus are determined not to be due to a secondary cause like depression, anxiety, high external stress levels, or distracting factors (like kids at home, or multiple adults working in a small space)," said One Medical's Sarah Dobro, MD. "If you have not previously had trouble focusing or other ADHD symptoms, but you are now having this as a new issue during COVID times, then you probably do not have ADHD."
If it's not ADHD, then why am I having trouble focusing?
With so much going on in the world right now, constant stimuli, anxiety, and stress may be putting your brain in a fog. "A lot of people are struggling to focus while working from home, " said One Medical's Sara Whitmore, NP. "This amount of screen time without breaks for face-to-face interaction is hard for everyone. Stress and worry make it hard to concentrate, and no one has been free from these experiences these days." While a dose of stress can improve our concentration and productivity at times, it eventually depletes important neurotransmitters like serotonin and dopamine that play a key role in our mood, learning, motivation, and happiness. Research shows that concentration, memory, and cognition can suffer under constant, low-grade stress and anxiety. In other words, all this stress is wearing our brains out.
How can I improve focus?
Fortunately, there are several ways we can reduce stress, boost mental energy, and improve focus. If you have had trouble concentrating since the start of the pandemic, try these tips:
Establish a routine — It's important to continue giving your day some structure amid all the chaos in the world. Studies show that following a schedule or routine can reduce decision fatigue, boost productivity, and fend off depression. "Get up, get showered and get dressed to start your day - it can help," said Whitmore. "Block a lunch break and schedule outside time even if it is just a brief walk. Don't let rain or cooler weather stop you — bundle up and refresh by getting away from the screen."
Organize your workspace — It's more important than ever to separate your work life from your personal life. "It isn't that we are working from home -- we are living at work, our children's schools, and our spouse's work," says Christine Celio, PhD. Without distinct boundaries, it's easy to let one pervade the other which can create distraction and affect your ability to focus. Try to designate a specific area of the house for work only, that is quiet and away from other family members or roommates so you can work without interruption. "It's not too late in the game to try and replicate your office set up in your home or just improve your home office so that it is functional and comfortable. Chances are we may be working home for a while longer," said Whitmore. Tight quarters or living in a studio? Try to physically change the look of the environment. Working from your bed? Put a different bedspread on when you are working so you can at least have something that distinguishes your work from your home life.
Exercise regularly — Regular exercise can play an important role in your energy, focus, and productivity. In addition to keeping you in shape, it can also improve your sleep and reduce anxiety. Try to get 30 minutes of activity daily and build small amounts throughout the day. Take a 20 minute walk in the morning or after dinner, do 10 minutes of yoga, hold a plank position for 1 minute, or jump rope for 5 minutes. Starting to lose to focus? That is the perfect time to get your body moving.
Get enough sleep — Quality sleep is critical for attention, focus, organization and motivation. Without it, you're likely to feel less energized and creative and more indecisive. Likewise, if you are interrupted or distracted, it will be more difficult to refocus on a task if you're sleep-deprived. Good sleep hygiene is critical -- which includes a regular bedtime and waketime. No binge watching Netflix until 3am.
Cut back on alcohol and other substances - Alcohol and marijuana consumption has increased significantly throughout the pandemic. However, these substances may be causing more harm than good and It can be hard to see how they are affecting you, especially if you feel like they are helping with your stress. Challenge yourself with a sobriety experiment by avoiding alcohol and other recreational drugs for two weeks. You may be surprised on how much more energized and focused you may become!
Stay connected — "Most of us have coworkers as friends and these social connections at work recharge us and keep us engaged," said Whitmore. "Find some time to chat face-to-face about life over zoom or even consider meeting up outdoors safely to catch up." Even an old fashioned phone call is enough to feel connected.
If you're having trouble focusing or are concerned you may have ADHD, reach out to your primary care provider. Even if it's not ADHD, your provider can work with you to identify the issue and design a care plan or lifestyle changes tailored to your unique needs.

The One Medical blog is published by One Medical, a national, modern primary care practice pairing 24/7 virtual care services with inviting and convenient in-person care at over 100 locations across the U.S. One Medical is on a mission to transform health care for all through a human-centered, technology-powered approach to caring for people at every stage of life.
Any general advice posted on our blog, website, or app is for informational purposes only and is not intended to replace or substitute for any medical or other advice. 1Life Healthcare, Inc. and the One Medical entities make no representations or warranties and expressly disclaim any and all liability concerning any treatment, action by, or effect on any person following the general information offered or provided within or through the blog, website, or app. If you have specific concerns or a situation arises in which you require medical advice, you should consult with an appropriately trained and qualified medical services provider.