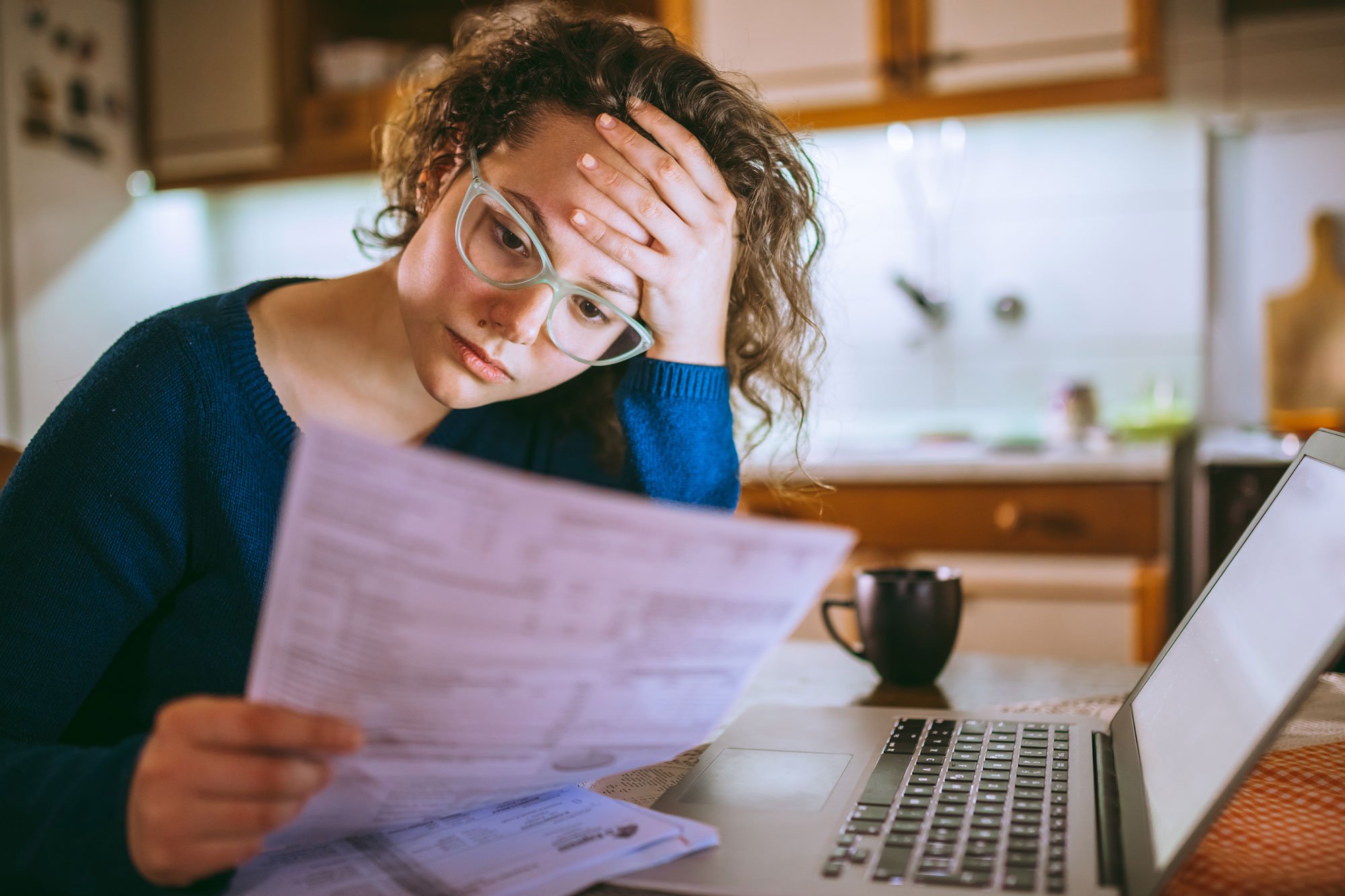 Clinical Editors: Andrew Bertagnolli, Ph.D.

Money is one of life's biggest stressors. In fact, according to a study by the American Psychological Association, 72% of Americans report feeling stressed about money some of the time.
Given the role our finances play in our everyday lives, it makes sense to experience worry from time to time. Between planning for the future and managing current debts, there are plenty of reasons you might find money on your mind.
Too much stress, however, can have serious consequences for both your physical and mental health, as well as your overall quality of life. "Financial stress is associated with depression, and physical health conditions like headaches and stomachaches," says Hannah Kaye, MSW, LCSW at OneMedical. "Debt in particular can be associated with negative health outcomes, especially as it can be hard to repay."
Here's what you need to know about the connection between money and your health.
Why is money such a stressor?
Money is our access point to many necessities, including food, shelter, protection, and healthcare, as well as everything else we need to survive. So on a fundamental level, any threat to our finances is a threat to our survival, and that carries significant weight. On a primal level, we're wired to amass and protect resources to survive, and when our safety is in a seemingly precarious situation, our brains and bodies can go into a state of panic.
"Losing money in particular can feel like a loss of freedom or safety, and that is something that is naturally very stressful to the human brain!" says Kaye.
Additional layers have been added on in the modern world, all of which impact our psyche, and therefore our physical health. "We learn about money from our families of origin, and while we all have our own beliefs and values about money, we carry some of our generational stress or comfort with money with us as well," explains Kaye. Perhaps you were raised in an environment in which there were not enough resources, or there was a narrative around the moral value of money. Any number of factors from the way you were raised can impact your relationship with money, which then has a bearing on your wellbeing.
"I think due to social media, we now see other people spending and flaunting their money in a way we didn't before, so we now can compare our financial situations even more, and comparing ourselves to other people is naturally stressful," adds Kaye. "Whether it's people showing off material items like a new house or car, or experiences like expensive concert tickets or a trip to Cabo, we now have a whole new source of financial stress: what we see on social media!"
How financial stress affects your health
When we're stressed, our sympathetic nervous system kicks into fight-or-flight mode, producing stress hormones like cortisol and adrenaline. While this response may be helpful in the face of imminent danger, prolonged stress can wreak havoc on our physical and mental health.
Like Kaye mentioned, financial stress can cause anything from depression to digestive distress. Common symptoms of stress can include trouble sleeping, headaches, fatigue, muscles aches and pain, and more. Over time, prolonged stress can increase your risk of chronic conditions like heart disease, hypertension, anxiety, and depression, as well as lead to unhealthy behaviors like substance abuse.
On a logistical level, Kaye points out that, "Financial barriers can delay much-needed medical care, and therefore cause certain health problems to get worse." If you can't afford to go to the doctor, you're certainly experiencing the negative physical effects of financial struggle. And it's not just your primary care that's at stake, she says. "Financial stress can also make it hard to access mental healthcare."
How to deal with financial stress
Financial stress can often feel overwhelming. Fortunately, there are a number of ways to ease your mind and nerves. Whether you've experienced a layoff at work, are worried about taxes, or are struggling to combat debt, managing your stress can help you productively plan for the future, while protecting your health. Here are few ways to mitigate financial stress:

1. Educate yourself
As we get older, managing our finances can seem more and more complex. Between mortgages, retirement plans, taxes, and stocks, it's easy to feel overwhelmed by all the nuances, terminology, and processes. "The language of personal finance is often a minefield of jargon, a pile of acronyms, and it isn't a language all of us grew up speaking," she says Kaye. "Find educational resources to teach yourself more about money, so you can feel more informed without feeling overwhelmed."
While it may be intimidating, increasing your knowledge and understanding of money and financial issues, can help you feel much more empowered and in control of your personal finances. Improving your financial literacy can also help you feel more prepared when setbacks and obstacles arise. "A few resources I recommend to clients are the Bad with Money podcast, the excellent book The Psychology of Money to learn more about the relationship between how we think and how we spend and save, and How to Money," says Kaye. If you enjoy humor, you may appreciate Mrs. Dow Jones (self-proclaimed "financial popstar" Hailey Sacks), and if you're a young professional just starting out, consider following Her First 100K.

2. Start slow
Whether you're currently facing a big financial decision or are worried about your future budget, stress can be paralyzing. You may have no idea where to start or just feel intimidated about getting started on an action plan at all. "Sometimes when something makes us uncomfortable or stressed, our brains want to avoid it — but we can't always avoid our finances!" says Kaye.
Rather than diving into all your financial issues headfirst though, it can help to break your to-do list into small actionable steps. Kaye recommends a tactic called "graded exposure" which she says can help "to reduce avoidance behavior."
"The idea of graded exposure is that if we are stressed or scared of something, instead of trying to dive right into the scariest possible thing, we should take it one step at a time."
Setting incremental goals can help make these tasks feel less daunting and stressful "Make a list of to-dos on a sheet of paper," suggests Kaye. "Rate them on a scale from one to ten in terms of how stressful they are. Maybe number two would be to login into your bank account, while eight would be to make a budget. Maybe ten would be to file your taxes. Start at one (the least intimidating), and slowly move up to harder and harder financial tasks to reduce your avoidance!"

3. Create a "Free Fun" List
In a world that feels like you have to pay to exist, it's important (and powerful) to find joyful activities that bring you a sense of peace and happiness… that are also 100-percent free. Engaging in activities you enjoy can actually help you recharge and destress, as well as boost your mood.
"Come up with a list of free things you enjoy doing," suggests Kaye. "Really challenge yourself to come up with a list of many items (I recommend my clients start at 25), so you have options. Being proactively armed with a list of free things you can do can help reduce financial anxiety."
Not sure where to start? If you're looking for something fun to do, were a few budget-free options:
Go to a free concert at the local park
Sit outside and watch the sunset
Visit the library and read a book
Call a friend, or schedule time to hang out and talk
Go for a walk or run
Volunteer at an animal shelter
Download a free language learning app
Try a free YouTube workout
Journal
4. Practice self-care and mindfulness
Financial issues often aren't solved overnight, so it's important to prioritize healthy routines to keep your stress in check. Taking care of both your physical and mental health will enable you to maintain a clear mind and function at your best in the long term. This includes keeping a healthy diet, getting a good night's sleep and exercising regularly. Practicing mindfulness can also reduce stress and help you feel more rooted in the present. Take some time each day (even just for a few minutes) to practice a relaxation technique, whether it be a breathing exercise, meditation, journaling, some light stretching, or a bubble bath. One exercise Kaye recommends is self-compassion meditation. "Find a comfortable position, close your eyes, and visualize yourself extending compassion out to yourself, without judgment for any of your past financial errors," says Kaye. "I think sometimes financial stress can come with self-judgment and self-compassion is the antidote. Research indicates that self-compassion may help reduce stress during difficult economic times."

5. Seek support
Dealing with financial issues can be exhausting and challenging, but you don't need to navigate them on your own. Though talking about finances may feel taboo, connecting with others can reduce stress and help you feel less alone. Family and friends can be a great source of comfort, and likely have experience with financial concerns and worries themselves. You might even consider joining a support group or seeking advice from a financial counselor or other professional. They will be able to help you develop a personal budget plan, as well as track your progress.
If you're still struggling with your mental health, or this stress is starting to interfere with your daily functioning, it's important to talk to your primary care provider. They can work with you on a plan that fits your needs and lifestyle — whether that's lifestyle changes, medication, or a referral to a specialist.
Have more questions about financial stress and your health? Our primary care team is here to help. Learn more about our mental health services or sign up today to book a same or next day appointment — in person or over video — through our app.
The One Medical blog is published by One Medical, a national, modern primary care practice pairing 24/7 virtual care services with inviting and convenient in-person care at over 100 locations across the U.S. One Medical is on a mission to transform health care for all through a human-centered, technology-powered approach to caring for people at every stage of life.
Any general advice posted on our blog, website, or app is for informational purposes only and is not intended to replace or substitute for any medical or other advice. 1Life Healthcare, Inc. and the One Medical entities make no representations or warranties and expressly disclaim any and all liability concerning any treatment, action by, or effect on any person following the general information offered or provided within or through the blog, website, or app. If you have specific concerns or a situation arises in which you require medical advice, you should consult with an appropriately trained and qualified medical services provider.