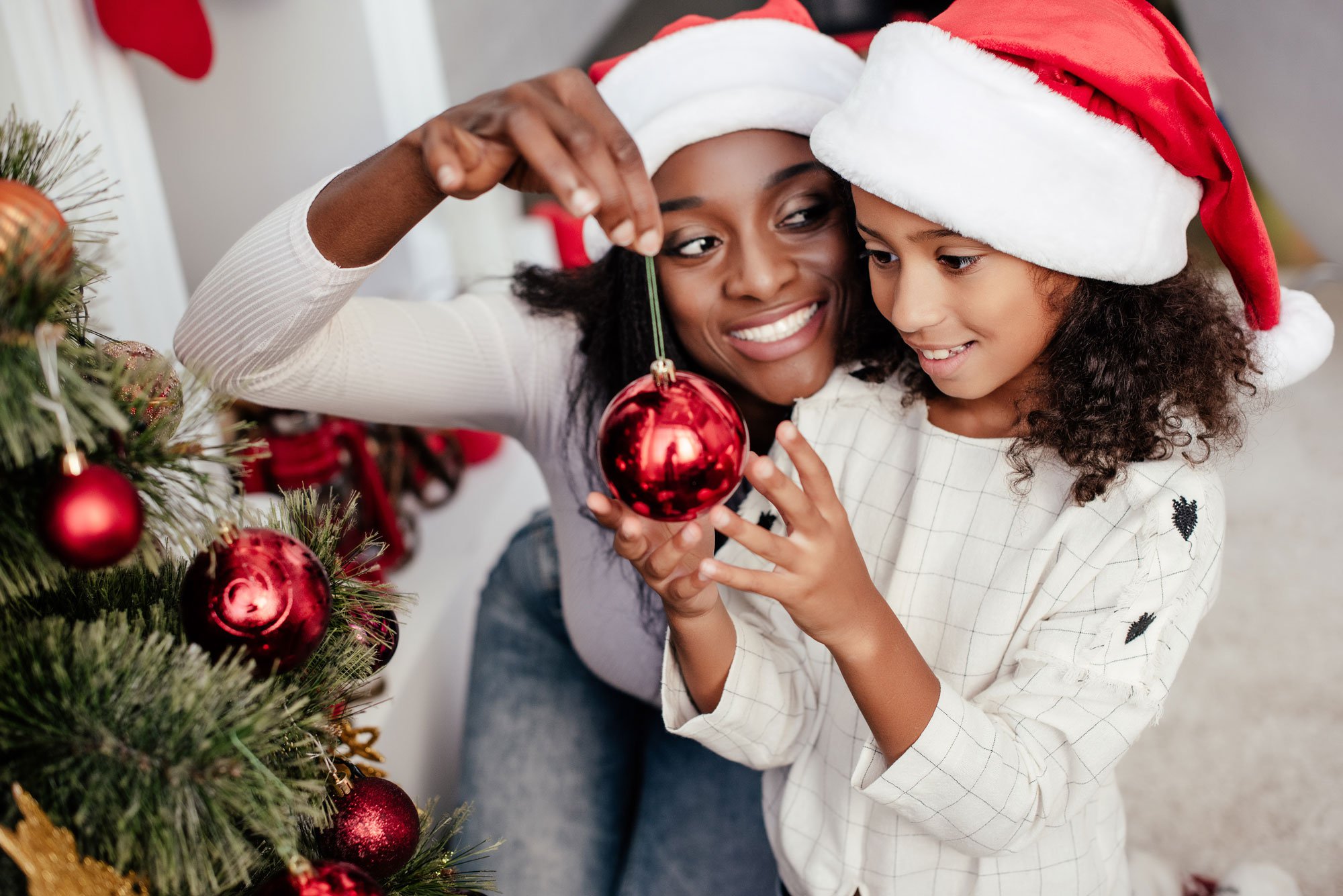 'Tis that time of year again – hanging mistletoes, Christmas trees next to the fireplace, and black ice right outside your doorstep?! During the holidays, the incidence of falls, fires, and accidental ingestion increases. For a merry and fun-filled winter season with friends and family, following these easy steps will help make your holidays safer and more relaxing.
Decking the halls
If your heart is set on a real Christmas tree, bring your family to your local Christmas tree lot and purchase one that is fresh, where the green needles are not easily removed. If your child is like my toddler, consider placing a fence around the tree to prevent their little hands from yanking on decorations, lights and branches. Always place your tree away from heat sources, such as radiators, candles, and fireplaces, for fire prevention. Watering natural trees regularly and making sure that the tree stand is filled with water will prevent the needles from drying and becoming a fire hazard. Unplugging your tree at night also decreases the likelihood of a fire. When decorating your tree, check that the lights are UL or ETL/ITSNA labeled for safety and that you are using indoor lights for indoor decorations. Look for any abnormalities, such as frayed cords or cracked bulbs. Kids love to touch lights, so making sure that the lights are safe will help prevent potential electrocution or cuts to the skin.
Make way for Santa!
If you do have a chimney, have it inspected by a professional to ensure that it is working properly and that sufficient space is available for Santa. Nothing slows down Santa more than a soot-filled chimney. Keeping kids away from the fireplace is important, not only for fire safety concerns - children touching or breathing soot can develop rashes on their skin and breathing problems. It is also a great time of year to make sure you have working carbon monoxide monitors and fire alarms throughout your home.
Holiday greenery
Nothing screams Christmas more than mistletoes, poinsettias, and holly. These plants are lovely to look at, but they are also toxic if ingested. Symptoms have been known to occur after swallowing 2-5 holly berries, therefore, taking out the berries is advised. If you are concerned about ingested holly berries, please sweep the child's mouth with a finger, remove any objects from the mouth, give a small amount of water, and call Poison Control 1800-222-1222. Keeping mistletoes and poinsettias out of reach of children and pets is a great holiday decor safety rule-of-thumb.
Cheers to responsible driving
While festive holiday drinks are plenty, it is an especially important time to be aware of your limits and refrain from drinking and driving or driving with distractions. For parents, you would want to be as alert as possible when driving with or without kids. If you live in colder climates, double checking that you have appropriate tires that are not cracked or worn is always a good idea too!
Age-appropriate toys
While you might want to get your little one the newest and greatest toys, paying attention to the age guide for each toy will prove to be an import safety tip. Items with small piece are a choking hazard and should not be given to young children. If you plan to give toys with wheels (tricycles, bikes, skateboards), parents will love if you also include a helmet. Watch for battery compartments and make sure that they can't be easily removed from the toy. However, if your toddler is unusually talented with a screwdriver, consider buying books or stuffed animals.
Celebratory dining
Hand washing before, during, and after food prep helps decrease the transmission of germs. Keep raw cookie dough, raw meats, and uncooked seafood away from children. Be sure to fully cook meats and seafood for a meal that is sure to delight. Watch for choking hazards, plastic wrappers, and if your child has a food allergy, please read the ingredients first. An important note: after dinner, remove all leftover drinks just in case there happens to be a curious little kiddo.
Have any other questions about keeping your holiday festivities safe and fun? Reach out to our team via our app, or come in for a visit to discuss anything that's on your mind. Happy holidays!
The One Medical blog is published by One Medical, a national, modern primary care practice pairing 24/7 virtual care services with inviting and convenient in-person care at over 100 locations across the U.S. One Medical is on a mission to transform health care for all through a human-centered, technology-powered approach to caring for people at every stage of life.
Any general advice posted on our blog, website, or app is for informational purposes only and is not intended to replace or substitute for any medical or other advice. 1Life Healthcare, Inc. and the One Medical entities make no representations or warranties and expressly disclaim any and all liability concerning any treatment, action by, or effect on any person following the general information offered or provided within or through the blog, website, or app. If you have specific concerns or a situation arises in which you require medical advice, you should consult with an appropriately trained and qualified medical services provider.