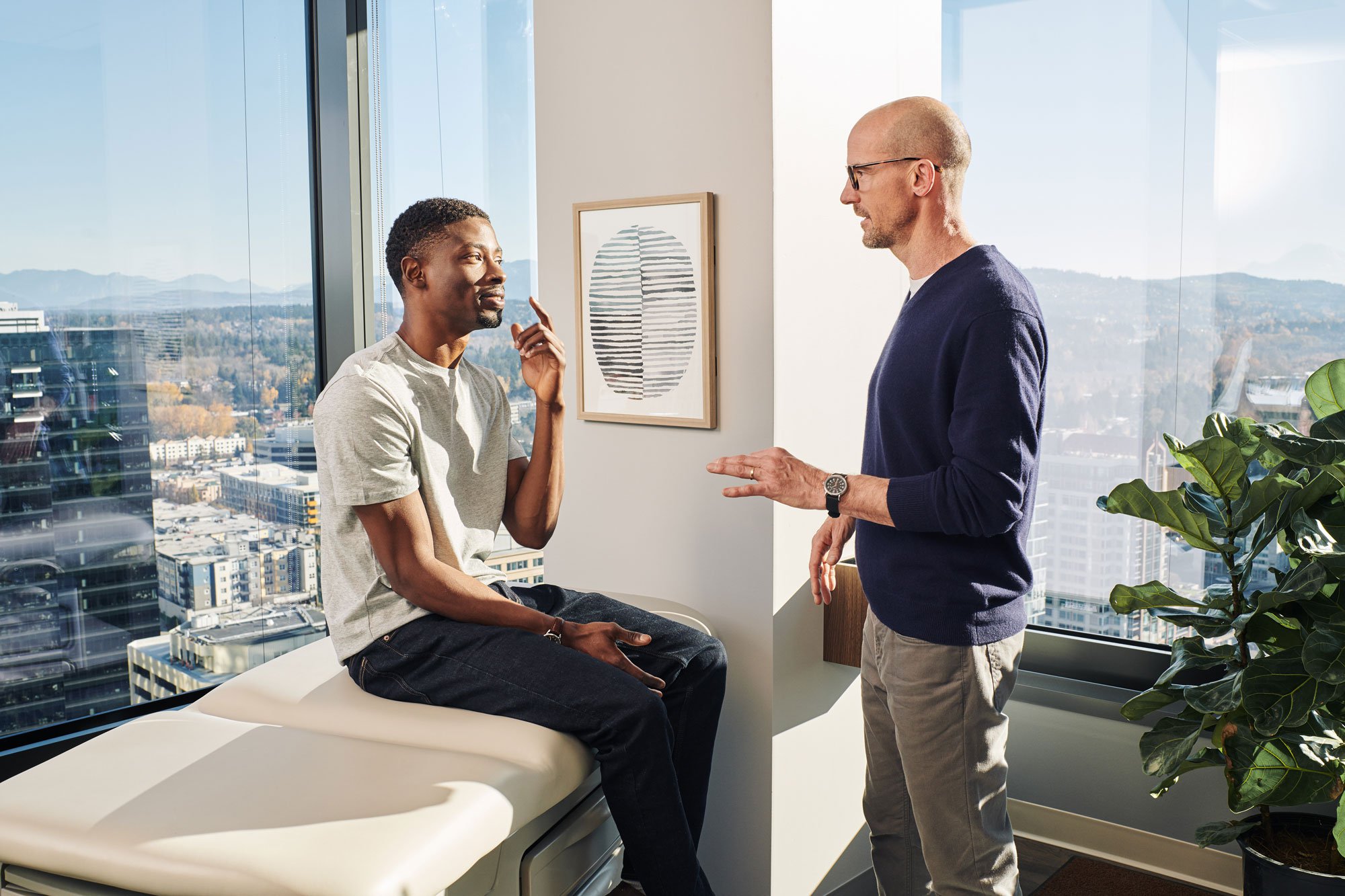 Updated November 19, 2019

I see men pretty regularly who tell me that they only came in because their girlfriend or wife forced them to make an appointment. And hearing 'I haven't had a physical for 20 years' is a pretty regular occurrence here in Chicago. Maybe you even know a guy like this?
Most people will tell you that they don't enjoy visiting the doctor, but men are particularly hesitant to come in for an appointment. In fact, men are 24 percent less likely than women to have visited a doctor within the past year, according to the Agency for Healthcare Research and Quality (AHRQ). This discrepancy matters because when men are hospitalized, it's more likely to be for serious issues including congestive heart failure, pneumonia, and complications of diabetes. Routine office visits often uncover signs of these conditions, so these men could have been treated much earlier, reducing the risk of hospitalization.
Why Men Avoid the Doctor
Personal and cultural definitions of masculinity may be one major factor. A 2009 study found that middle-aged men with macho beliefs were half as likely as men with more moderate ideas of masculinity to get preventive medical care. This may be why some many men ignore sports-related injuries, opting to "tough it out," until the pain is too much to bear.
Some men also avoid the doctor's office due to unfounded beliefs about what might happen during an appointment. Many guys believe a prostate exam is a required part of a routine physical exam after age 40. In reality, this type of exam happens only when it's warranted, such as if you have a family history of prostate cancer, for example.
When You Should Go to the Doctor
If you're young and healthy, you may not need to visit your health provider as often as you think, as long as no problems arise. Men under 35 who feel good, are generally healthy, and have no family history of serious illness can likely skip annual physical exams and see their providers as needed. But occasional wellness exams before 35 can be a great opportunity to get to know your primary care provider, discuss any issues or concerns and build an ongoing relationship so you feel comfortable coming back if you ever do have a problem.
Don't miss The 5 Things That Matter Most From Your Physical
Starting around 35, healthy men should start getting certain screenings, including cholesterol tests. For healthy men between the ages of 40 and 64 with no health problems or family history, a blood pressure screening every two years, and a cholesterol test every five years is generally sufficient. For men 50 to 75 who are not at an increased risk for colon cancer, a colonoscopy every 10 years is reasonable if results are consistently normal.
How to Get the Most out of Your Visit
Once you're ready to see your provider, there are plenty of ways to get the most value from your appointment:
Find a provider you're totally comfortable with. Ask friends and family who know you best for recommendations. You might also research prospective providers online to learn about their backgrounds (and come to the initial appointment with questions). And don't assume a male doctor is necessarily the best option just because you're a man; the best option is the provider who listens and shows that they're competent, trustworthy and relatable.
Don't miss Should You Google Your Symptoms?
Prepare beforehand. Make the most of your time by thoughtfully planning the course of the visit. One of the most impactful ways you can prepare is to compile a quick family history, including the health status of your parents, siblings, and grandparents, and noting any clear patterns of illness that run in the family. This can give your provider critical insight into which tests or screenings to run, and how to offer the most comprehensive care. And if you're coming in because of a specific problem, it's crucial to share as many details as you can — for example, anything that makes the issue better or worse, when you first began experiencing symptoms, and what type of symptoms. This helps avoid delays and can actually speed up your care.
Email your doctor ahead of time. Here at One Medical Group, you can email your provider before a visit to share the topics you want to discuss. This helps guide the appointment, plus it encourages accountability and transparency. Many men find it difficult to broach certain subjects like erectile dysfunction, for example, and don't mention anything until late in the visit, which often doesn't leave enough time for discussion. Noting sensitive issues in an email can relieve the pressure of bringing them up in person and ensure that your doctor can start with the most important issue first.
Know that it may take more than one visit. Your provider's biggest concern is your overall health and wellbeing. Trust that he or she will encourage a more refined focus on certain issues if they're higher priority, so be willing to consider a follow-up appointment if there are too many issues to discuss, or if a given issue needs more time and attention. If you haven't had a checkup in five or 10 years, there may be a lot to talk about!
Stay calm. Many men avoid the doctor's office because they're afraid of what they might learn. Rather than seeing test results as irrefutable sentences, it can be helpful to think of them as clues and information. For example, high cholesterol doesn't necessarily mean that you need medication. The test just helps assess your overall risk and whether the issue should be monitored. There are plenty of ways to deal with different results; the most important thing is to understand all the options so you and your doctor can make the best choice together.
The One Medical blog is published by One Medical, a national, modern primary care practice pairing 24/7 virtual care services with inviting and convenient in-person care at over 100 locations across the U.S. One Medical is on a mission to transform health care for all through a human-centered, technology-powered approach to caring for people at every stage of life.
Any general advice posted on our blog, website, or app is for informational purposes only and is not intended to replace or substitute for any medical or other advice. 1Life Healthcare, Inc. and the One Medical entities make no representations or warranties and expressly disclaim any and all liability concerning any treatment, action by, or effect on any person following the general information offered or provided within or through the blog, website, or app. If you have specific concerns or a situation arises in which you require medical advice, you should consult with an appropriately trained and qualified medical services provider.