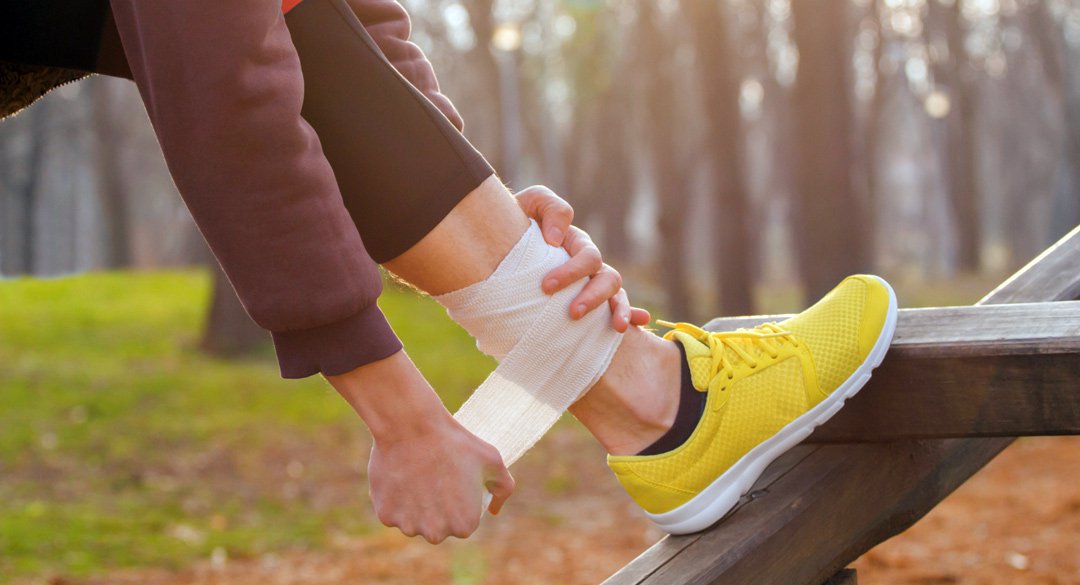 We all know staying active is an important part of maintaining physical fitness and overall health, but what do you do when an injury derails your regular exercise routine? Even a temporary setback can put the brakes on your fitness progress and make it hard to get back into your groove; but it doesn't have to. "There is almost always some alternative exercise that you can do safely," says One Medical's Malcolm Thaler, MD. Although rest and rehab are important aspects of healing an injury, staying active can help you stay physically and mentally strong as you recover.
"You have to keep moving," says fitness trainer Jackelyn Ho. "Use what works. If your legs are injured, stick to upper body work like push-ups, weights, or even fist pumping—who says dancing is a full-body thing? If your wrists or shoulders are injured, stick to walking, running, or light cardio."
Above all else, it's important to tune into your body and check in with your health care provider. Be sure to get clearance from your provider before attempting any physical activity, and if he or she recommends taking it easy, it's best to listen. "Follow your provider's recommendations for resting," says One Medical's David Bowden, MD, who specializes in sports medicine. "Providers want you to be as maximally active as you can safely be. But if they advise rest, it usually isn't without a specific reason."
Once you get the all-clear from your provider, try some of these alternative methods for staying active while recovering from an injury.
For Lower Body Injuries
Whether it's your knee, your ankle, your hip, or your foot, a lower body injury can substantially impact your regular workouts. "For some lower extremity injuries, aquatic exercise may be an option which avoids impact to the injured area," Bowden says.
Try:
Swimming laps
Gentle water aerobics
Using the arm bike (or upper body ergometer) at the gym
For Upper Body Injuries
Upper body injuries can limit mobility in your shoulders, wrists, arms, hands, or back. "For upper extremity injuries and back injuries, a certified physical therapist can provide instruction in exercises that are safe and will promote your recovery," Bowden says.
Try:
Walking or a gentle cardio class
The elliptical machine, or an arc trainer
For Back Pain
Back pain can occur for a variety of reasons, but sitting at a desk all day can often exacerbate the problem. Simple stretches to soothe the spine and abdominal exercises to strengthen the core can help ease and prevent pain.
Try:
For Shin Splints
Shin splints are incredibly common among runners and dancers. They can occur from overuse, stress fractures, overpronation or "flat feet," or weakness in the stabilizing muscles of the hips or core.
Try:
Cross-training with other forms of cardio such as swimming or biking that don't involve repetitive impact
Avoid running
For Plantar Fasciitis
Many runners are familiar with the stabbing pain of plantar fasciitis, which is the most common cause of heel pain. The repetitive motion of running can cause the shock-absorbing band of tissue known as the plantar fascia to tear, leading to irritation and inflammation.
Try:
The elliptical or stationary bike
Weightlifting—try machines and moves that don't require you to put weight on your heels
Things to Remember When Getting Started
If you're recovering from an injury, start back up slowly and give yourself the proper amount of time to truly rest and recover. "For many of us who exercise regularly, taking time off because of an injury is a form of slow torture," Thaler says. "But it pays huge dividends. Without rest, acute injuries can linger, become chronic, or frequently become more severe. For example, tendinitis can lead to a stress fracture or tendon rupture."
And be sure to listen to your body. "If it hurts and doesn't feel good, you have to stop," Ho says.
The best way to bounce back and avoid further injury is to make an appointment with a skilled general practitioner or sports medicine doctor who can properly assess your situation and create a treatment plan that will get you back on your feet (or lifting weights, or doing downward dog) in no time.
The One Medical blog is published by One Medical, a national, modern primary care practice pairing 24/7 virtual care services with inviting and convenient in-person care at over 100 locations across the U.S. One Medical is on a mission to transform health care for all through a human-centered, technology-powered approach to caring for people at every stage of life.
Any general advice posted on our blog, website, or app is for informational purposes only and is not intended to replace or substitute for any medical or other advice. 1Life Healthcare, Inc. and the One Medical entities make no representations or warranties and expressly disclaim any and all liability concerning any treatment, action by, or effect on any person following the general information offered or provided within or through the blog, website, or app. If you have specific concerns or a situation arises in which you require medical advice, you should consult with an appropriately trained and qualified medical services provider.