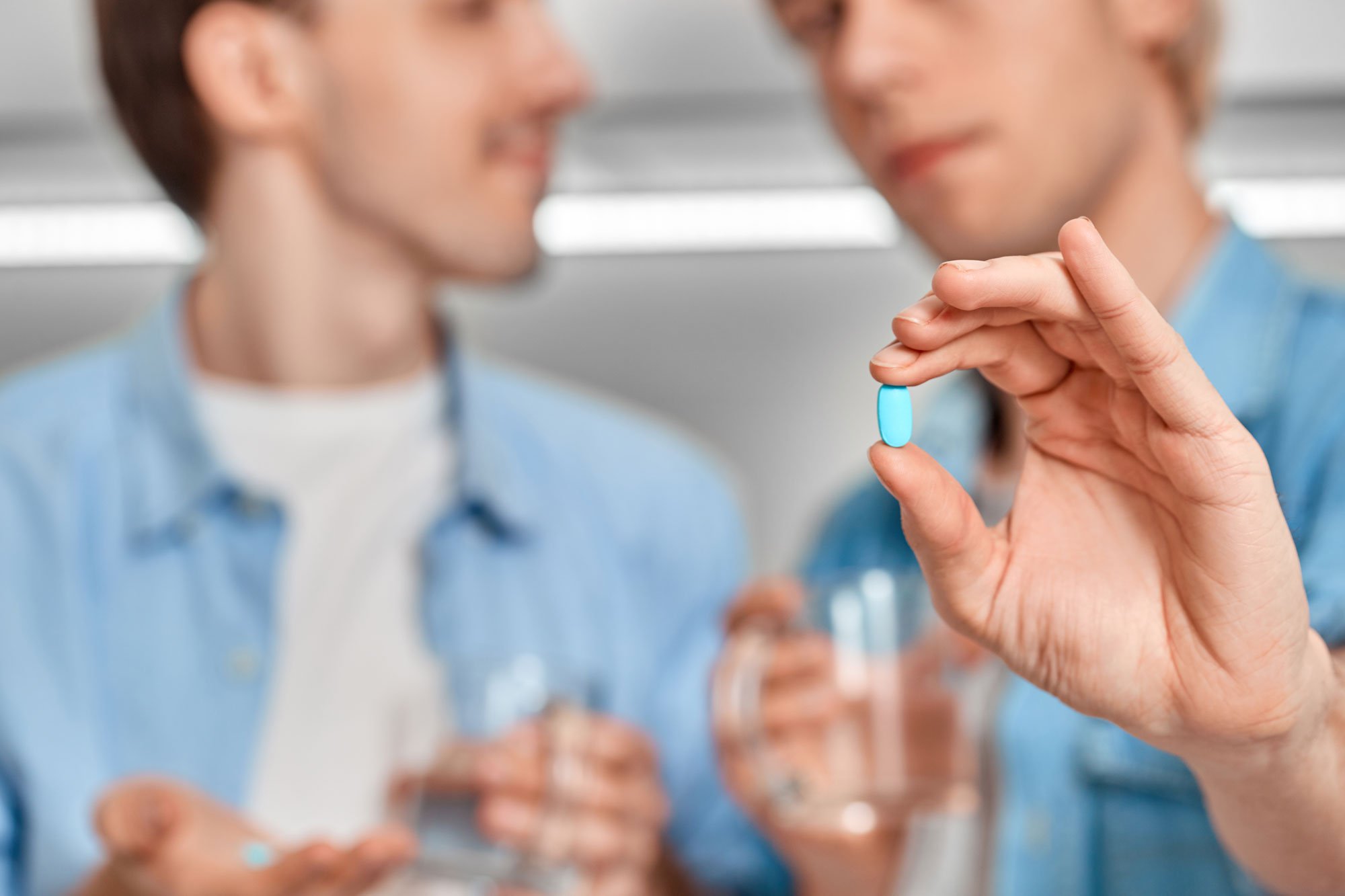 The HIV prevention pill, PrEP, is now required to be free under almost all insurance plans. But what is it and why is it so critical to public health? Here's all the up-to-date info you need to know about PrEP and how it may be an important piece of your own overall wellness.
What is PrEP?
Otherwise known as pre-exposure prophylaxis, PrEP is a medicine that involves the use of antiretroviral (ARV) drugs to prevent a person from being infected with human immunodeficiency virus (HIV), a virus that attacks the body's immune system and can lead to acquired immunodeficiency syndrome (AIDS) if untreated. While PrEP is a specific type of prophylaxis — i.e. a medication or treatment that's used to prevent a disease — it's not the only one of its kind. Antibiotics, for example, are often used as prophylactics to prevent infection as a result of certain surgeries or procedures. People who are HIV-negative can take a daily course of oral PrEP to protect themselves from infection.
According to the Centers for Disease Control and Prevention (CDC), PrEP is highly effective for preventing HIV when taken as prescribed. The medication reduces the risk of getting HIV from sex by about 99% and reduces the risk of getting HIV from injection drug use by at least 74%. It is, however, important to take PrEP exactly as prescribed by your provider; otherwise, the effectiveness of the medication drops. It's also crucial to know that PrEP only protects against HIV, not other sexually transmitted infections (STIs), so condom use is still important.
Who should use PrEP?
PrEP can be an important tool in preventing HIV, but it isn't approved for use in everyone. The CDC has outlined the following guidelines regarding who might want to consider taking PrEP:
If you have had anal or vaginal sex in the past six months and you...

...have a sexual partner who has HIV (especially if that partner has an unknown or detectable viral load),
...have not consistently used a condom, or
...have been diagnosed with an STI in the past six months

You inject drugs and you…

...have an injection partner with HIV, or
...share needles, syringes, or other equipment to inject drugs

Your provider has prescribed PEP (post-exposure prophylaxis), an emergency medication taken immediately after a possible HIV exposure, and you…

continue to be at increased risk for HIV, or
have used multiple courses of PEP
If you are thinking about becoming pregnant and you have a sexual partner with HIV, you're encouraged to talk to your providers about PrEP — the medication may help protect the unborn baby from getting HIV in the process of getting pregnant, during the pregnancy itself, during delivery, and/or while you're breastfeeding.
PrEP is also approved for use by adolescents (as long as they weigh at least 75 pounds) who do not have HIV but are at risk for getting it from sex or injection drug use.
How does PrEP work?
There are two different medications approved for use as PrEP in the U.S.: Truvada (emtricitabine and tenofovir disoproxil fumarate) and Descovy (emtricitabine and tenofovir alafenamide fumarate). Truvada was the first form of PrEP to be approved by the Food and Drug Administration (FDA) and is a single pill that combines two ARV medications, emtricitabine and tenofovir disoproxil fumarate, and is now available as a generic. Descovy was approved by the FDA in 2019 and offers a slightly different combination of ARVs: emtricitabine and tenofovir alafenamide. The different forms of tenofovir in Truvada and Descovy affect how the body absorbs the medications, but both medications have been shown to be highly effective at reducing the risk of HIV infection when taken consistently and correctly.
While Truvada is approved for for all people at risk for HIV through sex or injection drug use, Descovy isn't currently approved for people assigned female at birth who are at risk of getting HIV from vaginal sex.
Both Truvada and Descovy work by blocking an enzyme called HIV reverse transcriptase. When this enzyme is blocked, HIV can't multiply and grow in the body, even if a person is exposed to it.
Is PrEP safe?
While all medications carry some risk of side effects, PrEP is generally considered safe. Some of the most common side effects that can occur, however, include nausea, diarrhea, stomach pain, headache, and fatigue, but these generally tend to go away over time. Although it's very unlikely, PrEP may affect the function of your kidneys, so if you start taking PrEP, your medical provider may require you to get regular tests to ensure your kidneys remain healthy. Descovy is currently being promoted as an alternative to Truvada that is safer for kidneys and bone health, but the clinical difference between the two is very low and does not offer a significant benefit for individuals who do not have pre-existing kidney or bone disease. Both are fantastic options, but your primary care provider can help you find the best choice for you.
How long does it take for PrEP to work?
Depending on the circumstances, PrEP requires different lengths of time to be fully effective at protecting against HIV. According to the CDC, in the case of receptive anal sex (bottoming), it takes about seven days of daily use for PrEP to reach its maximum effectiveness. For receptive vaginal sex and injection drug use, it takes about 21 days of daily use for PrEP to become maximally protective. There is currently no data available on how long PrEP has to be taken to provide protection against HIV in insertive anal sex (topping) or insertive vaginal sex.
How do I get PrEP?
If you're a One Medical member, you have full access to testing, screening, and PrEP. Our team of providers can help guide decisions around HIV prevention, treatment, and more.
To start PrEP, simply ask your primary care provider, who will review the risks and benefits of starting PrEP and order some baseline labs. Initial lab tests will likely include checking for STIs (HIV, syphilis, gonorrhea, and chlamydia), screening for hepatitis (A, B and C), and checking your kidney function. Once your results are in and you are cleared to start the medication, your PCP and our virtual team will work together to check in with you every 3 months and arrange appropriate follow-up testing. Follow-up testing will include HIV testing monitoring your kidney function and STI screening, if needed. It is important to closely monitor HIV status as someone who is found to be positive should immediately be started on antiretroviral therapy (ART).
How can I have PrEP covered?
The One Medical blog is published by One Medical, a national, modern primary care practice pairing 24/7 virtual care services with inviting and convenient in-person care at over 100 locations across the U.S. One Medical is on a mission to transform health care for all through a human-centered, technology-powered approach to caring for people at every stage of life.
Any general advice posted on our blog, website, or app is for informational purposes only and is not intended to replace or substitute for any medical or other advice. 1Life Healthcare, Inc. and the One Medical entities make no representations or warranties and expressly disclaim any and all liability concerning any treatment, action by, or effect on any person following the general information offered or provided within or through the blog, website, or app. If you have specific concerns or a situation arises in which you require medical advice, you should consult with an appropriately trained and qualified medical services provider.