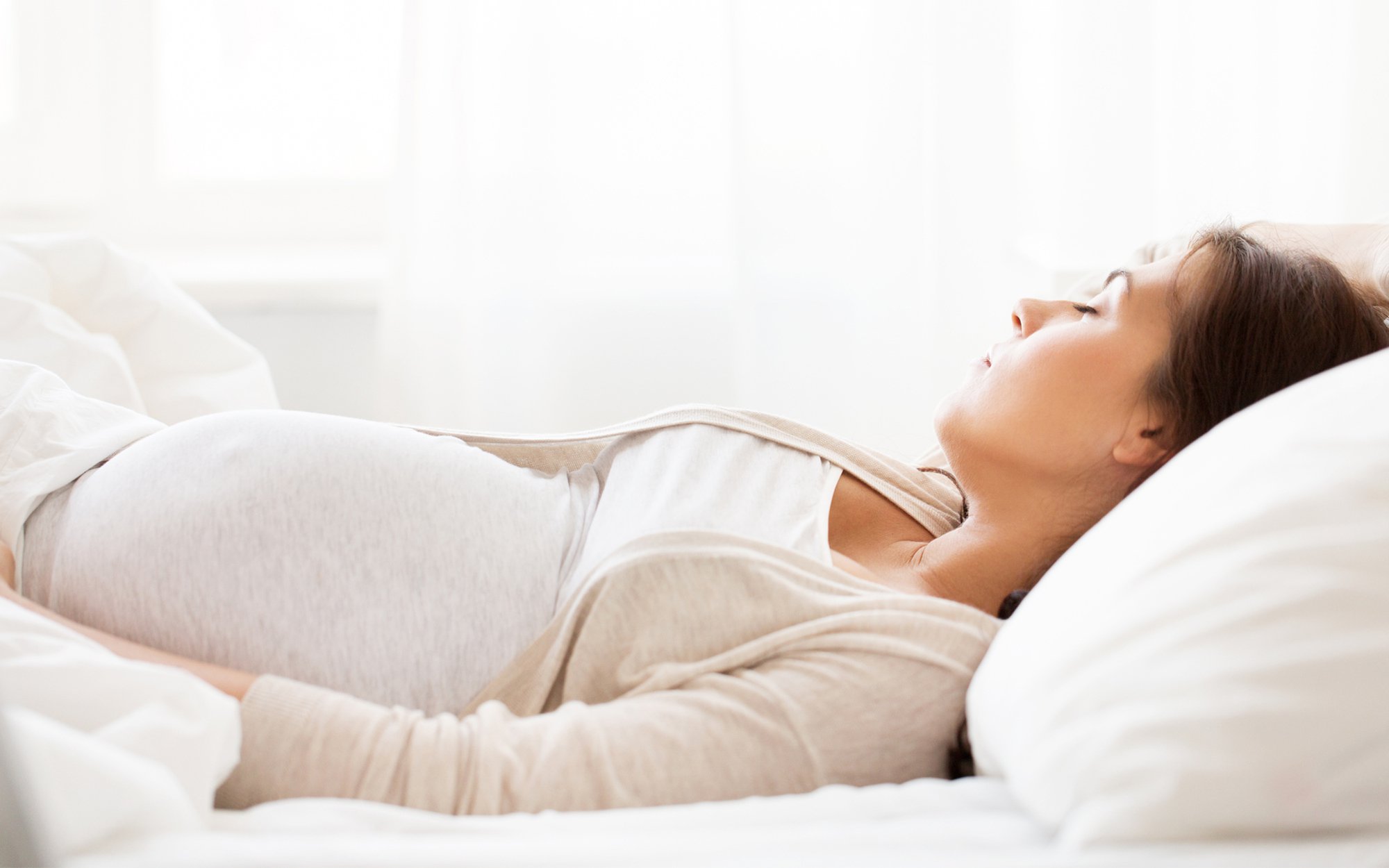 Thanks to celebrities like Chrissy Teigen and Serena Williams, postpartum depression has slowly entered the mainstream conversation as an important topic that affects scores of women. Recent research indicates anywhere between 6.5 percent and 12.9 percent of new moms suffer from the condition which is typically marked by feelings of extreme sadness, anxiety, and exhaustion that make caring for the baby — and caring for themselves — difficult.
Luckily, there are many effective treatments for postpartum depression, and society is starting to acknowledge and become more aware of the hallmark symptoms early on. But the postpartum period isn't the only time women are vulnerable to mood disorders during the childbirth process. Although it's not yet discussed as openly or frequently, depression during pregnancy is common — according to the Mayo Clinic, about 14 to 23 percent of all pregnant women experience depression during pregnancy.
Depression is treatable, no matter when it occurs. Learning how to recognize the signs and symptoms and knowing what might put certain women at a greater risk during pregnancy can help equip you and your loved ones with tools to overcome the darkness of depression. We asked One Medical psychologist, Christine Celio, PhD, to share some wisdom about depression during pregnancy.
We often hear about postpartum depression, but hardly ever hear about depression during pregnancy — how are the two issues different and how are they similar?
Here's the thing: Major Depressive Disorder (MDD) during pregnancy can have negative effects on mothers, infants, and families regardless of when it shows up [MDD or "clinical depression is a mood disorder that causes severe symptoms that affect how you feel, think, and navigate daily life]. So while there is a real concern about "postpartum depression," it is something that can happen and affect women, children, and families during early, middle, or late pregnancy, as well as the postpartum period.
According to research, depression during pregnancy ranges from 3–5%, and up to 14% of pregnant women are estimated to have MDD. Beyond a true diagnosis of MDD, according to The American Congress of Obstetricians and Gynecologists (ACOG), between 14-23% of women will struggle with some symptoms of depression during pregnancy. This is comparable to similarly-aged women who are not pregnant and among women during the postpartum period. The funny thing is, there are far fewer treatment studies of depression during pregnancy than during the postpartum period. I think in some way that it is because we assume that every woman is overjoyed to be pregnant and that it only is physically challenging.
What are some of the unique challenges of pregnancy that people often overlook?
Pregnancy can be a difficult time for many women for so many reasons. In the first trimester (the first 12 weeks), the advice so many women get is to not tell anyone outside their immediate circle about her pregnancy. The reasoning for this is that this time period is one of the most sensitive in terms of miscarriage. However, this is also the time when many women feel physically incredibly uncomfortable and ill.
Imagine: for nearly three months you are at work all day, physically exhausted, worried about your pregnancy, trying to avoid foods that you are not supposed to eat, drinks you are not supposed to drink, feeling nauseated, and often wanting to throw up. You are avoiding cigarette smoke, drinking alcohol, and other activities that are risky in pregnancy. But you feel like you can't tell anyone you work with, both because you might miscarry and then have to share with all your friends and hundreds of people on social media that you are no longer pregnant, and because it could be professionally damaging to seem like you will only be working for nine more months before you (hopefully) go on parental leave. Even if that doesn't cause depression, it certainly would make you stressed out.
What about the lack of coping strategies women are able to access while pregnant?
Consider how people manage stress. Like to have a glass of wine at the end of a long week with your friends? Forget it. Enjoy downhill skiing or surfing on the weekends? Not recommended. What about water skiing, swimming in lakes, or just generally enjoying summertime by spending time in fresh water? Nope. These changes are not going to cause depression, but recognizing that the activities one usually engages in that keep sadness and stress at bay might not be as easily accessible, is important to understand.
What makes certain women more vulnerable to developing depression at any point in the pregnancy or postpartum period?
A prior history of MDD makes it more likely that women could have some depressive symptoms. A history of sexual trauma, fertility issues, miscarriages, and anxiety, can make the pregnancy triggering for mood disorders. Generally, the risks for depression during pregnancy and postpartum are:
Personal or family history of mood disorder
Lack of support caring for the baby or other children
Financial stress
Relationship stress
Complications during pregnancy, birth or feeding issues
Mothers of multiples
Teen moms
Families with infant in Neonatal Intensive Care (NICU)
Can a depressed mother-to-be's mood affect the health of her unborn baby?
In short, absolutely. Being depressed, even when not pregnant, affects how one takes care of oneself. Depressed people are less likely to exercise, and exercising in pregnancy can help prevent preterm labor, as well as tons of other positive effects. Eating poorly is common in depression, and when you are literally eating for two, this can affect the baby. Some ice cream is fine, but if pregnant women are not getting the right vitamins and minerals, not taking their prenatal vitamins, it opens up babies up to all sorts of challenges. Alternatively, many pregnant women who are struggling with a low mood can loose their appetite and not eat as much or at all. Not getting enough sleep, not reaching out to friends and getting increasingly isolated — all of these things can be hard because they result in challenges in the postpartum period when having a support network is incredibly helpful.
Depression can cause apathy and low energy, potentially causing a person to miss doctor's appointments which are incredibly important in prenatal care. Probably most alarming is the use of illicit substances and alcohol. The effects of excessive alcohol, smoking, and illicit drugs are deleterious to the mother and the fetus and could cause life-long issues for the baby.
What are the treatment options for pregnant women experiencing depression?
There are some safe antidepressants for pregnant women and more research is coming out about them. Find a provider who is comfortable and familiar with treating pregnant women pharmacologically. Psychotherapy is also excellent because it can help the woman change negative thoughts and habits, and identify behaviors that can lead to better self-care and well-being. In this time period, I also love pregnant mother's groups so there can be a group of women who are in similar phases of pregnancy and life so you can share how completely weird it is to be pregnant and compare aches, pains, and unexpected discoveries.
What immediate action should a pregnant woman take if she has thoughts of harming herself or her baby?
Absolutely let someone know if you have even inklings or concerns about harming yourself or your baby. Basically, get help when your symptoms are affecting your relationship with your baby and your family, or you feel alone and ashamed, and the support of family and friends is not enough or you believe that things are getting worse, not better.
If you are in need of immediate postpartum depression help and assistance, please contact:
In case of emergency, dial 911.
National Suicide Prevention Hotline: 1-800-273-8255.
National Suicide text line Text HOME to 741741 in the United States.
Contact your medical provider
The One Medical blog is published by One Medical, a national, modern primary care practice pairing 24/7 virtual care services with inviting and convenient in-person care at over 100 locations across the U.S. One Medical is on a mission to transform health care for all through a human-centered, technology-powered approach to caring for people at every stage of life.
Any general advice posted on our blog, website, or app is for informational purposes only and is not intended to replace or substitute for any medical or other advice. 1Life Healthcare, Inc. and the One Medical entities make no representations or warranties and expressly disclaim any and all liability concerning any treatment, action by, or effect on any person following the general information offered or provided within or through the blog, website, or app. If you have specific concerns or a situation arises in which you require medical advice, you should consult with an appropriately trained and qualified medical services provider.