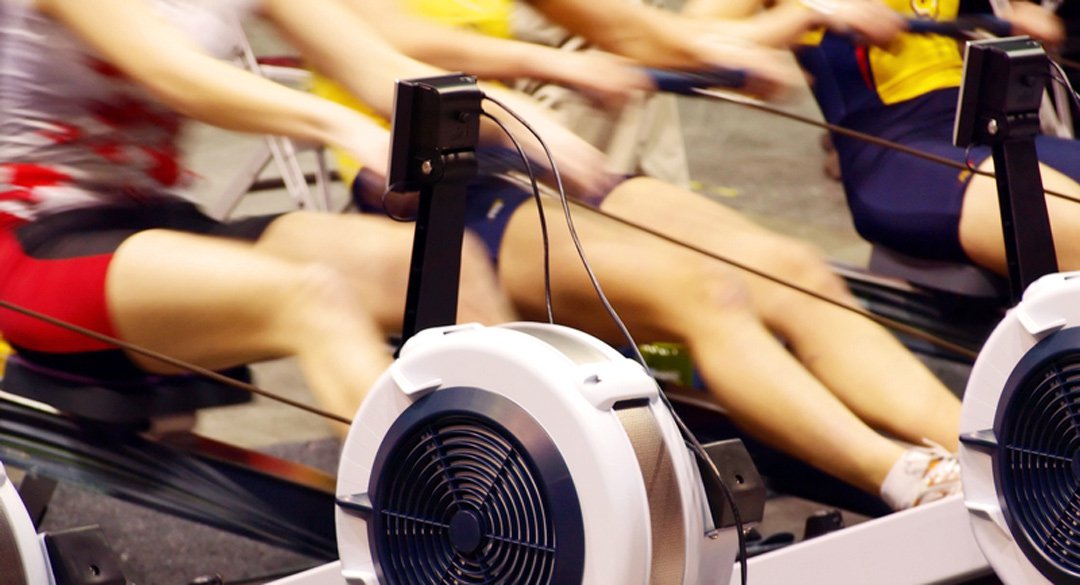 When temperatures dip below the 20-degree mark, it can be much more tempting to stay under the covers than commit to that New Year's fitness resolution. Luckily, Chicago has a lot to offer in terms of fun, motivating workouts that take place indoors—away from the elements. Whether you're a yogi, dancer, cyclist, or even a would-be circus performer, you can get your exercise fix, even in the most frigid weather.
Here are our top picks for where to get your sweat on this winter:
Alternative Cardio
Orangetheory Fitness
Combining "Heart-Rate Based Treadmill Interval Training" with indoor rowing and weight training blocks, Orangetheory's group classes are high-intensity, targeted workouts that are anything but boring.
Intensity: Varies
2800 Central Street, Evanston
847.457.1140
The Aloft Loft
If you've ever been tempted to run away and join the circus, here's your chance. The Aloft Loft is a 13,000-square-foot teaching, training, and performance space for the aerial and circus arts. Classes range from tumbling to hula hooping to trapeze and more.
Intensity: Moderate
2000 W Fulton Street, #319
773.782.6662
Barre
The Barre Code
Despite the name, The Barre Code also offers bootcamp-syle workouts, high-intensity cardio classes, kickboxing, and yoga. But the signature sessions are all about barre: small, targeted movements and heavy repetition using a ballet barre work muscles to fatigue and bring on an addictive burn you'll keep coming back for.
Intensity: Varies
1165 N. Clark
312.280.6800
435 N LaSalle Boulevard
312.595.1600
959 W. Belmont Avenue
872.802.4402
1962 N. Clybourn
773.348.2881
324 N. Michigan Avenue
312.621.8770
Pure Barre
Low-impact, isometric movements performed at the ballet barre will keep your thighs, abs, arms, and butt muscles sore for days, and each efficient workout can be completed in just 55 minutes.
Intensity: Low
1 E. Huron Street, 2nd Floor
312.415.6425
CrossFit
The Foundry
Subscribing strictly to CrossFit's methodology of "constantly varied, high-intensity, functionally-based workouts," The Foundry welcomes people of all shapes, sizes, and fitness levels. All of the exercises are scalable, meaning the coaches help you modify your movements so you get the best workout for your level of fitness. The facility offers a locker room, showers, towel service, and lounge for CrossFitters to kick back in before or after getting their butts kicked.
Intensity: High
730 S Clark Street
312.566.7201
River North CrossFit
The first "box" in Chicago to offer training every hour on the hour, RNCF strives to make CrossFit accessible to everyone. CrossFit's cult-like following is attributed to the ultra-challenging variations on moves like pull-ups, box jumps, and squats performed at a high intensity. RNCF also offers personal training if you're intent on taking your CrossFit skills to the next level.
Intensity: High
330 W Ontario Street
312.643.0406
Cycling
Flywheel Sports
Flywheel's 45- to 60-minute classes are nationally known for the intense climbs and descents, and total body toning with weighted bars. The stadium-style seating means you'll have a great spot no matter where you sit and the curated playlists will keep you going, even when the going gets (really) tough.
Intensity: High
710 N State Street
312.624.8485
GO Cycle Studio
GO Cycle prides itself on being a "no-judgment zone of adrenaline-filled classes" set to upbeat music to keep you motivated. In addition to the standard cycling format, the studio offers plenty of combo classes including GO Core, incorporating 20 minutes of ab work, and GO Ripped, 60 minutes of cycling intervals alternating with weights.
Intensity: Varies
525 West North Avenue
312.878.4999
Dance
Mazi Dance Fitness Centre
Dancers of all levels and styles can find their perfect fit at Mazi's Dance Fitness Centre. Cardio classes include fun options like Ballerina Fight Club, which combines strengthening ballet moves with heart-pumping boxing combinations. The body sculpting classes include Ballerina Bum Bootcamp, a toning class with ever-changing routines to keep you challenged, and Dancer's Pose, a zen class rooted in breathing, lengthening, and dance and yoga sequences to improve flexibility and range of motion.
Intensity: Varies
1564 N Damen, Suite #301 & 302
719 South State Street
773.278.9600
Flirty Girl Fitness
The Flirty Girl brand positions itself as a "high-end social club for women" rather than a humdrum gym. The studio offers over 80 classes a week to suit every need, level, and personal preference. Choose from Video Vixen, where you recreate a sexy music video, Get Waisted, where you'll carve out abs with conditioning moves, and Piloxing, which mixes Pilates and boxing for a total-body workout. If pole dancing is more your speed, try any one of the eight options, including Pole Fusion, where you'll be introduced to spins and lifts.
Intensity: Varies
2215 North Halsted Street
312.666.2266
Rock Climbing
Brooklyn Boulders
Brooklyn Boulders is the place for serious climbers to get their fix and for newbies to learn the ropes. The 25,000 square foot facility offers bouldering, auto-belay, rappelling, top-roping, and lead climbing, plus a variety of classes to hone your skills. Cross-trainers can indulge their other fitness interests through yoga classes, weights, and cardio equipment.
Intensity: Varies
100 South Morgan Street
312.268.0002
Fitness Formula Clubs
Learn to combine strength, balance, and endurance at FFC's renowned indoor climbing wall. Avid climbers and beginners alike can take part in small group classes, open climbs, and private lessons. Bouldering, rope climbing, and slacklining are all offered as part of the program.
Intensity: Varies
1235 North LaSalle Boulevard
312.640.1235
Yoga
Bloom Yoga Studio
Chicago area husband-and-wife team Kerry and Zach Maiorca opened Bloom Studios with the intention of inspiring people to be happier and healthier through an accessible approach to yoga. The studio welcomes students of all ages and levels and offers classes geared toward new moms and babies, kids, tweens, beginners, and experienced yogis of all ages.
Intensity: Low
4663 North Rockwell Street
773.463.9642
Gratitude Yoga
Gratitude's community-focused class offerings include everything from traditional vinyasa and candlelit flows to the more avant-garde Yoga Dance Fusion and kids and family classes, which introduces meditation and basic poses to moms, dads, and children.
Intensity: Low
501 West North Avenue
630.803.7157
Tejas Yoga
Tejas doesn't focus on any one particular style, based on the philosophy that there is an ideal practice for every body and every intention. Depending on your goal, you can roll out your mat to classes like Vigorous, a series of complex poses and breathing techniques that include inversions and arm balances, Freestyle, an energetic practice with little to no physical adjustments, or the soothing Yoga Nidra, a form of conscious relaxation.
Intensity: Varies
1300 South Wabash Avenue, Suite 201
312.386.9642
The One Medical blog is published by One Medical, a national, modern primary care practice pairing 24/7 virtual care services with inviting and convenient in-person care at over 100 locations across the U.S. One Medical is on a mission to transform health care for all through a human-centered, technology-powered approach to caring for people at every stage of life.
Any general advice posted on our blog, website, or app is for informational purposes only and is not intended to replace or substitute for any medical or other advice. 1Life Healthcare, Inc. and the One Medical entities make no representations or warranties and expressly disclaim any and all liability concerning any treatment, action by, or effect on any person following the general information offered or provided within or through the blog, website, or app. If you have specific concerns or a situation arises in which you require medical advice, you should consult with an appropriately trained and qualified medical services provider.