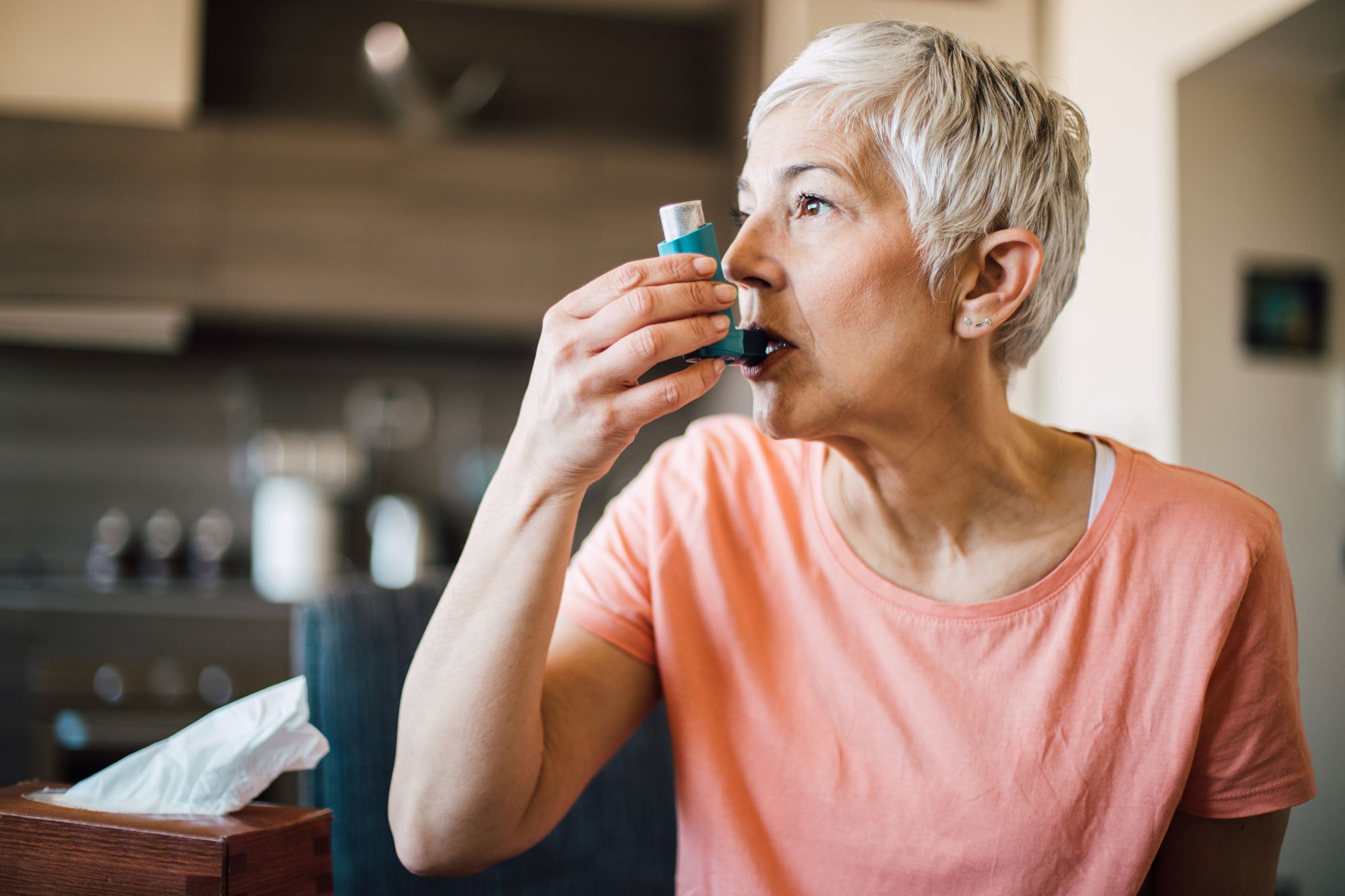 As COVID-19 continues to spread, many people with asthma have become especially concerned about their health. This has meant worrying that every cough or sneeze is a potential sign of the virus. The good news is, if you have asthma, there are several ways to protect your lungs amid the pandemic.
What do we know about asthma and COVID-19?
COVID-19 is a respiratory illness caused by the novel coronavirus that commonly affects the lungs, as well as other parts of the body. This is particularly concerning for those with asthma, because many already experience difficulty breathing. Asthma causes inflammation of the lungs and airways and can trigger wheezing, coughing, chest pain and shortness of breath. While there is no evidence that just having the diagnosis of asthma puts you at higher risk of contracting COVID-19, the CDC says those who experience moderate to severe asthma symptoms may be at higher risk of becoming critically ill if they develop COVID-19.
What are the symptoms of asthma vs. COVID-19?
Many of the key symptoms of COVID-19, particularly cough and shortness of breath, overlap with the signs of asthma, often making it difficult to tell the difference. Asthma is also typically associated with difficulty breathing, chest tightness or pain, and wheezing. If you don't know whether you are experiencing asthma or have a COVID-19 infection, first look for additional COVID-19 symptoms like fever, muscle aches, fatigue, headache, sore throat, repeated shaking with chills, and new loss of taste or smell. If you're concerned that you are experiencing any of these symptoms, please reach out to your healthcare provider.
People with asthma experience a wide range of symptoms, from the occasional shortness of breath to daily wheezing to life-threatening bouts of difficulty breathing and low oxygen levels. Additionally, some people have asthma symptoms throughout their entire lives, while others essentially "grow out" of the condition once they become adults. It's important to understand the different types of asthma, as only certain kinds may make you more susceptible to severe COVID-19 infection
Who is not at increased risk?
The following types of asthma are not associated with increased risk. If you have one of these kinds, you don't need to take any special precautions to prevent COVID-19, beyond what is currently already recommended for the general population:
Childhood asthma: If you had asthma as a child and haven't had any symptoms in adulthood, for instance, you are considered no longer at increased risk of critical infection.
Cold or flu-related: You also may be one of the millions of people who may have been given an "asthma inhaler" to use when you had a bad cold or flu and were coughing or wheezing a lot. While the asthma medicine hopefully helped you when you were sick, if you were never told you had asthma, and your symptoms have since resolved, you do not have the diagnosis of asthma.
Exercise-induced asthma: This is a condition in which symptoms only come on with intense physical activity. This can often be prevented with the use of an asthma inhaler just before exercise, and the inhaler isn't needed otherwise. If this describes you, you don't have to worry about taking any special precautions as it relates to COVID-19.
Mild asthma: Patients with mild asthma may experience wheezing or other typical asthma symptoms a few times per week, but the symptoms are easily improved with medication and do not typically impact their daily activities.
Who is at increased risk?
Those at increased risk for severe COVID-19 infection have been diagnosed with moderate or severe asthma. People with moderate or severe asthma usually have daily symptoms that can limit activity, and use multiple medications daily to help control symptoms.
If you have moderate or severe asthma, help prevent COVID-19 infection by reviewing our general recommendations for protecting yourself against COVID-19, including washing hands, social distancing, and testing as indicated.
There are also several additional precautions you should take to protect your lungs from infection:
Keep taking your medications, including your preventative inhaler. Do not stop any medications or change your treatment plan without talking to your healthcare provider.
Keep an ample supply of medication on hand, including rescue inhalers. Talk to your doctor or insurance provider about creating an emergency supply of these medications in case you need to stay home for a long period of time.
Know how to use your inhalers, including rescue inhalers.
Avoid your asthma triggers. Common ones include tobacco smoke, dust, pets, and mold.
Manage your stress. Stress can exacerbate asthma attacks. Read our tips for managing coronavirus anxiety.
Clean and disinfect high-touch surfaces, including phones, remote controls, tables, doorknobs, light switches, desks, toilets, and sinks daily. If possible, have someone who doesn't have asthma do the cleaning and disinfecting. Minimize use of disinfectants that may trigger an asthma attack, and open windows and doors to improve air circulation.
We would also encourage you to reach out to your primary care provider to make sure your asthma is under as good of control as possible right now. Your provider will make sure you have all of the inhalers and spacers that you need, and set you up with the appropriate treatment plan. You should also follow our advice for those with vulnerable conditions.
What if I think I am sick?
If you have asthma, and develop any symptoms of COVID-19, or are not sure, please contact your healthcare provider. Before you call, try and assess your breathing. Here are some ways to do that:
Measure your respiratory rate: Sit or lay down comfortably and watch your chest go up and down. Measure how many times it naturally rises in a minute.
Can you do the activities you normally do? Can you climb steps? Do you get winded getting out of bed? Could you sing a song you like to sing without getting winded?
Pulse oximetry: If you have a smart watch or other fitness device, you can measure your pulse oximetry. This information should be discussed with your provider, as there is no perfect number, and it depends on how you are feeling.
If you develop severe symptoms associated with COVID-19, seek emergency medical attention right away by calling 911. Those symptoms can include:
Severe difficulty breathing
Persistent chest pain
New confusion or inability to stay alert
Bluish lips or face
The One Medical blog is published by One Medical, a national, modern primary care practice pairing 24/7 virtual care services with inviting and convenient in-person care at over 100 locations across the U.S. One Medical is on a mission to transform health care for all through a human-centered, technology-powered approach to caring for people at every stage of life.
Any general advice posted on our blog, website, or app is for informational purposes only and is not intended to replace or substitute for any medical or other advice. 1Life Healthcare, Inc. and the One Medical entities make no representations or warranties and expressly disclaim any and all liability concerning any treatment, action by, or effect on any person following the general information offered or provided within or through the blog, website, or app. If you have specific concerns or a situation arises in which you require medical advice, you should consult with an appropriately trained and qualified medical services provider.