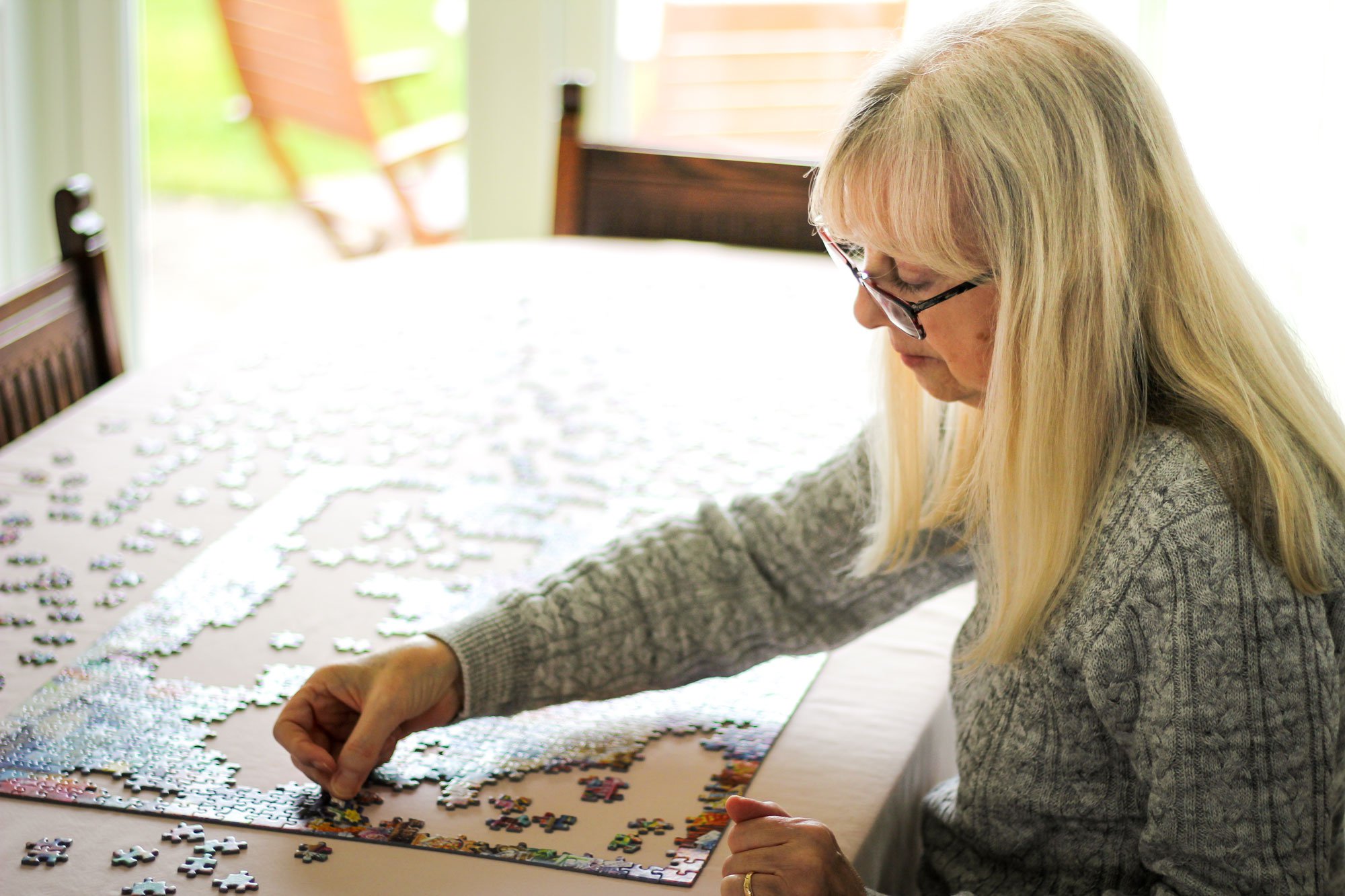 Clinical Editors: Megan Dodson, PA-C and James Carter, III, MD

When it comes to our health, we often focus on how our lifestyle contributes to building a strong heart, bones, and muscles. What we hear less about is our brain. Like with any part of the body, though, lifestyle plays a crucial role in the brain's ability to function. While it's true that the brain and mental function change with age, building healthy habits can help strengthen and protect your brain health as you get older. Here are a few simple ways to boost your brain health for the long term.
1. Move more
Exercise doesn't just keep you in shape, it also plays a significant role in your brain health. Physical activity boosts blood flow to the brain, providing it oxygen and nutrients for improved concentration, thought, learning, and memory. Regular exercise can reduce age-related difficulties in memory, learning, and concentration (also called cognitive decline), including dementia or Alzheimer's. In fact, one study found that cognitive decline is almost twice as common among adults who are inactive compared to those who are active. Other studies have shown that regular exercise can increase the volume of the hippocampus (the area of the brain associated with memory, and reverse the natural shrinkage that comes with age. Exercise can also help lower your blood pressure, cholesterol, and stress, which in turn can boost your mood and your mental health. Most adults should aim to get about 150 minutes (30 minutes 5 times a week) of physical activity a week - effort should be hard enough to raise your heart rate and make you breathe harder than normal. But any activity is better than none. If you can't fit a full workout into your schedule, try to squeeze in a quick 10 minute walk or add more movement throughout the day with these tips.
2. Rest up
A regular sleep schedule is crucial to your brain's ability to function. While your body may be at rest as you sleep, your brain remains active, consolidating memories so you can recall them at a later date, and clearing toxins and debris linked to dementia and Alzheimer's. Inadequate sleep can negatively impact your attention, concentration, learning, judgment, and decision-making, as well as increase your chance of developing dementia, so it's important to prioritize good sleep hygiene. To improve your brain health, cognition, and memory, try to go to bed at the same time each night, and aim for at least 7 to 8 hours of sleep. Need help revamping your sleep cycle? Find more tips and tricks here.
3. Eat well
Many people tend to think about their diet in terms of their short-term health goals, such as weight loss or better digestion. But what you eat now can have a serious impact on your life in the long term, including your brain. While there is a lot of debate over which foods boost brain health, some research suggests that following the Mediterranean diet — an approach focused on fish, fruits, vegetables, olive oil, whole grains, and legumes — can reduce the risk of cognitive impairment and dementia. The Mediterranean diet has also been shown to lower blood pressure and cholesterol, as well the risk of heart disease and diabetes, which are also linked to cognitive decline. Likewise, the MIND diet — a spin-off of the Mediterranean diet that emphasizes berries and leafy greens — was developed with brain health in mind and has been found to reduce the risk of Alzheimer's. Generally, a healthy diet rich in fruits, veggies, fiber, whole foods, with less processed, refined sugars, has been shown to be protective against inflammation and chronic diseases, such as heart disease, diabetes, obesity, hypertension, and certain cancers — all of which can impact your brain health.
4. Stay connected
Friendships and relationships are more than just emotionally fulfilling; they are beneficial for your brain too! Numerous studies have found that maintaining strong social connections is associated with a lower risk of cognitive decline and dementia, as well as lower blood pressure and a longer life expectancy. According to the CDC, social isolation can increase the risk of dementia by as much as 50%, while poor social relationships are associated with a 29% increased risk of heart disease and 32% increased risk of stroke. Likewise, loneliness has been linked to poor memory and cognitive depression, as well as higher rates of depression, anxiety, and suicide. Having strong, meaningful relationships can increase feelings of happiness and overall satisfaction with life, as well as reduce stress and improve overall health. Even being supportive of others can be good for your health, so make sure to prioritize time for friends and loved ones.
5. Exercise your brain
Just as physical exercise helps keep your body in shape, mental stimulation can help you maintain your brain fitness.Just like the muscles in your body, your brain grows stronger with use, so it's important to regularly exercise it. Challenging your brain with puzzles and games like crosswords or sudoku can help keep your brain sharp and improve concentration and focus. Research shows that learning stimulates new connections between brain cells to build new neural pathways and boost memory. So in addition to physical exercise, try something new. Learn a new language, play or listen to music, cook a new dish, or experiment with a new experiment. Even small changes in your day such as taking a new route to work or sitting in a different spot in your house can keep your brain stimulated.
6. Manage your stress
Stress can wreak havoc on the whole body, including your brain. Chronic stress has been found to interfere with cognition, attention, and memory, and can even result in long-term changes to the brain and the chemicals within it. These changes can impact mood and increase the risk of depression and anxiety disorders. Prolonged stress can also cause inflammation, which has been associated with multiple chronic diseases in the heart and the brain. Luckily, there are several ways to manage stress and protect your mental health, from journaling and yoga, to therapy and meditation.
Have more questions about your brain health? Our providers are ready to partner with you to help you achieve your health goals. Book an appointment with a provider through our app today or get 24/7 virtual care on demand.
The One Medical blog is published by One Medical, a national, modern primary care practice pairing 24/7 virtual care services with inviting and convenient in-person care at over 100 locations across the U.S. One Medical is on a mission to transform health care for all through a human-centered, technology-powered approach to caring for people at every stage of life.
Any general advice posted on our blog, website, or app is for informational purposes only and is not intended to replace or substitute for any medical or other advice. 1Life Healthcare, Inc. and the One Medical entities make no representations or warranties and expressly disclaim any and all liability concerning any treatment, action by, or effect on any person following the general information offered or provided within or through the blog, website, or app. If you have specific concerns or a situation arises in which you require medical advice, you should consult with an appropriately trained and qualified medical services provider.