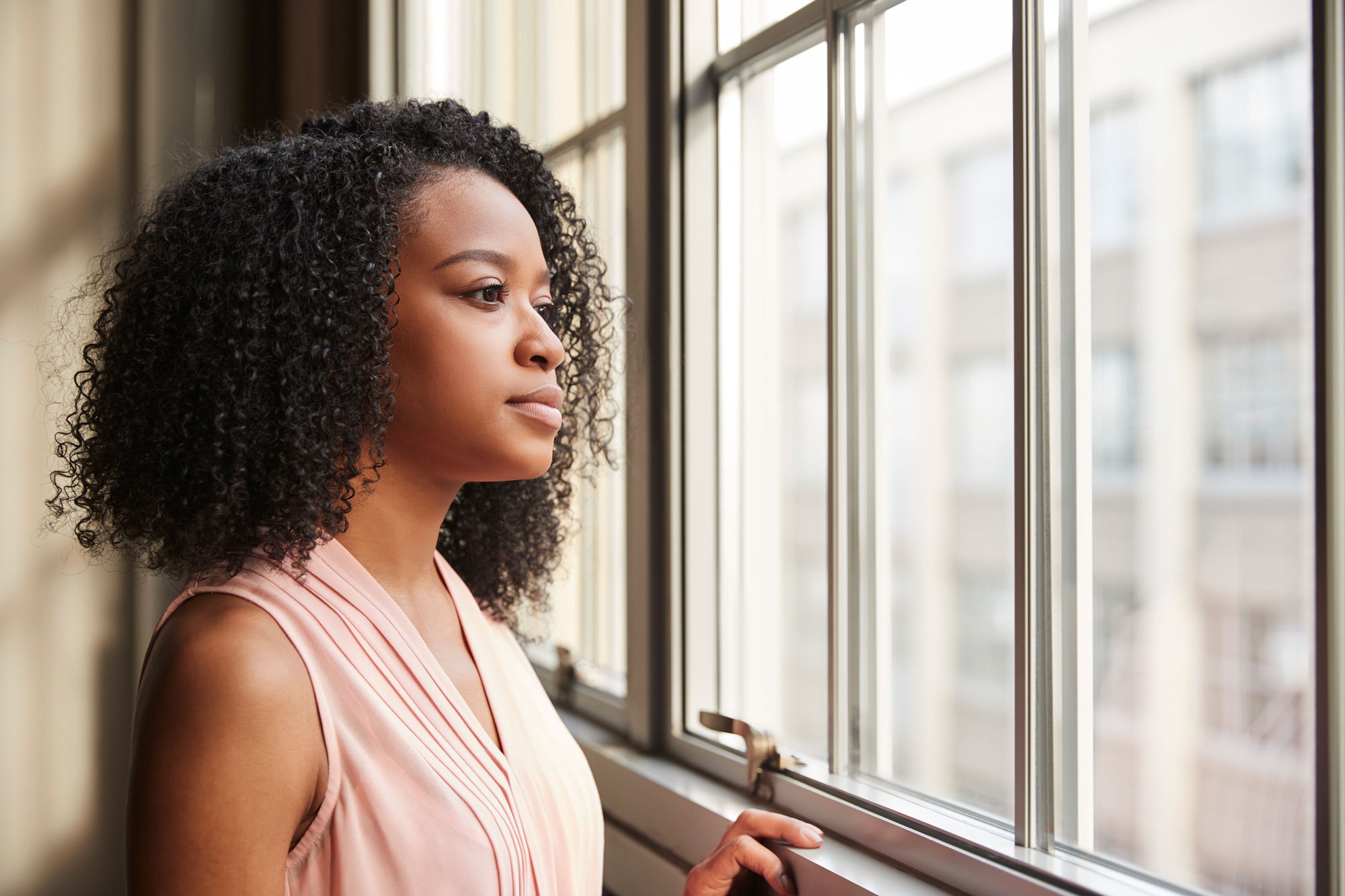 After a year of social distancing and staying home, there is finally a light at the end of the tunnel. As COVID-19 vaccine access expands across the U.S., businesses are slowly reopening, offices are discussing return-to-work-plans, and local governments are easing social gathering and travel restrictions. A year ago, this was all anyone could look forward to. Now, however, the thought of this pandemic coming to an end has filled many with a sense of dread.
Though there are many things —including loneliness and sickness — we won't miss about the pandemic, the idea of returning to our pre-pandemic lives and all the uncertainty that comes with it can be scary and anxiety-provoking. After all, we've spent the last year adapting to new routines and limiting our social interactions to 'pods' and virtual hang outs. The pandemic even provided a valid excuse to turn down social invites we normally feel obliged to accept — something those who are socially anxious reveled in.
If you feel like you've forgotten how to interact face-to-face, are dreading having to socialize, or are worried about the safety of attending group gatherings again, you're not alone. According to a survey by the American Psychological Association, nearly 50% of Americans said they feel uneasy about resuming in-person interactions once the pandemic ends. The good news is there are several ways to manage your anxiety as you transition to a new lifestyle. Here's what our providers recommend as you think about post-pandemic social interactions and all the changes that lie ahead:
1. Don't judge yourself
Feeling anxious or overwhelmed right now is completely normal given the year we've just had. The pandemic forced us all to adjust to a "new normal" and with that came new routines, habits, and daily lifestyles. Now, just as we're all getting comfortable, change is upon us again. Just knowing you have to adapt once again can be exhausting and worrisome. It's important to acknowledge though that this stress and anxiety is simply your body's response to a perceived threat or danger, kicking into survival mode. Rather than fighting or trying to ward off these feelings, accept that your body is reacting as it should to a big change. Remind yourself that your feelings are valid and that it's normal to feel wary about post-pandemic life as so much is unknown right now. If you were able to survive big changes amid the pandemic, you will be able to survive the next round. "This year we proved that we were able to adapt to challenging situations and we can see this as an opportunity to continue to hone these skills," said One Medical's Clinical Director of Mental Health Integration, Christine Celio, PhD. "Think back to other big changes in your life, like having a baby or moving into a new house. They may have been difficult at first, but likely not to the degree you anticipated." It can also help to approach reopening with a sense of curiosity rather than self-criticism, she added: "What specifically is making you uncomfortable? Instead of beating yourself up for not being able to deal with something the way you used to, use this time for self-reflection and to make plans to ease into this new normal."
2. Focus on the present
While vaccines have offered us a glimmer of hope that the end of the pandemic is near, the reality is we can't predict what will happen in the future. Constantly thinking about what may happen months from now is not conducive to your health and may send you spiraling into despair. Practicing mindfulness can reduce some of that anxiety and help you feel more rooted in the present moment. For some people, mindfulness may mean breathing exercises like this body scan, or starting a gratitude journal. For others, it may mean getting outside and observing the world around you, paying attention to the sounds, smells, and sights of the outdoors. Studies have shown that physically placing yourself in nature has the ability to reduce stress and anxiety, as well as boost your mood. If you find yourself ruminating, focus your attention on something that requires active thought and focus, like reading a descriptive novel or going on a bike ride.
3. Go slow, but don't avoid
Just as it took a while to get used to life in lockdown, it's going to take some time to adjust to life post-pandemic. If you're anxious about socializing again, take things slow. Rather than jumping right back in and going to the first party you're invited to or a crowded bar, meet up with a couple of friends for an urban walk, nature hike or outdoor picnic. This is not a sprint, so only do what you feel comfortable with. "Just remember that while baby steps are healthy, complete avoidance is not," said Celio. "With much anxiety, pandemic related or not, avoiding situations entirely can prolong the experience of fear." Slowly reacclimating to social events and public spaces can eventually ease these fears.
4. Set boundaries
Not everyone is going to feel comfortable resuming these activities at the same rate though. While your friends and loved ones may be okay with attending a barbeque without masks, you may feel unsafe doing so. Be sure to go your own pace and know your own boundaries. Are you okay sitting indoors at a restaurant? Do you want to continue wearing a mask around someone even if you both have been vaccinated? Are you comfortable traveling? "Understand your limits and check in with yourself often," said Celio. "Give yourself time to consider how you will feel both at the event and afterwards and see if there are any small changes you can make to help yourself and others feel safe. Know that this will change over time depending on your experiences and the recommendations of experts." It can even be helpful to have a discussion with your friends and family as you think about reconnecting so you can avoid any awkwardness in the future. Set expectations so they know that you might be taking things slower than they are. Know too that even if experts and local government say it's okay to do something, you are entitled to take your time to feel more comfortable.
5. Talk to a professional
While rejoining others in the world around us is anxiety-provoking for most people, it might be worse for some more than others. If you find that worry and rumination around post pandemic life is affecting your daily functioning and your mood is worsening, a check in with a health provider is recommended. They will be able to help develop a treatment plan developed to your unique needs, whether than be lifestyle changes, medication, or referral to a behavioral health specialist.
The One Medical blog is published by One Medical, a national, modern primary care practice pairing 24/7 virtual care services with inviting and convenient in-person care at over 100 locations across the U.S. One Medical is on a mission to transform health care for all through a human-centered, technology-powered approach to caring for people at every stage of life.
Any general advice posted on our blog, website, or app is for informational purposes only and is not intended to replace or substitute for any medical or other advice. 1Life Healthcare, Inc. and the One Medical entities make no representations or warranties and expressly disclaim any and all liability concerning any treatment, action by, or effect on any person following the general information offered or provided within or through the blog, website, or app. If you have specific concerns or a situation arises in which you require medical advice, you should consult with an appropriately trained and qualified medical services provider.