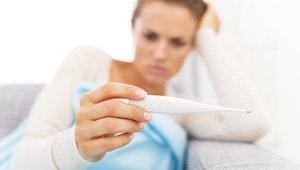 If you think you're coming down with a bug, and especially if you have a fever, we recommend waiting to get the flu vaccine until you're feeling better. When you get the vaccine, your white blood cells quickly find and destroy the invaders and create a multitude of memory cells, which are capable of recognizing the same virus in the future. This lays the groundwork for a full-on attack when your body is faced with the real thing.
However, if you have a respiratory illness without a fever, or if you're only mildly ill, it's OK to get the flu shot.
Why won't a flu shot help me if I'm really sick?
Flu vaccines administered by a needle contain inactivated versions of the virus. It won't cause the flu, but getting the vaccine once you're very sick could make an existing infection temporarily worse, since your white blood cells are already working to fight off the germs your body has encountered.
The process of building immunity to the flu isn't noticeably felt by healthy people. Once you've been on the mend for a few days, and once your fever has subsided, we recommend coming in for that flu shot.
Why get the flu vaccine if you've already been sick this season?
There are plenty of reasons, according to One Medical's Julie Holmes, ANP. "The flu vaccine protects against three to four strains of the flu , so getting the vaccine may protect you from contracting another strain of the flu if you've already been sick." Holmes continues, "Upper respiratory infections can also masquerade as the flu, so you're better off getting the vaccine just in case."
The One Medical blog is published by One Medical, an innovative primary care practice with offices in Boston, Chicago, Los Angeles, New York, Phoenix, Portland, the San Francisco Bay Area, Seattle, and Washington, DC.
Any general advice posted on our blog, website, or app is for informational purposes only and is not intended to replace or substitute for any medical or other advice. The One Medical Group entities and 1Life Healthcare, Inc. make no representations or warranties and expressly disclaim any and all liability concerning any treatment, action by, or effect on any person following the general information offered or provided within or through the blog, website, or app. If you have specific concerns or a situation arises in which you require medical advice, you should consult with an appropriately trained and qualified medical services provider.