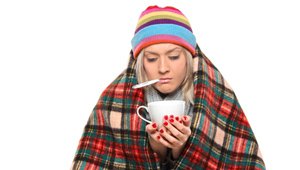 It probably won't come as a surprise, but the flu has arrived, and sooner than usual–typically, it's rare to see many cases before the holidays. Texas and other southern states have reported the most cases so far, but the flu is spreading rapidly throughout the country. The good news: The current flu vaccine covers all the flu strains that are out there. The strains are also sensitive to the most commonly prescribed antiviral medications. Here are the basic facts that you should know about the flu.
How does the flu spread?
The flu is very contagious and is most often transmitted by close person-to-person contact via coughing and sneezing. It can also be transmitted by hand-to-hand contact and through contact with the clothes or other items of an infected person.
How long does it take to develop flu symptoms?
After exposure to the flu, it takes 18 to 72 hours to become ill.
How do I know if I have the flu?
The flu begins abruptly, with any or a combination of the following symptoms:
Headache
Fever (often 101°F to 105°F)
Chills
Malaise
Cough (usually producing very little mucus)
Eye symptoms (such as sensitivity to light, burning, or pain with eye movement)
Sore throat
If you develop these symptoms when the flu is going around your community, you can be pretty sure that's what you have. Nevertheless, you should contact your health care provider, who may wish to make sure you don't have something else, such as pneumonia or strep throat–or a complication of the flu.
How long does the flu last?
Certain flu symptoms tend to last longer than others. The fever typically resolves in two to three days but can last as long as a week or more. The sore throat often gets worse even while the rest of the symptoms resolve, and can easily last a week or longer. Gastrointestinal symptoms are not typical of the flu.
Should I get tested for the flu?
Flu testing is rarely needed, particularly if you develop classic symptoms during an outbreak of the flu. Testing–usually by means of swabbing mucus from your nose or throat–is only needed for patients with atypical symptoms; for people with compromised immune systems; and in rare circumstances when the test result will affect subsequent treatment (e.g., whether or not to start an antiviral medication). Testing may also be done for epidemiologic reasons, to assess the extent of the epidemic, for example, and to rule out flu when there are other diagnostic considerations.
What's the best treatment for the flu?
Rest, hydrate, and take ibuprofen (Advil or Motrin), naproxen (Aleve), or acetaminophen (Tylenol) for the fever, aches, and sore throat. For children younger than 18, avoid aspirin. Your health care provider may also recommend a cough suppressant for nighttime use. Antiviral drugs may help shorten the duration and severity of the flu when taken within 48 hours of the onset of clinical symptoms. These are available by prescription, in either pill or inhalant form.
How can I prevent spreading the flu?
First and foremost, stay home until your fever has broken. Wash your hands frequently and don't share towels, napkins, washcloths, and other personal items that may spread the virus. In some circumstances, to reduce the risk of transmission, your health care provider may recommend up to two weeks of antiviral medication for unvaccinated people who are in close contact with you.
If I have the flu, when should I worry?
The easy answer is never; worrying never helped solve anything. However, if your symptoms don't resolve in a week or if they worsen, or if you start to feel better and then your fever returns along with shortness of breath and a productive cough, see your health care provider right away. These can be symptoms of pneumonia. Most people recover uneventfully from the flu without any complications, but be alert for these warning signs and seek medical attention immediately if any of them develop.
How can do I avoid getting the flu?
You probably already know the answer to this one. If you haven't been vaccinated, get your flu shot now. It's never too late!
The One Medical blog is published by One Medical, a national, modern primary care practice pairing 24/7 virtual care services with inviting and convenient in-person care at over 100 locations across the U.S. One Medical is on a mission to transform health care for all through a human-centered, technology-powered approach to caring for people at every stage of life.
Any general advice posted on our blog, website, or app is for informational purposes only and is not intended to replace or substitute for any medical or other advice. 1Life Healthcare, Inc. and the One Medical entities make no representations or warranties and expressly disclaim any and all liability concerning any treatment, action by, or effect on any person following the general information offered or provided within or through the blog, website, or app. If you have specific concerns or a situation arises in which you require medical advice, you should consult with an appropriately trained and qualified medical services provider.