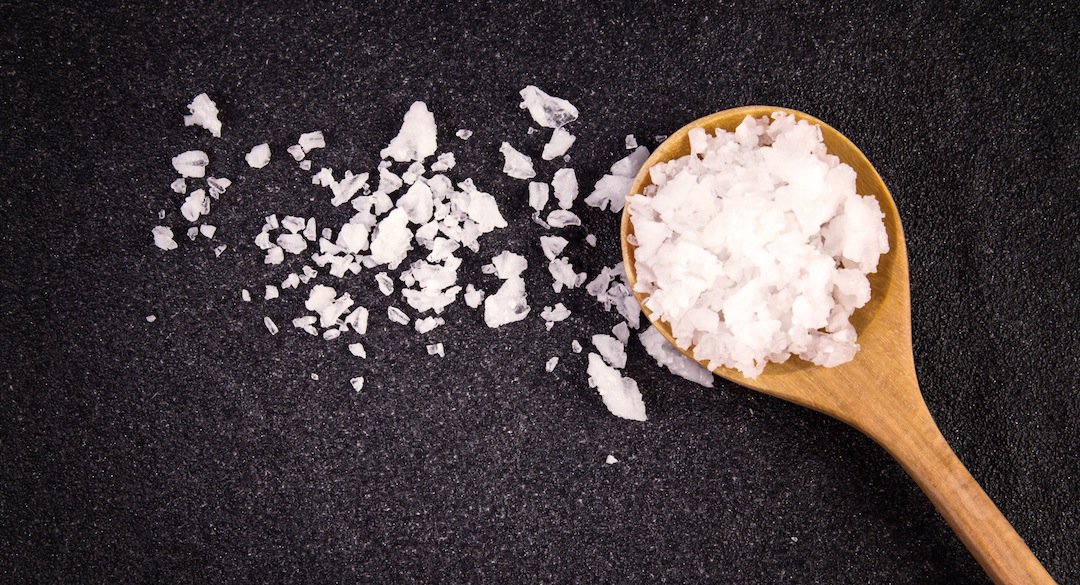 It's a palate-pleasing flavor additive found in everything from canned soup to condiments like ketchup, but can salt cause major problems, even in healthy people? According to a new study in the Journal of the American College of Cardiology, it can.
Excess dietary sodium has long been linked to elevated blood pressure. The new research found that eating too much salt can also damage the blood vessels, heart, kidneys, and brain—even in the absence of high blood pressure.
How does too much salt cause so many problems?
Although the researchers state that the reasons behind salt elevating blood pressure are not well understood, they believe too much sodium can cause alterations in cardiac and renal function, fluid volume, and the autonomic nervous system.
While the exact mechanisms behind higher blood pressure may still be a mystery, it's clear how too much salt can affect the body in other ways. For one, excessive salt consumption can reduce the function of the inner lining of the blood vessels, known as the endothelium. Endothelial cells are important for blood clotting, immune function, and more. Excessive salt intake can also increase stiffness of the arteries and cause ventricular hypertrophy, or an enlargement of the heart's muscle tissue, making the heart pump with less force.
Finally, too much salt can harm kidney function and affect the sympathetic nervous system, which can trigger the fight-or-flight response. A chronic salt habit can "sensitize" sympathetic neurons in the brain, causing increased responses to stimuli. This can lead to muscle contractions, which can be harmful to internal organs.
Should I go completely salt-free?
Not so fast. Sodium is essential for fluid balance and the homeostasis of cells. Although it only takes about 500 milligrams to maintain equilibrium in the body, and the American Heart Association recommends consuming less than 1,500 milligrams per day, it may not be necessary to cut down so much.
The Institute of Medicine (IOM) recently concluded that there is no evidence that reducing daily sodium intake below 2,300 milligrams (about a teaspoon) has an effect on heart disease, stroke, or mortality from all causes.
The IOM report also found that sodium intake that's too low could have adverse effects on anyone with mid- to late-stage heart failure, and even lead to adverse outcomes in certain subgroups (like those with hypertension) who have traditionally been told to adhere to low-salt diets. Although it's not known why this is the case, it could be because excessively low sodium can increase triglyceride levels, insulin resistance, and sympathetic nervous system activity, causing cardiovascular problems that outweigh the benefits of reduced blood pressure.
What should I do?
Although there appears to be no evidence supporting keeping your daily sodium level under 2,300 milligrams, most Americans consume far more than this—perhaps closer to 3,000 milligrams on average.
If you're having trouble cutting down to one teaspoon a day, try some of these tips to reduce your intake and keep your sodium levels in check:
Most of the sodium in American diets comes from processed foods, including cereals and breads. Read nutrition labels and opt for low-sodium whole foods when possible.
Restaurant dishes typically contain more salt than home-cooked meals. Cook from scratch to help cut down on salt.
Substitute spices, herbs, and salt-free blends for salt.
Rinse canned foods to wash off some of the salt.
Use fresh meats rather than packaged meats (if a product can keep well for days or weeks, the sodium content is typically too high).
Reduce your sodium intake gradually and train your palate to crave less salt.
The One Medical blog is published by One Medical, a national, modern primary care practice pairing 24/7 virtual care services with inviting and convenient in-person care at over 100 locations across the U.S. One Medical is on a mission to transform health care for all through a human-centered, technology-powered approach to caring for people at every stage of life.
Any general advice posted on our blog, website, or app is for informational purposes only and is not intended to replace or substitute for any medical or other advice. 1Life Healthcare, Inc. and the One Medical entities make no representations or warranties and expressly disclaim any and all liability concerning any treatment, action by, or effect on any person following the general information offered or provided within or through the blog, website, or app. If you have specific concerns or a situation arises in which you require medical advice, you should consult with an appropriately trained and qualified medical services provider.