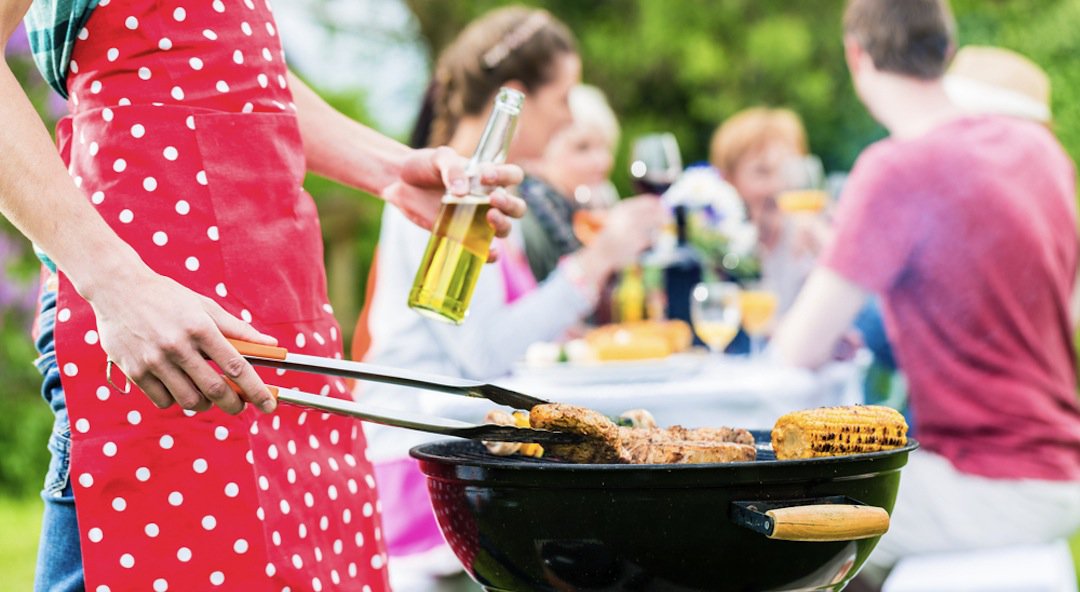 Grilling outdoors is a great alternative to slaving over a kitchen stove when the weather heats up, but barbecues often include an array of overcooked, over-processed foods that don't do any favors to your waistline and can have other significant health impacts.
Grilling meats at high heat can cause carcinogens (cancer-causing substances) called polycyclic aromatic hydrocarbons (PAHs) and heterocyclic amines (HCAs) to form. One study, published in the Journal of Cancer Research, found that people who ate well-done meat on a regular basis were 60 percent more likely to get pancreatic cancer. Longer cooking times have been associated with an increased risk of stomach, lung, and breast cancers.
But backyard cooking doesn't have to be hazardous to your health. In fact, it can even enhance your nutritious diet. Here are 10 tips for healthful grilling:
1. Use herbs in rubs or marinades.
2. Marinate meat in alcohol.
Marinating beef in red wine for six hours before grilling can decrease the amount of carcinogens by 40 percent. Not a fan of vino? Beer has also been shown to be beneficial.
3. Use a meat thermometer and cook meat below 325 degrees F.
This is the temperature at which HCAs begin to form, so it's important to turn the heat down while ensuring all meat is properly cooked. Burgers should be cooked to an internal temperature of 160 degrees F.
4. Include more vegetables.
Vegetables are naturally high in fiber and low in calories, so they're a good balance to a meat-heavy barbecue. Vegetables are also great for grilling and don't contain the amino acids that form HCAs in grilled meat. However, that doesn't mean they can or should be overcooked; always grill veggies over indirect heat to avoid charring, which can form other carcinogens like benzopyrene.
5. Flip burgers often.
6. Substitute grilled fish for meat.
7. Choose leaner cuts of meat.
Opt for loin or round cuts of red meat and pork, and buy "choice" or "select" grades of beef rather than "prime"; these have the least amount of fat.
8. Prefer white to dark meat and remove the skin.
When buying chicken, choose breast cuts and remove the skin before eating. Skinless chicken breasts are less fattening than dark meat legs and thighs.
9. Serve raw veggies on the side.
Raw veggies provide the same satisfying crunch as potato chips, but without all the fat, calories, and preservatives.
10. Grill up fruit for dessert.
The One Medical blog is published by One Medical, a national, modern primary care practice pairing 24/7 virtual care services with inviting and convenient in-person care at over 100 locations across the U.S. One Medical is on a mission to transform health care for all through a human-centered, technology-powered approach to caring for people at every stage of life.
Any general advice posted on our blog, website, or app is for informational purposes only and is not intended to replace or substitute for any medical or other advice. 1Life Healthcare, Inc. and the One Medical entities make no representations or warranties and expressly disclaim any and all liability concerning any treatment, action by, or effect on any person following the general information offered or provided within or through the blog, website, or app. If you have specific concerns or a situation arises in which you require medical advice, you should consult with an appropriately trained and qualified medical services provider.